WORLD NEWS
Getting countries ...
Select countries and read reports below
or
United Arab Emirates
United Arab Emirates US Consular Information Sheet
28th February 2008
COUNTRY DESCRIPTION: The United Arab Emirates (UAE) is a federation of seven independent emirates, each with its own ruler.
The federal government is a constitutional re
ublic, headed by a president and council of ministers.
Islamic ideals and beliefs provide the conservative foundation of the country's customs, laws and practices. The UAE is a modern, developed country, and tourist facilities are widely available. Read the Department of State Background Notes on the United Arab Emirates for additional information.

ENTRY/EXIT REQUIREMENTS: A passport is required. For stays of less than 60 days, U.S. citizens holding valid passports may obtain visitor visas at the port of entry for no fee. For a longer stay, a traveler must obtain a visa before arrival in the UAE. In addition, an AIDS test is required for work or residence permits; testing must be performed after arrival. A U.S. AIDS test is not accepted. For further information, travelers can contact the Embassy of the United Arab Emirates, 3522 International Court NW, Washington, DC 20037, telephone (202) 243-2400.
Visit the web site of the UAE's Ministry of Information regarding tourism, business, and residence in the UAE at http://www.uaeinteract.org.

Unlike other countries in the region that accept U.S. military ID cards as valid travel documents, the UAE requires U.S. military personnel to present a valid passport for entry/exit.

UAE authorities will confiscate any weapons, weapon parts, ammunition, body armor, handcuffs, and/or other military/police equipment transported to or through a civilian airport.
Americans have been arrested and jailed for transporting such weapons and equipment without the express written authorization of the UAE government, even though airline and U.S. authorities allowed shipment on a US-originating flight.

U.S. citizens and citizens of other countries that are not members of the Gulf Cooperation Council (GCC), who depart the UAE via land are required to pay a departure fee. This fee is 20 UAE dirhams and is payable only in the local UAE dirham currency.

Visit the Embassy of the United Arab Emirates web site at http://uae-embassy.org for the most current visa information.

Information about dual nationality or the prevention of international child abduction can be found on our web site.
For further information about customs regulations, please read our Customs Information sheet.

SAFETY AND SECURITY: Americans in the United Arab Emirates should exercise a high level of security awareness. The Department of State remains concerned about the possibility of terrorist attacks against U.S. citizens and interests throughout the world. Americans should maintain a low profile, vary routes and times for all required travel, and treat mail and packages from unfamiliar sources with caution. In addition, U.S. citizens are urged to avoid contact with any suspicious, unfamiliar objects, and to report the presence of the objects to local authorities.
U.S. Government personnel overseas have been advised to take the same precautions. In addition, U.S. Government facilities may temporarily close or suspend public services from time to time as necessary to review their security posture and ensure its adequacy.

Taking photographs of potentially-sensitive UAE military and civilian sites, or foreign diplomatic missions, including the U.S. Embassy, may result in arrest, detention and/or prosecution by local authorities.
In addition, engaging in mapping activities, especially mapping which includes the use of GPS equipment, without coordination with UAE authorities, may have the same consequences.

On several occasions in the past three years, small groups of expatriate recreational boaters were detained by the Iranian Coast Guard for alleged violation of Iranian territorial waters while fishing near the island of Abu Musa, approximately 20 miles from Dubai.
The UAE and Iran have had a long-standing dispute concerning jurisdiction of Abu Musa.
Fishing or sailing in these waters may result in seizure of vessels and detention of passengers and crew in Iran.
Obtaining consular assistance in Iran is difficult and can only be done through the Swiss Embassy in Tehran, which acts as a Protecting Power, providing limited U.S. consular services.

For the latest security information, Americans traveling abroad should regularly monitor the Department of State, Bureau of Consular Affairs' web site at http://travel.state.gov, where the current Travel Warnings and Travel Alerts, as well as the Worldwide Caution, can be found.

Up-to-date information on safety and security can also be obtained by calling 1-888-407-4747 toll free in the U.S. and Canada, or for callers outside the U.S. and Canada, a regular toll-line at 1-202-501-4444. These numbers are available from 8:00 a.m. to 8:00 p.m. Eastern Time, Monday through Friday (except U.S. federal holidays).

The Department of State urges American citizens to take responsibility for their own personal security while traveling overseas.
For general information about appropriate measures travelers can take to protect themselves overseas, see the Department of State's pamphlet A Safe Trip Abroad.

CRIME: Crime generally is not a problem for travelers in the UAE. However, the U.S. Embassy advises U.S. citizens to take normal precautions against theft, such as not leaving a wallet, purse, or credit card unattended. Although vehicle break-ins in the UAE are rare, U.S. citizens are encouraged to ensure that unattended vehicles are locked and that valuables are not left out in plain sight.

INFORMATION FOR VICTIMS OF CRIME: The loss or theft abroad of a U.S. passport should be reported immediately to the local police and the nearest U.S. Embassy or Consulate. If you are the victim of a crime while overseas, in addition to reporting to local police, please contact the nearest U.S. Embassy or Consulate for assistance. The Embassy/Consulate staff can, for example, assist you to find appropriate medical care, to contact family members or friends and explain how funds could be transferred. Although the investigation and prosecution of the crime is solely the responsibility of local authorities, consular officers can help you to understand the local criminal justice process and to find an attorney if needed.

See our information on Victims of Crime.

MEDICAL FACILITIES AND HEALTH INFORMATION: Basic modern medical care and medicines are available in the principal cities of the UAE, but not necessarily in outlying areas.

Information on vaccinations and other health precautions, such as safe food and water precautions and insect bite protection, may be obtained from the Centers for Disease Control and Prevention's hotline for international travelers at 1-877-FYI-TRIP (1-877-394-8747); fax 1-888-CDC-FAXX (1-888-232-3299), or via the CDC's web site at http://wwwn.cdc.gov/travel/default.aspx. For information about outbreaks of infectious diseases abroad consult the World Health Organization's (WHO) web site at http://www.who.int/en. Further health information for travelers is available at http://www.who.int/ith.

MEDICAL INSURANCE:
The Department of State strongly urges Americans to consult with their medical insurance company prior to traveling abroad to confirm whether their policy applies overseas and whether it will cover emergency expenses such as a medical evacuation.
Please see our information on medical insurance overseas.
TRAFFIC SAFETY AND ROAD CONDITIONS: While in a foreign country, U.S. citizens may encounter road conditions that differ significantly from those in the United States. The information below concerning the United Arab Emirates is provided for general reference only, and may not be totally accurate in a particular location or circumstance.

The police emergency number and ambulance number is 999. Mobile phones are widely used throughout the UAE, so passers-by usually request emergency police and medical services quickly. Response time by emergency services is adequate. However, medical personnel emphasize transport of the injured to the hospital rather than treatment on site. Traffic accidents are a leading cause of death in the UAE because drivers often drive at high speeds. Unsafe driving practices are common, especially on inter-city highways. On highways, unmarked speed bumps and drifting sand create additional hazards.

Country-wide traffic laws impose stringent penalties for certain violations, particularly driving under the influence of alcohol.
In the UAE, there is zero tolerance for driving after consumption of alcohol.
Penalties may include hefty jail sentences and fines over $6,000 and, for Muslims (even those holding U.S. citizenship), lashings. Persons involved in an accident in which another party is injured automatically go to jail, until the injured person is released from the hospital. Should a person die in a traffic accident, the driver of the other vehicle is liable for payment of compensation for the death (known as "dhiyya"), usually the equivalent of 55,000 U.S. dollars. Even relatively minor accidents may result in lengthy proceedings, during which both drivers may be prohibited from leaving the country.

In order to drive, UAE residents must obtain a UAE driver's license. Foreign driver's licenses are not recognized. However, a non-resident visitor to the UAE can drive if he/she obtains a valid international driver's license issued by the motor vehicle authority of the country whose passport the traveler holds. The UAE recognizes driver's licenses issued by other Gulf Cooperation Council (GCC) states only if the bearer is driving a vehicle registered to the same GCC state. Under no circumstances should anyone drive without a valid license.

Please refer to our Road Safety page for more information.
You may also visit the web site of the UAE's national tourist office and national authority responsible for road safety at http://www.uaeinteract.org.

AVIATION SAFETY OVERSIGHT: The U.S. Federal Aviation Administration (FAA) has assessed the Government of the United Arab Emirates' Civil Aviation Authority as being in compliance with International Civil Aviation Organization (ICAO) aviation safety standards for oversight of the United Arab Emirates' air carrier operations. For more information, travelers may visit the FAA's web site at http://www.faa.gov/safety/programs_initiatives/oversight/iasa.

SPECIAL CIRCUMSTANCES: The UAE government does not recognize dual nationality.
Children of UAE fathers automatically acquire UAE citizenship at birth and must enter the UAE on UAE passports. UAE authorities have confiscated U.S. passports of UAE/U.S. dual nationals in the past. This act does not constitute loss of U.S. citizenship, but should be reported to the U.S. Embassy in Abu Dhabi or the U.S. Consulate General in Dubai. In addition to being subject to all UAE laws, U.S. citizens who also hold UAE citizenship may also be subject to other laws that impose special obligations on citizens of the UAE.
For additional information, please refer to our Dual Nationality flyer.

U.S. citizens have at times become involved in disputes of a commercial nature that have prompted local firms or courts to take possession of the U.S. citizen's passport. Travel bans may also be enforced against U.S. citizens involved in financial disputes with a local sponsor or firm. Such travel bans, which are rigidly enforced, effectively prevent the individual from leaving the UAE for any reason until the dispute is resolved. Although it is customary for a local sponsor to hold an employee's passport, it is illegal to do so under UAE law. Most contractual/labor disputes can be avoided by clearly establishing all terms and conditions of employment or sponsorship in the labor contract at the beginning of any employment. Should a dispute arise, the UAE Ministry of Labor has established a special department to review and arbitrate labor claims. A list of local attorneys capable of representing Americans in such matters is available from the Consular and Commercial sections of the U.S. Embassy in Abu Dhabi and the U.S. Consulate General in Dubai.

Codes of behavior and dress in the UAE reflect the country's Islamic traditions and are more conservative than those of the United States. Visitors to the UAE should be respectful of this conservative heritage, especially in the Emirate of Sharjah where rules of decency and public conduct are strictly enforced. Female travelers should keep in mind the cultural differences among the many people who coexist in the UAE and should be cognizant that unwitting actions may invite unwanted attention to them. Isolated incidents of verbal and physical harassment of Western women have occurred. Victims of harassment are encouraged to report such incidents to the U.S. Embassy in Abu Dhabi or the Consulate General in Dubai.

American citizens intending to reside and work in the UAE may have to present personal documents authenticated by the Department of State's Office of Authentications in Washington, D.C. before traveling to the UAE. This can be a complex process involving local, state and federal offices and requiring several weeks to complete.
For procedural information, the Office of Authentications may be contacted by telephone from within the United States at 800-688-9889 or 202-647-5002, by fax at 202-663-3636, or by e-mail at aoprgsmauth@state.gov.
In order to meet UAE government requirements for school registrations and residency sponsorship for family members, Americans intending to bring their families to reside with them in the UAE will need to have their marriage certificate and children's birth certificates, or custody/adoption decrees, if appropriate, authenticated by the Department of State in Washington, DC.
The U.S. Embassy and Consulate General cannot authenticate U.S. local- and state-issued personal, academic or professional documents; they will only be able to authenticate the final authentication document from the Department of State.
Additional information on authentication of documents can be found at http://www.state.gov/m/a/auth/.
In terms of employment, a recent change to UAE labor law requires local sponsors to have employees' diplomas, academic and/or occupational/professional certificates validated through a "Degree Verification" process established in the UAE.
Prospective employees will be required to submit photocopies of such documents for verification to a firm under contract to the Ministry of Labor.

In addition, persons in the education and health professions reportedly have to meet two requirements for validation of their educational credentials at this time – the formal "chain" authentication of academic/professional credentials in the U.S. and the "Degree Verification" process in the UAE.
Different UAE Ministries have different requirements in this regard.
Determining these requirements with one's prospective employer is strongly recommended before arrival in the UAE.

Please see our Customs Information.

CRIMINAL PENALTIES:
While in a foreign country, a U.S. citizen is subject to that country's laws and regulations, which sometimes differ significantly from those in the United States and may not afford the protections available to the individual under U.S. law. Penalties for breaking the law can be more severe than in the United States for similar offenses. Persons violating UAE laws, even unknowingly, may be expelled, arrested or imprisoned. Penalties for possession, use, or trafficking in illegal drugs in the UAE are severe, and convicted offenders can expect long jail sentences and heavy fines. Engaging in sexual conduct with children or using or disseminating child pornography in a foreign country is a crime, prosecutable in the United States. Please see our information on Criminal Penalties.

Legislation enacted in January 1996 imposes the death sentence for convicted drug traffickers. Since January 2006, possession of even trace amounts of illegal drugs has resulted in sentences of four years imprisonment for foreign citizens transiting the UAE. American citizens transiting and entering the UAE's airports and in possession of illegal drugs have been discovered, arrested and prosecuted by UAE authorities.
As mentioned, in such cases the minimum penalty is four years imprisonment.

Some drugs normally taken under a doctor's supervision in the United States, and even some over-the-counter U.S. drugs and medications, are classified as narcotics in the UAE and are illegal to possess.
A doctor's prescription should be carried along with any medication that is brought into the country.
A person may be subject to arrest and prosecution if possession of prescribed medicines (especially those containing codeine and similar narcotic-like ingredients) comes to the attention of local authorities.
The U.S. Embassy's web site includes an unofficial list of such medicines, obtained from the UAE Ministry of Health.
Most medications available in the U.S. are also available by doctors' prescription through hospitals and pharmacies in the UAE.

In addition, the UAE's tough anti-narcotics program also includes poppy seeds, widely used in other cultures, including the U.S., for culinary purposes, on its list of controlled substances. The importation and possession of poppy seeds in any and all forms is strictly prohibited. Persons found to possess even very small quantities of controlled substances listed by the UAE are subject to prosecution by the authorities and may be given lengthy prison terms of up to 15 years. Travelers with questions regarding the items on the list of controlled substances should contact the U.S. Embassy in Abu Dhabi or the U.S. Consulate General in Dubai. If suspected of being under the influence of drugs or alcohol, individuals may be required to submit to blood and/or urine tests and may be subject to prosecution.

Crimes of fraud, including passing bad checks and non-payment of bills (including hotel bills), are regarded seriously in the UAE and can result in imprisonment and/or fines. Bail generally is not available to non-residents of the UAE who are arrested for crimes involving fraud.

Drinking or possession of alcohol without a Ministry of Interior liquor permit is illegal and could result in arrest and/or fines and imprisonment. Alcohol is served at bars in most major hotels but is intended for guests of the hotel. Persons who are not guests of the hotel, and who consume alcohol in the restaurants and bars, technically are required to have their own personal liquor licenses. Liquor licenses are issued only to non-Muslim persons who possess UAE residency permits. Drinking and driving is considered a serious offense. Penalties generally are assessed according to religious law.

While individuals are free to worship as they choose, and facilities are available for that purpose, religious proselytizing is not permitted in the UAE.
Persons violating this law, even unknowingly, may be imprisoned or deported.

If arrested, U.S. citizens should contact the U.S. Embassy or Consulate General for assistance. The U.S. Consul will provide information on the local judicial system and a list of local attorneys. In Dubai, the U.S. Consul can also arrange for U.S. citizen detainees to meet with an ombudsman from the Human Rights Department of the Dubai police headquarters, if the detainee believes he or she is not being treated fairly.

CHILDREN'S ISSUES:
For information see our Office of Children's Issues web pages on intercountry adoption and international parental child abduction.

REGISTRATION/EMBASSY AND CONSULATE LOCATION:
Americans living or traveling in the United Arab Emirates are encouraged to register with the nearest U.S. Embassy or Consulate through the State Department's travel registration web site and to obtain updated information on travel and security within the United Arab Emirates. Americans without Internet access may register directly with the nearest U.S. Embassy or Consulate. By registering, American citizens make it easier for the Embassy or Consulate to contact them in case of emergency.

The U.S. Embassy in Abu Dhabi is located at Embassies District, Plot 38, Sector W59-02, Street No. 4, P.O. Box 4009. The telephone number is (971) (2) 414-2200, and the Consular Section fax number is (971) (2) 414-2241. The email address for American Citizens Services inquiries, including passport questions, is abudhabiacs@state.gov. The after-hours telephone number is (971) (2) 414-2500. The Embassy Internet web site is http://uae.usembassy.gov.

The U.S. Consulate General in Dubai is located on the 21st floor of the Dubai World Trade Center, P.O. Box 9343. The telephone number is (971) (4) 311-6000 (for after-hours emergencies, contact the Embassy at (971)(2) 414-2200 for the Dubai Duty Officer, and the Consular Section fax number is (971) (4) 311-6213. The email address for American Citizens Services inquiries, including passport questions, is dubaiwarden@state.gov. The web site for the U.S. Consulate General in Dubai is http://dubai.usconsulate.gov.

The workweek for both the Embassy in Abu Dhabi and the Consulate General in Dubai is Sunday through Thursday.
* * *
This replaces the Country Specific Information for the UAE dated July 06, 2007, to update the sections on Traffic Safety and Road Conditions and Criminal Penalties.
Turkey
Geographical Information:
*****************************************
Turkey is officially known as the Republic of Turkey and is bordered on the northwest by Bulgaria and Greece, on the north by the Black Sea and on the south by Syria, Iraq and t
e Mediterranean Sea. The capital is Ankara with a population of about 2.5 million though Istanbul is a much larger city (6.6 million). The population of the country is estimated at 62 million with the majority in the cities and along the costal regions.
Climate:
*****************************************
The Mediterranean and Aegean shores of Turkey have long and hot summers with a milder winter. In Istanbul the average July temperature reaches 230C while in January it can drop to 00C. Throughout the country the annual rainfall is about 29". This is mainly during the months of December and January.

Health Care Facilities:
*****************************************
The level of adequate health facilities vary considerably within the country. Most of the better hotels will have access to English speaking doctors but care may be required if hospital admission is required.
Disease Profile:
*****************************************
Cholera and other water borne diseases are frequently reported from Istanbul. In the southeastern city of Diyarbakir there are regular reports of dysentery, typhoid, meningitis and other contagious diseases.

General Food & Water Hygiene:
*****************************************
There can be little doubt that travellers to Turkey who disregard basic hygiene precautions will run a risk of developing significant illness and a ruined holiday. With simple general care most tourists will remain healthy.

Food Rules:
*****************************************
Always eat in clean restaurants and hotels. Eat freshly cooked hot food. Stay away from cold salads, especially lettuce. Don't eat any of the bivalve shellfish dishes such as oysters and mussels. Never eat food prepared by street vendors. Always peel your own fruit if at all possible.
Water Rules:
*****************************************
Never use the hotel tap water for drinking or brushing your teeth unless you can easily smell chlorine. Don't allow ice in your drinks and be wary of the hotel water jug which may be in your room each day. Any of the canned drinks or bottles are usually quite safe. Just check the seal first!
Rabies in Turkey:
*****************************************
This disease is only a particularly risk for travellers who plan to have extended trekking holidays throughout Turkey. Most tourists travelling for a 'sun' holiday would be very unfortunate to be exposed but nevertheless care should be taken at all times to ensure that there is no contact with warm blooded animals. This is mainly true for dogs and cats but any infected
warm blooded animal can transmit the disease through its saliva. Any bite, lick or scratch should be treated seriously.
*
Wash out the area
*
Apply an antiseptic
*
Attend for urgent medical attention
Sun Stroke:
*****************************************
The immense strength of the sun in the Middle East can often be underestimated by the Irish traveller. This is especially true for small children and the elderly. Try and stay out of the direct sunlight between 11am to 4pm. Use a wide brimmed hat if possible to protect yourself. Drink plenty of fluid (about 2 or 3 times as much as in Ireland) and remember to increase your salt intake unless this is contraindicated because of high blood pressure or heart disease etc. Any signs of dehydration should be recognised and treated early (dry lips, headache etc.).
Anthrax:
*****************************************
This bacterial disease is sometimes contracted by travellers who purchase untreated leather goods while abroad.
Drug Trafficking:
*****************************************
Remember that Turkey is regarded as a gateway to Europe. Never agree to carry belongings for others unless you are certain of the contents.
Malaria in Turkey:
*****************************************
The risk of malaria in Turkey is very limited and transmission usually only occurs between the months of March to November in the Çukurova / Amikova areas and from mid-March to mid-October in southeast Anatolia. These are mainly away from the standard tourist routes and so prophylaxis will usually not be required. Nevertheless there may be an abundant supply of mosquitoes and other insects around. Travellers should carry insect repellents and wear longer sleeved clothing when at risk.
Vaccinations for Turkey:
*****************************************
There are no compulsory vaccines for entry to Turkey from Ireland. However, travellers are advised to ensure that they are adequately covered against Poliomyelitis, Typhoid, Tetanus and Hepatitis A. Those spending longer in the country or undertaking a trekking holiday may also need to consider vaccination cover against Rabies and Hepatitis B .
Further Information:
*****************************************
Travellers can obtain further health information for overseas travel by contacting either of our offices. Useful web sites for information on Turkey include;

www.WHO.int
www.CDC.gov
www.FCO.gov.uk
Travel News Headlines WORLD NEWS
19th June 2019
https://www.dailysabah.com/turkey/2019/06/18/heavy-rainfall-floods-parts-of-northeastern-turkeys-trabzon-killing-7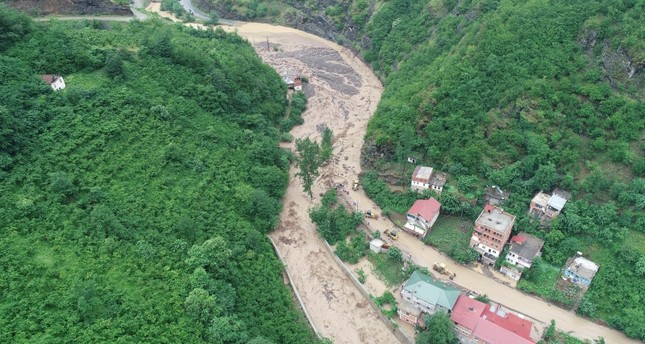 At least seven people were killed in north-eastern Turkey's Trabzon province after heavy rainfall triggered flash floods on Tuesday. Interior Minister Süleyman Soylu had previously announced that four people were killed in the province's Araklı district, while three others were injured and six people were missing. Agriculture and Forestry Minister Bekir Pakdemirli said three bodies were found in the area later on Wednesday, bringing the death toll to seven with three others unaccounted for. Trabzon Governor Ismail Ustaoğlu said search and rescue efforts had been launched by Disaster and Emergency Management Authority (AFAD) units to locate the missing.
The floods hit Araklı's Çamlıktepe and Yeşilyurt neighbourhoods after a nearby stream overflowed following sudden and heavy rainfall. Firefighters were immediately dispatched to the scene but had difficulty reaching the affected areas as debris brought by the floods blocked the roads. AFAD and gendarmerie units were also called in to help with the rescue efforts. The governor said the floods also destroyed four houses and offices in the district. Finance and Treasury Minister Berat Albayrak offered condolences for those that perished in the disaster and said all available resources were being made available to assist the rescue operation.
Date: Sat 23 Feb 2019
Source: Xinhua [abridged, edited]
Turkey's experts recently warned that epidemic diseases such as measles that have been off the grid for years might come back amid decreasing vaccination rates in the country in the past few years under the influence of anti-vaccine discourse. The anti-vaccination trend started with 183 people in 2011, reaching 980 in 2013 and 5091 in 2015. In 2017, a total of 23 600 families declined compulsory vaccine, professor Mehmet Ceylan, head of paediatric infectious diseases at Ankara's Hacettepe Medical Faculty, said.
The expert warned of an epidemic outbreak if vaccination rates falls under 95 per cent, or some 50 000 people in Turkey. Ceylan said that diseases such as diphtheria and tetanus, which have been off the grid in Turkey for years, might show up again.
WHO also voiced concern about the increasing anti-vaccination movement in Turkey. An increasing number of groups were "misleading" the public about the effects of vaccines, harming their trust in getting vaccinated, WHO said.
Turkish health ministry has set up a special website to inform the public about vaccines and to fight false facts. But the anti-vaccination movement is increasingly active on social media, with slogans such as "I have no obligation to vaccinate". A great majority is concerned with the content of the vaccines such as use of mercury or aluminum.
It's obligatory in Turkey that a baby be given a total of 16 different types of vaccination in the 1st 24 months. Parents have to sign an official document holding them responsible, if they reject vaccination. Professor Ata Nevzat Yalcin from Akdeniz University's Faculty of Medicine, Infection Diseases and Clinical Microbiology, warned against the latest trend of increasing measles in Turkey. "The worldwide increase in the disease in 2017 was also observed in our country," he said. There were 572 measles cases in 2014, 342 in 2015, 9 cases in 2016, 69 cases in 2017. In the 1st 9 months of 2018, the number of the cases exceeded 500, he added. Measles arises especially in the spring and winter months, and can cause recurrent epidemics every 2 to 3 years, Yalcin said.
According to the Health Ministry's figures, the measles vaccination rate was 97 per cent in 2015, 98 per cent in 2016, and 96 per cent in 2017. Turkey faced a measles outbreak, which was off the grid for many years, compounded by the arrival of millions of refugees after civil war erupted in neighbouring Syria.
Some 7415 people were diagnosed with measles in Turkey in 2013, but the epidemic was prevented after an intense vaccination program. The number of people diagnosed with measles disease reached 510 in the 1st 9 months of 2018 in Turkey, a recent report of WHO said. According to WHO, the number of global measles cases doubled to 229 068 in 2018, and 82 596 of them were in Europe, mostly caused by stalled vaccination levels.
Date: Wed, 13 Feb 2019 13:01:04 +0100

Beijing, Feb 13, 2019 (AFP) - Beijing has warned its citizens in Turkey to "be more vigilant", as bilateral tensions rise after strong Turkish criticism of China's treatment of its minority Uighur community. Nearly one million Uighurs and other Turkic-speaking minorities are being held in extrajudicial detention in camps in Xinjiang, according to a UN panel of experts, where most of China's more than 10 million Uighurs live.

Beijing has admitted to placing people in "vocational education centres" to prevent radical Islamism. Critics however allege Uighurs in the camps are being brainwashed in a massive campaign to enforce conformity with Chinese society and abandon Islam. The northwestern Xinjiang region -- home to some 10 million Uighurs -- has long suffered from violent unrest, which China claims is orchestrated by an organised "terrorist" movement seeking the region's independence.

Turkey, which has its own significant Uighur population, said on Saturday China's treatment of the Uighurs was "a great embarrassment for humanity". It also called on the international community and the UN "to take effective steps to end the human tragedy in Xinjiang region". China's embassy to Turkey wrote on its website: "We call once more on Chinese citizens in Turkey and Chinese tourists going to Turkey to be more vigilant and pay attention to their personal security as well as the security of their belongings."

The warning was posted on Sunday, the day after the declarations by the Turkish Ministry of Foreign Affairs. Violent anti-China protests against the county's treatment of the Uighurs have previously broken out in Turkey. In 2015, militant Turkish nationalists burnt a Chinese flag in front of China's embassy in Ankara. A popular Chinese restaurant in Istanbul also had its windows smashed and a group of South Korean tourists who were visiting the city was attacked because they were mistaken for Chinese.
Date: Thu, 31 Jan 2019 15:25:41 +0100

Istanbul, Jan 31, 2019 (AFP) - Nearly 40 million foreign tourists visited Turkey in 2018, an increase of more than 21 percent, according to tourism ministry figures released on Thursday. The Turkish tourism industry has been recovering over the last couple of years after a spate of terror attacks in 2015 and 2016 seriously dented the sector as well as a failed coup in July 2016. "Tourism in Turkey continues to rise and break the records of recent years," the ministry said, adding that there was a rise of 21.84 percent in 2018 from 2017.

Turkey welcomed just over 46 million visitors in 2018, including 39.49 million foreigners and 6.62 million Turkish citizens from abroad. The number exceeded that of 2015 when 42 million visitors came to Turkey, before a decline of 24.6 percent was recorded in 2016. The last major terror attack to hit Turkey was during New Year celebrations in 2017 when a gunman killed 39 people at an elite Istanbul nightclub.

Tourism income increased by 12.3 percent to reach $29.5 billion in 2018 compared to the previous year, according to official statistics published by the Turkish statistics office (TUIK) on Thursday. The 2018 figure was up from $26.3 billion in the previous year, TUIK said. Official data revealed that 81.8 percent of the income came from foreign visitors and 18.2 percent from Turkish citizens living abroad. Nearly six million foreigners coming to Turkey in 2018 were from Russia -- an increase of 26.49 percent compared with 2017 -- and 4.5 million visitors were from Germany, up by 25.88 percent from the previous year, according to the ministry's statement.

Around 1.5 million people visited Ephesus in western Turkey -- where the remains of one of the "Seven Wonders of the World", the famous Temple of Artemis lies -- in 2018. But in 2017, the figure was lower at 996,800 visitors, the tourism ministry said. During one weekend in January, several groups of tourists were enjoying the Ephesus ruins, which was added to the UNESCO World Heritage list in 2015 and is the fifth most visited site in Turkey. Some of my friends warned me: 'you know all the events that happened two, three years ago?' Shi, a Chinese tourist at Ephesus, said. "I think now it is OK. I don't worry about that."
Date: Sun, 27 Jan 2019 14:27:53 +0100

Ankara, Jan 27, 2019 (AFP) - A tornado hit the Turkish resort of Antalya, injuring a dozen people, overturning buses and damaging airplanes at the airport with officials warning on Sunday of the risk of more bad weather. After the tornado battered the area in the south on Saturday, Antalya Governor Munir Karaloglu said 12 people were injured and two buses were blown over at the airport. Two planes and a police helicopter were also partly damaged, Karaloglu said. It was the fifth tornado in three days, the governor's office said. The governorate on Sunday warned the public on Twitter that the risk of another tornado as well as strong winds, flooding and lightning remained in the province's east. Former Antalya MP and current Foreign Minister Mevlut Cavusoglu on Sunday told reporters that two people were killed after storms and flooding in the east of the province.

Turkish state news agency Anadolu had reported on Thursday that two people had died after a tornado hit Kumluca and Finike districts, while at least 10 others were wounded. Search and rescue teams on Sunday were looking for a 20-year-old university student who went missing after her car was hit by the tornado as she was on her way to visit her mother and father, Anadolu said. Environment Minister Murat Kurum said 315 buildings had been damaged in the past two days in the province because of bad weather. President Recep Tayyip Erdogan on Sunday said during a rally in Antalya that the material damage had reached nearly 100 million Turkish lira ($19 million; 16.6 million euros).
More ...
World Travel News Headlines
Date: Tue, 16 Jul 2019 10:44:51 +0200

Zagreb, July 16, 2019 (AFP) - Some 10,000 tourists were evacuated from a popular party beach on a Croatian island after a forest fire erupted early Tuesday, police said.

Police ordered visitors to night clubs on Zrce beach on the northern island of Pag to leave after the blaze erupted in a pine forest at around 1:00 am (2300 GMT Monday), a police statement said. No one was injured in the fire which was brought under control, the mayor of the nearby town of Novalja, Ante Dabo, told national radio. The cause was not immediately known. Three firefighting planes were rushed to the scene to help extinguish the blaze which spread to a local road that had to be closed.

The island of Pag and its Zrce beach are popular with young tourists, notably British, who party there. Tourism is a pillar of Croatia's economy, with visitors flocking to hundreds of islands and islets along its stunning Adriatic coast. Last year the country of 4.2 million people welcomed more than 19 million tourists.
Date: Mon, 15 Jul 2019 01:09:24 +0200

Kinshasa, July 14, 2019 (AFP) - The first case of Ebola has been confirmed in Goma, now the biggest city to have been affected by the disease since its outbreak in eastern DR Congo last August, the health ministry said on Sunday. A sick man had arrived in Goma early Sunday by bus with 18 other passengers and the driver from Butembo, one of the main towns touched by Ebola in Nord-Kivu province.

The man was tested "and the results of the laboratory test confirmed that he was positive for Ebola," the ministry said in a statement. It added that his trip began on Friday after "the first symptoms appeared on July 9 (Tuesday)". "Given that the patient was quickly identified, as well as all the passengers on the bus from Butembo, the risk of the disease spreading in the city of Goma is low," the ministry said. The passengers and the bus driver will begin getting vaccinations on Monday, it added.

The Ebola outbreak in eastern Democratic Republic of Congo has so far killed 1,655 people and 694 have been cured, according to a health ministry bulletin on Saturday. And 160,239 people have been vaccinated, it added. But efforts to tackle the crisis have been hampered both by militia attacks on treatment centres, in which some staff have been killed, and by the hostility of some local people to the medical teams.
Date: Sun, 14 Jul 2019 13:37:24 +0200

Pamplona, Spain, July 14, 2019 (AFP) - Three men were gored Sunday during the eighth and final bull run of Spain's San Fermin festival, bringing to eight the total number of daredevils injured during this year's fiesta. Among those who were hospitalised this year after being injured by a bull's horns was an American who was wounded in the neck while taking a selfie. In the last run, two Australians aged 27 and 30 as well as well as a 25-year-old Spaniard from Madrid were gored by the half-tonne fighting bull, "Rabonero", regional health authorities said.

The three men suffered injuries to the armpit, arm and leg from the bull's horns. Another two men were taken to hospital with bruises. During Sunday's run in the northern city of Pamplona, Rabonero, the heaviest of the six bulls used in the event, became separated from the pack moments into the run and began charging people in its way. Isolated bulls are more likely to get disoriented and start charging at people.

The bulls from the Miura ranch in the southwestern province of Seville completed the 848.6-metre (928-yard) course from a holding pen to the city bull ring in two minutes and 45 seconds. Each morning from July 7 to 14, hundreds of daredevils, many wearing traditional white shirts with red scarves tied around their necks, tested their bravery by running ahead of a pack of bulls through the course set up in the narrow, winding streets of the medieval city.

- Like getting hit by a truck -
The bulls face almost certain death in afternoon bullfights, and earlier this month animal rights activists staged a "die-in" protest in the streets of the city to protest the tradition. At the end of the festival's first run, a bull ran over and sunk one of its horns deep in the neck of a 46-year-old American from San Francisco, Jaime Alvarez, narrowly missing key arteries. He was injured as he was trying to take a video-selfie with his mobile phone. "It was like a truck or car just hitting me in the side of the head. I put my hand on my neck and I saw blood," he told US television from a Pamplona hospital. His wife had asked him not to take part in the bull run, he added. He was released from hospital two days later.

Another 23-year-old American from Kentucky and 40-year-old Spaniard were also gored that day. In addition to the eight men who were gored, another 27 people were taken to hospital for broken bones and bruises suffered during the bull runs. About 500 more people were treated at the scene for more minor injuries, according to the Red Cross. The festival dates back to medieval times and was immortalised in Nobel Prize-winning author Ernest Hemingway's 1926 novel "The Sun Also Rises". It claims scores of casualties every year although last year just two men were gored.

Although the runs are over, the festival's closing ceremony takes place at midnight Sunday. People from around the world flock to the city of 200,000 residents to test their bravery and enjoy the festival's mix of round-the-clock parties, religious processions and concerts. Sixteen people have been killed in the bull runs since records started in 1911. The last death was in 2009 when a bull gored a 27-year-old Spaniard in the neck, heart and lungs.
Date: Sun, 14 Jul 2019 12:47:38 +0200

Labuha, Indonesia, July 14, 2019 (AFP) - A major 7.3-magnitude earthquake hit the remote Maluku islands in eastern Indonesia Sunday, sending panicked residents running into the streets, but no tsunami warning was issued. The shallow quake struck about 165 kilometres (100 miles) south-southwest of the town of Ternate in North Maluku province at 6:28 pm (0928 GMT), according to the US Geological Survey.

"The earthquake was quite strong, sending residents to flee outside. They are panicking and many are now waiting on the roadside," said local disaster mitigation official Mansur, who like many Indonesians goes by one name. Officials were assessing the situation but there were no immediate reports of casualties, he told AFP.

In the town of Labuha, one of the closest to the epicentre, panicked residents took to motorcycles in a bid to flee to higher ground, according to an AFP photographer in town when the earthquake hit. Local disaster official Ihsan Subur told Metro TV that no damage or casualties had been reported there so far, but residents took to the streets and many evacuated to higher ground. "Electricity went of during the earthquake, but now it's back to normal," ubur said, adding that at least seven big aftershocks were felt after the initial quake.

The province was also hit by a 6.9-magnitude tremor last week. Indonesia experiences frequent seismic and volcanic activity due to its position on the Pacific "Ring of Fire", where tectonic plates collide. Last year, a 7.5-magnitude quake and a subsequent tsunami in Palu on Sulawesi island killed more than 2,200 people, with another thousand declared missing. On December 26, 2004, a devastating 9.1-magnitude earthquake struck off the coast of Sumatra and triggered a tsunami that killed 220,000 across the Indian Ocean region, including around 170,000 in Indonesia.
Date: Sun, 14 Jul 2019 09:02:36 +0200

Sydney, July 14, 2019 (AFP) - A strong 6.6-magnitude earthquake struck off northwest Australia Sunday, shaking buildings over a wide area but causing no immediate reports of damage or injuries. The shallow quake hit early Sunday afternoon 10 kilometres under the Indian Ocean 203 kilometres (126 miles) west of the West Australian beach resort of Broome, the US Geological Survey said. No tsunami alert was issued. Sergeant Neil Gordon of the Broome police department said the quake rattled the city for more than a minute. "The building here was shaking for about a minute and a half ... a steady shaking for that period of time," he told AFP by telephone. He added that there had been "no reports of any injuries or any damage throughout the district," following the tremor. The national broadcaster ABC said there were some reports of minor damage from the quake, and no injuries. Australian media said the tremor was felt across a long stretch of the northwestern coast of Australia, from the West Australian capital of Perth and the mining centres of Karatha and Port Hedland to the south and as far as Darwin to the north.
Thursday 11th July 2019
https://www.who.int/csr/don/11-july-2019-ebola-drc/en/

The outbreak of Ebola virus disease (EVD) in North Kivu and Ituri provinces, Democratic Republic of the Congo continues this past week with a similar transmission intensity to the previous week. While the number of new cases continues to ease in former hotspots, such as Butembo, Katwa and Mandima health zones, there has been an increase in cases in Beni, and a high incidence of cases continues in parts of Mabalako Health Zone. In addition to these re-emerging hotspots, there are a large number of people with confirmed and probable infections moving to other health zones, with the greatest number coming from Beni Health Zone. The movement of cases causes the outbreak to spread to new health zones and re-emerge in health zones with previously controlled infections. Overall, this underscores the importance of robust mechanisms for listing and following up contacts and understanding the motivations for peoples' decisions to move.
After the first reported case in the Ariwara Health Zone on 30 June, no new cases have been observed in that health zone. A response team deployed to that zone continues to identify contacts, engage the community, and vaccinate individuals at risk. Response personnel from the bordering countries of Uganda and South Sudan continue to support operational readiness activities. Resources are being dedicated to monitoring the Uganda-Democratic Republic of the Congo border in that area.
In the 21 days from 19 June through 9 July 2019, 72 health areas within 22 health zones reported new cases, representing 11% of the 664 health areas within North Kivu and Ituri provinces (Figure 2). During this period, a total of 247 confirmed cases were reported, the majority of which were from the health zones of Beni (41%, n=101), Mabalako (19%, n=48), Lubero (6%, n=16), and Mandima (5%, n=13). As of 09 July 2019, a total of 2437 EVD cases, including 2343 confirmed and 94 probable cases, were reported (Table 1). A total of 1646 deaths were reported (overall case fatality ratio 68%), including 1552 deaths among confirmed cases. Of the 2437 confirmed and probable cases with known age and sex, 57% (1384) were female, and 29% (704) were children aged less than 18 years.
Cases continue to increase among health workers, with the cumulative number infected rising to 132 (5% of total cases). Of the 128 health workers with information available, the greatest proportion is among health workers at health posts [poste de santé] (20%, n = 26) and private health facilities (35%, n = 45). The majority (68%, n = 87) of health worker infections were among nurses.
No new EVD cases or deaths have been reported in the Republic of Uganda since the previous EVD Disease Outbreak News publication on 13 June 2019. As of 3 July, 108 contacts exposed to those cases were identified, and they all completed the 21-day follow-up period. All contacts were asymptomatic. Arua district, located in the north-western part of Uganda near the Uganda-Democratic Republic of the Congo border, is currently stepping up its response readiness to prevent imported cases of Ebola following the case that died on 30 June 2019 in Ariwara Health Zone in neighbouring Democratic Republic of the Congo, located 8 kilometres from the Uganda border. This case is known to have over 200 contacts, some of whom are in the communities bordering the Arua district. As of 9 July 2019, two suspected cases in the Arua district were reported and both tested negative. As of 9 July 2019, the cumulative number of individuals vaccinated in Arua district is 811 out of 1092 targeted front line and healthcare workers.

More information here: https://www.who.int/csr/don/11-july-2019-ebola-drc/en/
Date: Sat, 13 Jul 2019 10:41:55 +0200

Kuala Lumpur, July 13, 2019 (AFP) - Flash floods killed a Dutch tourist in a popular cave located in the rugged Mulu National Park on Malaysia's Borneo island, an official said Saturday, as a search continues for a missing guide. Local fire and rescue chief Law Poh Kiong identified the dead man as 66-year-old Peter Hans Hovenkamp from Utrecht in the central Netherlands. "He died due to drowning following flash floods in the caves. His body was found in a river inside the cave and was taken to the Miri public hospital for a post-mortem on Saturday," he told AFP. Law said a search-and-rescue operation involving 16 officers had been launched to locate 20-year local tour guide Roviezal Robin. Eight other tourists in the same group "almost become victims" but fled to higher ground and escaped from being washed into the river, Law added.

Hovenkamp was reported missing on Friday while the group was touring the popular "Deer Cave", home to an estimated three million bats which form amazing patterns in the sky when they leave each dusk. Mulu park, located in the remote Borneo jungle of Sarawak state and famous for its caves, cliffs and gorges, is a UNESCO world heritage site. It sees thousands of visitors annually, particularly for its cooling rains during the summer months. Law described the death as "a freak tragedy."
Date: Sat, 13 Jul 2019 09:52:36 +0200

Kathmandu, July 13, 2019 (AFP) - Floods and landslides triggered by torrential monsoon rains have killed at least 40 people across South Asia in the last two days, officials said Saturday. The monsoon, which lasts from June to September, causes widespread death and destruction across South Asia each year. In Nepal, 27 people have died in floods and landslides after heavy rains hit the country's eastern region and the southern plains.

Bishwaraj Pokharel, spokesperson for Nepal Police, added that another 11 people were injured and 15 others reported missing. Three of the victims were killed when a wall collapsed in the capital Kathmandu. "Our first priority is life saving rescue and all our resources have been deployed," Home Ministry official Umakanta Adhikari told AFP.

Police used boats to bring people to safety as rivers swelled, inundating their settlements, while parents were seen wading across chest-high waters carrying children on their shoulders. Nepal's weather department issued a high alert for the southern Sapta Koshi river on Saturday and sent SMS warnings to people in the area.

In neighbouring India 11 deaths have been recorded in the north-eastern states of Assam and Arunachal Pradesh, officials said Friday. Monsoon floods have inundated 21 districts in Assam, affecting thousands, officials said Friday.

In Bangladesh aid groups were providing rations to Rohingya refugees in the southeast of the country with the UN World Food Programme saying Friday that two people including a child had died. Last year, more than 1,200 people were been killed across South Asia in monsoon storms with India's Kerala suffering its worst floods in nearly 100 years.
Date: Fri, 12 Jul 2019 16:00:57 +0200

Chennai, India, July 12, 2019 (AFP) - A special 50-wagon train carrying 2.5 million litres of water arrived in the Indian city of Chennai Friday, as the southern hub reels under one of its worst shortages in decades. The wagons were hauled by a special locomotive, decorated with flowers and with a "Drinking Water for Chennai" banner on its front. Four special trains a day have been called up to bring water to Chennai -- India's sixth most populous city -- from Vellore, some 80 miles (125 kilometres) away, to help battle the drought. The first consignment will be taken to a water treatment centre, and then distributed in trucks to different parts of the metropolis on Saturday. Chennai has seen only a fraction of the rain it usually receives during June and July. The city of 4.9 million people also needed trains to bring water in when it suffered a similar crisis in 2001.

The bustling capital of Tamil Nadu state normally requires at least 825 million litres of water a day, but authorities are currently only able to supply 60 percent of that. With temperatures regularly hitting 40 degrees Celsius (104 Fahrenheit), reservoirs have run dry and other water sources are dwindling further each day. The Chennai metro has turned off its air conditioning, farmers have been forced to stop watering their crops, and offices have asked staff to work from home. The city's economy has also taken a hit as some hotels and restaurants shut shop temporarily, and there have been reports of fights breaking out as people queue for water.
Date: Fri, 12 Jul 2019 11:42:26 +0200

Sydney, July 12, 2019 (AFP) - A looming ban on climbing Australia's Uluru rock, intended to protect the sacred site from damage, has instead triggered a damaging influx of visitors, tourism operators said Friday. Clambering up the giant red monolith, also known as Ayers Rock, will be prohibited from October -- in line with the wishes of the traditional Aboriginal owners of the land, the Anangu. But a rush to beat the ban has led to a sharp increase in tourists and is causing its own problems for the World Heritage Uluru-Kata Tjuta National Park. Families arriving in campers vans and RVs are a particular problem, chief executive of Tourism Central Australia Stephen Schwer told AFP. "We have got so much of one particular market coming, we don't have enough infrastructure to handle the number of drive travellers."

While most visitors are doing the right thing, camping venues in the area are at capacity with advance bookings, leaving many less organised arrivals to set up illegally. "People don't realise when they go off the road they are actually trespassing on pastoral land, or Aboriginal land, or protected land," Schwer said. "We are getting people that are leaving their rubbish behind and lighting fires," he added. "Sadly, people are also emptying their toilet waste out of their vans on what they think is unpopulated land, but is actually private land." In the 12 months to June 2019, more than 395,000 people visited the Uluru-Kata National Park, according to Parks Australia, about 20 percent more than the previous year. Yet just 13 percent of those who visited also climbed the rock, the government agency said. Tourism operators say that Australian and Japanese tourists most commonly seek to climb Uluru.

The Aboriginal connection to the site dates back tens of thousands of years and it has great spiritual and cultural significance to them. "Since the hand back of Uluru and Kata Tjuta to traditional owners in 1985, visitors have been encouraged to develop an understanding and respect for Anangu and their culture," a spokesperson for Parks Australia said. "This is reflected in the 'please don't climb' message," they added. Lyndee Severin from Curtin Springs station and roadhouse, one of just a few camping venues within 100 kilometres of Uluru, said "the vast majority of people are doing the right thing" but hundreds were setting up illegally by the side of the road or down a bush track. "So we have some people that think that the rules don't apply to them," she told AFP.