WORLD NEWS
Getting countries ...
Select countries and read reports below
or
Antartica
General:
**********************************
Cuba is an independent island country situated in the Caribbean. It is the largest of the islands and covers 42,000sq miles. The climate is sub tropical throughout the year with most of the rainfall in
the northern parts of the country. Temperatures of between 20C to 35C are fairly standard throughout the year. Generally the winter effects of the American continent only last for short periods.
Safety & Security:
**********************************
The majority of tourists visiting Cuba will have no difficulty but bag snatching and other street crime appears to be increasing. The old Havana area and other major tourist resorts may be particular areas of concern in this regard. On arrival be careful to only use your recognised tour operator. If you are taking a taxi at any stage make sure it is a registered one and not a private vehicle. It is unwise to carry large quantities of money or jewellery away from your hotel and try not to flaunt wealth with your belongings. Pickpockets are too common an occurrence on buses and trains and at train stations so be careful with your essential documents and credit cards. Valuables should not be stored in suitcases when arriving in or departing from Havana as there have been a number of thefts from cases during the time the cases are coming through baggage handling. There is an airport shrink-wrap facility for those departing Havana which reduces the risk of tampering. Remember to carry a photocopy of your main documents (passport, flight tickets etc).
Road Safety:
**********************************
Following a number of serious road accidents involving tourists, you are advised not to use mopeds for travelling around Cuba or in Havana. Also, if you are involved in any accident a police investigation will be required to clear you and this may significantly delay your travel plans. On unlit roads at night there have been a number of accidents associated with roaming cattle (sounds like Ireland!). The traffic moves on the right side of the roads. There is a main highway running the length of the country but many of the country roads are in poor repair.
Local Laws & Customs:
**********************************
When arriving into Cuba make sure you are not carrying any items which could be considered offensive. Any illicit drug offense is treated very seriously and Cuban law allows for the death penalty to be used under these circumstances. If you require personal medication for your health, make sure it is in original packing and carry a letter from your doctor describing the medication. Never agree to carry any item for another individual and always secure your cases once they are packed. Taking photographs of military or police installations or around harbours, rail and airport facilities is strictly forbidden.

Currency:
**********************************
Since 1993 it is now possible to use US dollars for all transactions within Cuba. Remember, there is a 20$ airport departure tax. Certain travellers cheques and credit cards may not be acceptable within Cuba. This is particularly true of American Express cheques and cards but check your situation with the travel operator before departure.
Health Facilities:
**********************************
Generally healthcare facilities outside of Havana are limited and many standard medications may not be available. It is important to carry sufficient quantities of any medications which may be required for the duration of your time in Cuba.
Food & Water:
**********************************
The level of food and water hygiene varies throughout the country and between resorts. On arrival check the hotel cold water supply for the smell of chlorine. If it is not present then use sealed bottled water for both drinking and brushing your teeth throughout your stay. Cans and bottles of drinks are safe but take care to avoid pre-cut fruit. Peel it yourself to make sure it is not contaminated. Food from street vendors should be avoided in most cases. Bivalve shellfish are also a high risk food in many countries and Cuba is no exception in this regard. (Eg Mussels, Oysters, Clams etc)
Malaria & Mosquito Borne Diseases:
***********************************************
Malaria transmission does not occur within Cuba and so prophylaxis is not required. However, a different mosquito borne disease called Dengue has begun to reoccur in the country over the past few years. This viral disease can be very sickening and even progress to death. It is rare for tourists to become infected but avoiding mosquito bites is a wise precaution.
Swimming, Sun & Dehydration:
************************************
The extent of the Cuban sun (particular during the summer months (April to October) can be very excessive so make sure your head and shoulders are covered at all times when exposed. Watch children carefully as they will be a significant risk. Drink plenty of fluids to replace what will be lost through perspiration and, unless there is a reason not to,
take extra salt either on your food or in crisps, peanuts etc. Take care if swimming in the Caribbean to stay with others and to listen to local advice. Never swim after a heavy meal or alcohol.
Rabies Risk in Cuba:
**********************************
This viral disease does occur throughout Cuba and it is essential that you avoid any contact with all warm blooded animals. Dogs, cats and monkeys are the most commonly involved in spreading the disease to humans. Don't pick up a monkey for a photograph! If bitten, wash out the wound, apply an antiseptic and seek urgent medical attention.
Vaccinations for Cuba:
**********************************
There are no essential vaccines for entry / exit if coming from Ireland. However, for your own personal protection travellers are advised to have cover against the following;
*
Tetanus (childhood booster)
*
Typhoid (food & water borne disease)
*
Hepatitis A (food & water borne disease)
For those planning a longer or more rural trip vaccine cover against conditions like Hepatitis B and Rabies may also need to be considered.
Summary:
**********************************
Cuba is becoming a popular destination for tourists and generally most will stay very healthy. However commonsense care against food and water borne disease is essential at all times. Also take care with regard to sun exposure, dehydration and mosquito bites.
Travel News Headlines WORLD NEWS
Date: Fri, 6 Dec 2019 03:03:18 +0100 (MET)

By Pierre-Henry DESHAYES
Half Moon Island, Antarctica, Dec 6, 2019 (AFP) - The swimsuit-clad tourists leap into the icy water, gasping at the shock, and startling a gaggle of penguins. They are spectators at the end of the world, luxury visitors experiencing a vulnerable ecosystem close-up. And their very presence might accelerate its demise. Antarctica, a vast territory belonging to no one nation, is a continent of extremes: the coldest place on Earth, the windiest, the driest, the most desolate and the most inhospitable. Now, it's also a choice destination for tourists.
All around Half Moon Island, off the Antarctic Peninsula, blocks of ice of all sizes float by on a calm sea, their varying forms resembling weightless origami shapes. On this strip of land, that juts out of the Antarctic Polar and towards South America, visitors can see wildlife normally only viewed in zoos or nature documentaries along with spectacular icy landscapes. The ethereal shades of white that play across the pillowy peaks change with the light, acquiring pastel hues at dawn and dusk. "Purity, grandeur, a scale that's out of this world," says Helene Brunet, an awestruck 63-year-old French pensioner, enjoying the scene. "It's unbelievable, totally unbelievable. It's amazing just to be here, like a small speck of dust."
AFP joined the 430 passengers on board the Roald Amundsen, the world's first hybrid electric cruise ship, on its maiden voyage in the Southern Ocean. "It's not your typical beach, but it's awesome to do it," says a numb Even Carlsen, 58, from Norway, emerging from his polar plunge in the three-degree C (37.4 F) water. When tourists go ashore, bundled up in neon-coloured windbreakers and slathered in SPF50 sunscreen, they have to follow strict rules: clean your personal effects so you don't introduce invasive species, keep a respectful distance from wildlife to avoid distressing them, don't stray from the marked paths and don't pick up anything. "We mucked up the rest of the world. We don't want to muck up Antarctica too," says an English tourist, as she vacuums cat hair off her clothes before going ashore.
- 'Heart of the Earth' -
The Antarctic peninsula is one of the regions on Earth that is warming the fastest, by almost three degrees Celsius in the past 50 years, according to the World Meteorological Organization -- three times faster than the global average. In March 2015, an Argentinian research station registered a balmy 17.5 degrees Celsius, a record. "Every year you can observe and record the melting of glaciers, the disappearance of sea ice... (and) in areas without ice, the recolonisation of plants and other organisms that were not present in Antarctica before," said Marcelo Leppe, director of the Chilean Antarctic Institute.
Antarctica is "like the heart of the Earth," he added, saying that it expands and contracts like a heart beating, while the mighty current which revolves around the continent is like a circulatory system as it absorbs warm currents from other oceans and redistributes cold water. The Antarctic Treaty, signed 60 years ago by 12 countries -- it now has 54 signatories -- declared the area a continent dedicated to peace and science, but tourism has gradually increased, with a sharp rise in the past few years. Tourism is the only commercial activity allowed, apart from fishing -- the subject of international disputes over marine sanctuaries -- and is concentrated mainly around the peninsula, which has a milder climate than the rest of the continent and is easier to access.
Cruise ships have roamed the region for around 50 years, but their numbers only started to increase from 1990, as Soviet ice-breakers found new purposes in the post-Cold War era. Some 78,500 people are expected to visit the region between November and March, according to the International Association of Antarctica Tour Operators (IAATO). That's a 40-percent increase from last year, due in part to short visits by a few new cruise ships carrying more than 500 passengers, too many to disembark under IAATO regulations. "Some might say 'Well, 80,000 people, that doesn't even fill a national stadium'... (and that it) is nothing like Galapagos which welcomes 275,000 a year," says IAATO spokeswoman Amanda Lynnes. "But Antarctica is a special place and you need to manage it accordingly."
- 'Leave Antarctica to the penguins' -
It is Antarctica's very vulnerability that is attracting more and more visitors. "We want to see this fantastic nature in Antarctica before it's gone," Guido Hofken, a 52-year-old IT sales director travelling with his wife Martina, says. They said they had paid a supplement to climate compensate for their flight from Germany.
But some question whether tourists should be going to the region at all. "The continent probably would be better off being left to penguins and researchers, but the reality is, that is probably never going to happen," said Michael Hall, professor and expert on polar regions at the University of Canterbury in New Zealand. "Vicarious appreciation never seems to be enough for humans. So with that being the case, it needs to be made as low risk to the Antarctic environment and as low carbon as possible," said Hall. "However, when the average tourist trip to Antarctica is over five tonnes of CO2 emissions per passenger (including flights), that is a serious ask."
Soot or black carbon in the exhaust gases of the scientific and cruise ships going to the region is also of concern, said Soenke Diesener, transport policy officer at German conservation NGO Nabu. "These particles will deposit on snow and ice surfaces and accelerate the melting of the ice because the ice gets darker and will absorb the heat from the sun and will melt much faster," he told AFP. "So the people who go there to observe or preserve the landscape are bringing danger to the area, and leave it less pristine than it was," he added.
- Responsible tourism -
Antarctic tour operators insist they are promoting responsible tourism. The trend is for more intimate, so-called expedition cruises, in contrast to popular giant cruise liners elsewhere which are criticised for being invasive and polluting. With greener ships -- heavy fuel, the most commonly used for marine vessels, has been banned in Antarctica since 2011 -- cruise companies have sought to make environmental awareness a selling point, occasionally earning them accusations of greenwashing.
Global warming, pollution and microplastics are the result of human activities on other, faraway continents, say tour operators. Here, their motto is "Take nothing but photographs, leave nothing but footprints, keep nothing but memories". But before they've even set foot on the cruise ships departing from South America -- the most common itinerary -- visitors to Antarctica will already have flown across the world, causing emissions that harm the very nature they have come so far to admire.
Most visitors hail from the Northern Hemisphere, and almost half are from the United States and China, IAATO says. "I'm a tourist who feels a little guilty about taking a flight to come here," admits Francoise Lapeyre, a 58-year-old globetrotter om France. "But then again, there are priorities. There are some trips I just won't take, because they leave a big footprint and they're not worth it. "Crisscrossing the planet to go to a beach for example," she says.
- Don't mention climate change -
Like other expedition cruises where accessible science is part of their trademark, the Roald Amundsen, owned by the Hurtigruten company, has no dance floor or casino. Instead, there are microscopes, science events and lectures about whales and explorers like Charles Darwin. But they steer clear of climate change, which is only mentioned indirectly. That's a deliberate decision as the subject has proven "quite controversial", said Verena Meraldi, Hurtigruten's science coordinator. "We held several lectures dedicated specifically to climate change but it leads to conflicts. There are people who accept it as a fact, others who don't," she said. Onboard, "passengers" are referred to as "guests" and "explorers" rather than "cruisers". "Explorers" are typically older, well-heeled, often highly travelled pensioners who are handed walking sticks as they step ashore. "My 107th country," says a Dane, stepping ashore onto Antarctica.
The Roald Amundsen "guests" choose between three restaurants, from street food to fine dining -- a far cry from the conditions endured by the Norwegian adventurer for whom the ship is named, who had to eat his sled dogs to survive his quest to reach the South Pole in 1911. They have paid at least 7,000 euros ($7,700) each for an 18-day cruise in a standard cabin, and up to 25,000 euros ($27,500) for a suite with a balcony and private jacuzzi. Other cruises are banking on ultra-luxury, with James Bond-like ships equipped with helicopters and submarines, suites of more than 200 square metres (2,153 square feet) and butler services. With a seaplane to boot, the mega-yacht SeaDream Innovation will offer 88-day cruises "from Pole to Pole" starting in 2021. The two most expensive suites, with a price tag of 135,000 euros per person, are already booked.
- Worlds collide -
Outside, in the deafening silence, wildlife abounds. All around are penguins, as awkward on land as they are agile in water. Massive and majestic whales slip through the waves, and sea lions and seals laze in the sun. On Half Moon Island, chinstrap penguins -- so called because of a black stripe on their chin -- strut about in this spring breeding season, raising their beaks and screeching from their rocky nests. "This is to tell other males 'This is my space' and also, maybe, 'This is my female'," ornithologist Rebecca Hodgkiss, a member of the Hurtigruten's scientific team, explains, as a group of tourists stroll around ashore. The colony of 2,500 penguins has been gradually declining over the years, but it's not known if that is man's fault or they have just moved away, according to Karin Strand, Hurtigruten's vice president for expeditions. Invisible to the naked eye, traces of humankind are however to be found in the pristine landscape. Not a single piece of rubbish is in sight but microplastics are everywhere, swept in on ocean currents. "We've detected them in the eggs of penguins for example," Leppe told AFP.

- Venice under water -
The Antarctic, which holds the world's largest reserve of freshwater, is a ticking time bomb, warn experts and studies. They say that the future of millions of people and species in coastal areas around the world depends on what is happening here. As a result of global warming, the melting ice sheet -- especially in the western part of the continent -- will increasingly contribute to rising sea levels, radically re-drawing the map of the world, says climate scientist Anders Levermann, of the Potsdam Institute for Climate Impact Research. This meltwater will contribute 50 centimetres (almost 20 inches) to the global sea level rise by 2100, and much more after that, he said. "For every degree of warming, we get 2.5 metres of sea level rise. Not in this century, but in the long run," he said.

Even if the international community meets its obligations under the Paris Agreement to limit global warming to under two degrees Celsius, sea levels will still rise by at least five metres. "Which means that Venice is under water, Hamburg is under water, New York, Shanghai, Calcutta," he said. It's impossible to predict when, but the scenario appears unavoidable, says Levermann. In the same way that a cruise ship powering ahead at full speed can't immediately stop, sea levels will continue to rise even if all greenhouse gas emissions were to cease immediately, a study has said.

- Changing the world? -
The tourism industry says it hopes to make "ambassadors" out of Antarctica visitors. "It's good for the animal life and for the protection of Antarctica that people see how beautiful this area is, because you cherish what you know and understand," said Hurtigruten chief executive Daniel Skjeldam. Texan tourist Mark Halvorson, 72, says he is convinced. "Having seen it, I am that much more committed to having a very high priority in my politics, in my own inner core convictions to being as environmentally friendly in my life as I can," he said. So, do Guido and Martina Hofken see themselves as future "ambassadors of Antarctica"? "Just a little bit, probably. But I don't think I will change the world," Guido Hofken concedes. "The best thing would be for nobody to travel to Antarctica."
Date: Thu, 17 May 2018 09:57:07 +0200

Buenos Aires, May 17, 2018 (AFP) - Tourism regulation in Antarctica has become an urgent matter due to environmental threats, officials from the 53 member countries of the Antarctic Treaty warned at their annual meeting, held this week in Buenos Aires.

In the absence of rules, travel agencies offer trips to the region on boats sometimes equipped with helicopters or submarines, according to Segolene Royal, French ambassador for the Arctic and Antarctic poles. "This activity creates considerable disturbance ... we are witnessing a race toward large-scale tourism that is dangerous for ecosystems," she said at the assembly on Wednesday.

During the austral summer of 2016/2017, around 44,000 tourists set off for Antarctica, compared with just 9,000 in 1995/1996, according to French authorities. However, the push for regulation is not about banning tourism, former environmental minister Royal said, but rather about ensuring it is managed in compliance with the treaty and its environmental protection protocol.

In Buenos Aires, the Antarctic Treaty Consultative Meeting -- whose mission is to regulate human activity on the continent -- also sought to encourage scientific cooperation between countries that have collectively set up around 100 research bases across the ice. Also up for analysis is China's proposed fifth permanent scientific station in Antarctica, which would be located in the Ross Sea area south of New Zealand.
Date: Wed, 5 Jul 2017 13:01:49 +0200
By Marlowe HOOD

Paris, July 5, 2017 (AFP) - A chunk of ice bigger than the US state of Delaware is hanging by a thread from the West Antarctic ice shelf, satellite images revealed Wednesday. When it finally calves from the Larsen C ice shelf, one of the biggest icebergs in recorded history will be set adrift -- some 6,600 square kilometres (2,550 square miles) in total, according to the European Space Agency (ESA).

The iceberg's depth below sea level could be as much as 210 metres (almost 700 feet), or about 60 storeys, it said. "The crack in the ice is now around 200 kilometres (125 miles) long, leaving just five kilometres between the end of the fissure and the ocean," the ESA said in a statement. "Icebergs calve from Antarctica all the time, but because this one is particularly large its path across the ocean needs to be monitored as it could pose a hazard to maritime traffic."

Scientists tracking the berg's progression expect it to break of within months. The Larsen C shelf will lose more than 10 percent of its total surface area. The massive ice cube will float in water and by itself will not add to sea levels when it melts. The real danger is from inland glaciers. Ice shelves float on the sea, extending from the coast, and are fed by slow-flowing glaciers from the land. They act as giant brakes, preventing glaciers from flowing directly into the ocean. If the glaciers held in check by Larsen C spilt into the Antarctic Ocean, it would lift the global water mark by about 10 centimetres (four inches), researchers have said.

The calving of ice shelves occurs naturally, though global warming is believed to have accelerated the process. Warming ocean water erodes the underbelly of the ice shelves, while rising air temperatures weaken them from above. The nearby Larsen A ice shelf collapsed in 1995, and Larsen B dramatically broke up seven years later. The ESA is keeping an eye on Larsen C with its Copernicus and CryoSat Earth orbiters.

Man-made global warming has already lifted average global air temperatures by about one degree Celsius (1.8 degrees Fahrenheit) since pre-industrial levels. Antarctica is one of the world's fastest-warming regions. The world's nations undertook in the Paris Agreement, inked in 2015, to cap average global warming at "well under" 2 C.
Date: Wed, 22 Jun 2016 21:35:09 +0200
By Jean-Louis SANTINI

Washington, June 22, 2016 (AFP) - Two sick workers were evacuated from a remote US research station near the South Pole on Wednesday in a risky rescue mission carried out in the dead of Antarctica's winter, a US official said. A Twin Otter turboprop plane flew in dark and cold conditions to pick up the workers from the Amundsen-Scott station, about 250 meters from the geographic South Pole, a spokesman for the US National Science Foundation (NSF), Peter West told AFP.

The plane's crew and a medical team had made the 10-hour journey to the South Pole in the middle of Antarctica's 24-hour winter on Tuesday night to reach the unidentified patients, who could not be treated on site. The NSF -- the US research agency that operates the Amundsen-Scott Station -- organized the rescue mission last week given the condition of the first patient, which was not disclosed for privacy reasons. "It was really an emergency," West said. It later became apparent that the second worker also needed to be evacuated.

The sick workers -- employees of the US company Lockheed Martin who worked on base logistics -- were then taken to the Rothera base, a British research station some 2,200 kilometers (about 1,365 miles) away, the spokesman said. The pair, who were not identified, were then to be transferred to a hospital in South America, West said, without giving further details. The Amundsen-Scott base was home to 48 people -- 39 men and nine women -- who work on-site throughout the austral winter, which spans February through October.

- Rare rescue mission -
Near the world's southernmost point, workers spend this period withstanding nearly complete darkness and dramatically low temperatures -- on Tuesday, the thermometer dropped to -60 degrees Celsius (-76 degrees Fahrenheit). It was only the third time that an emergency rescue operation has been launched in the middle of winter. In 2001, the only doctor at the Amundsen-Scott station was suffering from a life-threatening pancreatic condition and required urgent evacuation. A second medical evacuation was carried out that year.

In 1999, the US station's doctor Jerri Nielsen, who was self-treating her own breast cancer, required medical evacuation but weather conditions were more favorable, as the mission took place in the spring. The Twin Otter plane, operated by the Canadian company Kenn Borek Air, is specially designed to operate in extremely cold temperatures.

Research projects at the Amundsen-Scott station include monitoring long-term levels of carbon dioxide (CO2) in the atmosphere. The station also operates two telescopes that observe "cosmic microwave background" radiation -- the faint light signature left by the Big Bang -- to study the origins of the universe, dark energy and dark matter.
Date: Wed, 18 Jun 2014 09:04:56 +0200 (METDST)
by Martin PARRY

SYDNEY, June 18, 2014 (AFP) - Antarctic scientists warned Wednesday that a surge in tourists visiting the frozen continent and new roads and runways built to service research facilities were threatening its fragile environment. Tourist numbers have exploded from less than 5,000 in 1990 to about 40,000 a year, according to industry figures, and most people go to the fragmented ice-free areas that make up less than one percent of Antarctica. A growing number of research facilities are also being built, along with associated infrastructure such as fuel depots and runways, in the tiny ice-free zones.

It is these areas which contain most of the continent's wildlife and plants, yet they are among the planet's least-protected, said a study led by the Australian government-funded National Environmental Research Programme (NERP) and the Australian Antarctic Division. "Many people think that Antarctica is well protected from threats to its biodiversity because it's isolated and no one lives there," said Justine Shaw from the NERP of the study published in the journal PLoS Biology. "However, we show that there are threats to Antarctic biodiversity. "Most of Antarctica is covered in ice, with less than one percent permanently ice-free," she added. "Only 1.5 percent of this ice-free area belongs to Antarctic Specially Protected Areas under the Antarctic Treaty System, yet ice-free land is where the majority of biodiversity occurs." Five of the distinct ice-free areas have no protection at all while all 55 of the continent's protected zones are close to sites of human activity.

- Fragile ecosystems -
Steven Chown of Monash University, another collaborator in the study, said the ice-free areas contain very simple ecosystems due to Antarctica's low species diversity. This makes its native wildlife and plants extremely vulnerable to invasion by outside species, which can be introduced by human activity. "Antarctica has been invaded by plants and animals, mostly grasses and insects, from other continents," he said. "The very real current and future threats from invasions are typically located close to protected areas. "Such threats to protected areas from invasive species have been demonstrated elsewhere in the world, and we find that Antarctica is, unfortunately, no exception."

The study said the current level of protection was "inadequate by any measure" with Shaw saying more was needed to guard against the threat posed by the booming tourism industry. "(We need) to protect a diverse suite of native insects, plants and seabirds, many of which occur nowhere else in the world," she said. "We also need to ensure that Antarctic protected areas are not going to be impacted by human activities, such as pollution, trampling or invasive species." Antarctica is considered one of the last frontiers for adventurous travellers. Most travel by sea, some paying in excess of US$20,000 for a luxury cabin in the peak period from November to March. There is also a healthy market for sightseeing flights.

Approximately 30 nations operate permanent research stations on the continent including the US, China, Russia, Australia, Britain, France and Argentina, and more are on the way. China's state media said in December that the country was building its fourth base and a fifth was being planned. Fellow study author Hugh Possingham, from NERP, said that without better protection "this unique and fragile ecosystem could be lost". "Although we show that the risks to biodiversity from increasing human activity are high, they are even worse when considered together with climate change," he added. "This combined effect provides even more incentive for a better system of area protection in Antarctica."
More ...
Indonesia
*****
Information for Bali
*******
General
************************************
Bali is one of the main tourist destinations for many Irish travellers to Indonesia. The island is well developed for the tourist industry and genera
ly the climate is tropical and humid throughout the year. Many Irish travellers will use the island as a stopover. If this is for only 24 to 28 hours the extent of your jetlag may leave you little time to enjoy the country and its people.
Safety & Security
************************************
Throughout Indonesia there are many regions where it is unsafe to travel. The Parliament in Indonesia may impeach the President in the near future. Civil disturbance with student demonstrations in the capital Jakarta, earthquakes in the island of Sumatra, unrest regarding the independence of Timor and profound warring fractions on the island of Borneo has the potential to spill over into Bali. Nevertheless during the past years Bali has remained stable and there have been few reports of serious disturbances that have affected tourists or business travellers. Lombok is an island close to Bali often visited by tourists. It is regarded as more unstable and recently (Dec 2000) four explosions during fighting between two villages (Bongor & Parampuan). The main tourist region around Senggigi has remained quiet.

Local Customs
************************************
The laws against illegal drugs are severe and travellers should ensure that they carry sufficient well-marked medication that they may require for their time in Indonesia. Travellers are required to show identification at any time and so carrying photocopies of your passport is a wise precaution. Keep all valuable documents in a safe place and do not flaunt personal wealth while travelling around the island.
Night Activities
************************************
The nightlife in Bali is one of the main attractions for many tourists but sensible precautions are required. Travelling alone is unwise. Take care to ensure that your drink could not be spiked at any stage and do not walk at night, use an authorised taxi where possible. The level of HIV infection among the bar workers is high and close personal contact is very unwise.
Medical Facilities
************************************
The level of available health facilities varies greatly through Bali and other parts of Indonesia. In general most of the main hotels will have English speaking doctors but care would be required if your illness requires hospitalisation.
Food and Water
************************************
It is wise to maintain a high level of care with regard to your food and water while in Indonesia. This includes even those in high quality hotels but also particularly for those eating from street vendors. Bivalve shellfish (e.g. oysters, mussels, clams etc) should be avoided at all times due to inadequate cooking. Bottled water should be purchased from your hotel or good quality shops to ensure that it is pure.
Mosquitoes and Insect Bites
************************************
Malaria transmission occurs throughout Indonesia all year but the risk in Bali is so low that prophylaxis is not generally recommended for most tourists. Nevertheless for those visiting Lombok (overnight visits) the risk exists and prophylaxis should be considered. Other mosquito borne diseases also occur throughout Indonesia and care must be taken to avoid insect bites. In Jakarta and other main cities there is a particular problem with a viral disease called Dengue Fever. The mosquito, which transmits this disease, typically bites during the day and in main urban centres.
Sun Exposure
************************************
The strength of the sun in Bali is considerable higher than that experienced in Ireland at any time of the year. Sufficient head covering should be worm when exposed and travellers should ensure that their fluid intake is sufficient. Salt depletion also needs to be replaced in times of significant perspiration.
Swimming
************************************
If swimming in pools, make sure that sufficient chlorination has been used. Take care with small children when close to the deep end of the pool. If sea swimming make sure that there are always others around and that you heed any local advice and warning signs. Never swim soon after alcohol or for an hour after mealtime.
Jet Lag
************************************
The extent of jet lag, which you will experience, depends on the duration of your flight and the amount of rest you were able to get before arrival. Try to rest for the first 24 hours to allow your body to acclimatise and make sure you do not fall asleep beside the swimming pool during this initial period.
Vaccinations for Bali
************************************
There are no essential vaccines or entry to Bali from Western Europe. However for your personal protection travellers are recommended to consider vaccination cover against;
*
Poliomyelitis (childhood booster)
*
Tetanus (childhood booster)
*
Typhoid (food & water disease)
*
Hepatitis A (food & water disease)
Other travellers planning a more rural or extensive trip may need to consider other vaccine cover against diseases like Hepatitis B, Japanese B Encephalitis, Rabies.
Summary
************************************
The majority of those visiting Bali will enjoy the many tourist attractions on the island. However commonsense and care is required to ensure that you do not expose yourself to unnecessary risk. The staff of the Tropical Medical Bureau can be contacted at either of the numbers below if you require further information.
Travel News Headlines WORLD NEWS
Date: Wed, 6 May 2020 18:33:44 +0200 (METDST)

Jakarta, May 6, 2020 (AFP) - A 6.8 magnitude earthquake jolted a remote part of eastern Indonesia late Wednesday, the United States Geological Survey said, but there was no tsunami warning issued and no immediate reports of damage. The undersea quake struck at a depth of some 107 kilometres (66 miles) in the sea between Indonesia's Maluku and East Timor at 22:50 local time (13:50 GMT). The epicentre was about 390 kilometres south of the city of Ambon in the archipelago's Maluku province. "We have not received any reports of damages so far as a result of the quake. The result of our modeling also shows that the earthquake did not trigger any potential tsunami," said Taufan Maulana, the spokesman of Indonesia's weather and geophysics bureau.

The bureau further reported that the tremors were strongly felt by people on nearby small islands, as well as those in some cities in Papua, the easternmost province of Indonesia. Researcher Fawwaz Rifasya told AFP that he was on the fourth floor of a hotel in Manokwari, Papua, when he felt the building swaying. Meanwhile, Andika Baskoro in Merauke, Papua, said that he noticed the quake after he saw hanging lamps and water in a gallon swaying. An AFP journalist in Dili, East Timor, roughly 400 kilometres away, reported feeling a slight tremor. Indonesia is one of the most disaster-prone nations on Earth. In 2018, a 7.5-magnitude quake and a subsequent tsunami in Palu on Sulawesi island left more than 4,300 people dead or missing.
Date: Wed, 29 Apr 2020 09:54:33 +0200 (METDST)
By Agnes ANYA, Safrin Labatu

Jakarta, April 29, 2020 (AFP) - From shirtless soldiers to teens sun tanning on their parents' driveways, Indonesians are soaking up rays like never before in the hope that plentiful sunshine will ward off coronavirus. The rush to take up a practice usually associated with Bali-bound foreigners has been driven by unfounded claims on social media that sunlight -- and the vitamin D it supplies -- can slow or kill the virus.

That hope got a boost last week when a senior US official said new research showed sunlight quickly destroys the virus. The study has yet to be evaluated independently, but US President Donald Trump spoke about it enthusiastically during a press conference. "I always avoided the sun before because I didn't want to get tanned," said Theresia Rikke Astria, a 27-year-old housewife in Indonesia's cultural capital Yogyakarta. "But I'm hoping this will strengthen my immune system," she added.

Medics have their doubts, but say a 15-minute burst of morning sunshine can be good for you. "Exposing the body to direct sunlight is good to get vitamin D, not to directly prevent the disease," said Dr. Dirga Sakti Rambe at Jakarta's OMNI Pulomas Hospital. Vitamin D, which comes from fish, eggs, milk and sunlight exposure, is important in maintaining a healthy immune system, he said, but added: "Sunbathing does not kill the virus that causes COVID-19."

Whatever the science, one thing is for sure: there is no shortage of sunshine in the tropical 5,000-kilometre- (3,100-mile-) long Southeast Asian archipelago. The rush outdoors has led to an Indonesian government warning about the dangers of skin cancer, and calls for novice sun-seekers to slap on protection. It was a rare caution in a place where sunbathing is not practised widely and beauty product commercials extol the virtues of fair skin. Across Asia, pale skin has long been associated with a higher social class and skin-lightening products are big sellers. Muslim majority Indonesia's relatively conservative dress codes -- especially for women -- mean skimpy swimwear isn't a feature of the new craze.

- 'Asian skin tone' -
But the pandemic has made a convert of Rio Zikrizal, even if he struggles with the idea of soaking his shirtless torso in the sun. "In normal times I'd be reluctant to sunbathe," the Jakarta resident said. "I've got an Asian skin tone which gets dark easily so I often use products to make my skin lighter." Nabillah Ayu, who lives on the outskirts of the capital Jakarta, starts her newly adopted sunbathing routine around 10 am -- when she used to be in the office -- in the hopes of avoiding the deadly respiratory disease. "Sunlight can't directly kill coronavirus, but it can boost the immune system and stop you from getting it," the 22-year-old said. Bare-chested suntan sessions have been incorporated into morning exercise routines for some military and police units.

And in major cities, residents are flocking from neighbourhoods crammed with narrow, dark alleyways to open areas -- including commuter train tracks -- where they can catch some unobstructed rays. It is a motley mix of women in head-covering hijabs with rolled up sleeves and pants, shirtless male teens and wrinkly pensioners all clamouring for a bit of sunshine as the odd train zips by. "I've just started sunbathing regularly since the pandemic hit," Alfian, who goes by one name, told AFP near train tracks in Tangerang on the edge of Jakarta. "Afterwards I take a shower and my body feels fitter." Pensioner Wadianto Wadito, who suffers from heart disease and diabetes, figures he can use all the help he can get. "I'm already taking a lot of medicines anyway, so now I'm sunbathing to get all my vitamins without taking more pills," the 65-year-old said.
Date: Thu, 23 Apr 2020 18:37:35 +0200 (METDST)

Jakarta, April 23, 2020 (AFP) - Indonesia will ban all air and sea travel until June, officials said Thursday, in an apparent effort to contain the spread of the coronavirus during the holiest period on the Islamic calendar. The temporary ban takes effect Friday, the first day of the fasting month of Ramadan for the Muslim-majority country, and lasts until June 1. It comes a day after the government, fearing an explosion in virus cases, banned the annual exodus for Eid al-Fitr, the holiday marking the end of Ramadan, when millions travel to their hometowns and ancestral villages.

The latest measure will not apply to emergency, diplomatic or cargo transport, the government said. The repatriation of Indonesian citizens from abroad and foreigners living in the Southeast Asian archipelago will also be exempt. "It applies to both domestic and international commercial travel but there are some exceptions," Transportation Ministry spokeswoman Adita Irawati told AFP. The country's biggest airlines Garuda and Lion Air had already scaled backed their commercial flights as the tourism market shrivelled up.

But the ban on sea travel could hamper the movement of millions in a country of some 17,000 islands where passenger ferries are a key mode of transportation. The government had already called on residents of major cities, including the capital Jakarta, to stay put. As of Thursday, Indonesia had confirmed 7,775 cases of COVID-19 and 647 deaths. But the toll is widely believed to be much higher in a country with one of the lowest testing rates in the world.
Date: Thu, 16 Apr 2020 10:45:32 +0200 (METDST)

Jakarta, April 16, 2020 (AFP) - Reduced to sharing goggles and cheap raincoats, Indonesia's under-equipped doctors are battling a tide of coronavirus infections that is overwhelming its creaky health-care system -- and killing their colleagues. Two dozen doctors have died since the pandemic began in the Southeast Asian nation, and critics warn that the official death toll of 459 is way below reality in a country with some of the lowest virus testing rates in the world. Hospitals don't have enough basic protective gear -- never mind sophisticated ventilators -- leaving many poorly paid doctors to battle the virus with little more than plastic rain ponchos.

Jakarta doctor Muhammad Farras Hadyan said supplies are running so low at his hospital that some colleagues rely on donations from family members to buy the few available certified hazardous material suits. "The rest rely on the hospital's supply and they've got to wait," he said. Handoko Gunawan, a 79-year-old pulmonary specialist, was on the front lines until he was forced into quarantine on suspicion he had contracted the virus. "I was shaking so bad, and the nurse was trembling," Gunawan, who later tested negative for the illness, said of treating patients. "These young health workers have spouses and children at home, but they still brave the challenges. "Doctors are scarce in Indonesia and if they die we'll have fewer people to treat patients," he added.

Indonesia has fewer than four doctors for every 10,000 people, according to World Health Organization data -- far below hard-hit Italy (around 40) or South Korea (about 24). The Indonesian Doctors' Association has warned that the coronavirus crisis is much worse than reported and the government's response is "in tatters". Latest official figures say Indonesia had some 5,136 confirmed cases, but only 36,000 people have been tested across a sprawling archipelago of more than 260 million -- the world's fourth most populous nation. The health ministry revealed this week that nearly 140,000 Indonesians are being monitored on suspicion they may have the virus. "The government's official data doesn't reflect the real picture of infections across the country," said Halik Malik, a spokesman for the doctors' association.

Jakarta municipal figures show more than 1,000 suspected or confirmed victims buried in local cemeteries under COVID-19 protocols that require bodies to be quickly interned -- about five times the government toll in the capital, the epicentre of the outbreak in Indonesia. Burials in Bandung, a city in West Java that borders the capital region, have doubled to about 400 a month since the outbreak, the province's governor Ridwan Kamil told AFP. "It is the same phenomenon as in Jakarta," Kamil said. "We can't confirm these are all COVID-19, but the number of deaths is higher than usual." The surge has left doctors like Raditya Nugraha and colleagues at a West Java hospital struggling to keep up, and having to share equipment. "We don't have enough goggles so we take turns wearing them," he said.
Date: Tue, 31 Mar 2020 13:10:45 +0200 (METDST)

Jakarta, March 31, 2020 (AFP) - Indonesian leader Joko Widodo declared a state of emergency Tuesday as coronavirus deaths in the world's fourth most populous country jumped again, but he resisted calls for a nationwide lockdown. Widodo's administration has been heavily criticised for not imposing lockdowns in major cities, including the capital Jakarta, a vast megalopolis home to about 30 million people where most of the country's virus deaths have been reported.

Indonesia's leader offered few details of the state of emergency beyond calling for stricter social distancing, but announced $1.5 billion in beefed-up social assistance and subsidies for low-income workers. Tens of millions eke out a living on poorly-paid jobs in Southeast Asia's biggest economy. "To overcome the impact of COVID-19, we've chosen the option of large-scale social distancing," Widodo told reporters. "We must learn from the experience in other countries, but we cannot copy them because every country has its own characteristics," he added.

On Tuesday, authorities said 136 people had died after contracting the virus, with 1,528 confirmed cases of infection. But the latter figure is widely thought to be well below the real number in the archipelago of more than 260 million. The Indonesian Doctors' Association has warned that the coronavirus crisis is far worse than has been officially reported and that the government's response is "in tatters".

Jakarta's governor has said nearly 300 suspected or confirmed victims of the virus have been wrapped in plastic and quickly buried in the city since the start of March. The capital's top politician has been pushing for a total lockdown of the city. Also Tuesday, Indonesia's corrections agency said it is set to offer early release to about 30,000 inmates to help stem the spread of the virus in over-crowded prisons. The number amounts to more than 10 percent of Indonesia's 272,000 inmate population.
More ...
Cameroon
Cameroon - US Consular Information Sheet
April 02, 2008
COUNTRY DESCRIPTION:
Cameroon is a developing country in central Africa.
Although there are many natural and cultural attractions in Cameroon, facilities catering to Western-styl
tourism are quite limited.
The capital is Yaoundé, though Douala, the country's largest city, is its main port and commercial center.
Official languages are French and English, though French predominates in most of the country.
English may be used in Cameroon's two Anglophone provinces of Southwest and Northwest, and the larger cities.
The staff of major hotels in Cameroon's large cities is usually bilingual.
In February 2008, social and political unrest led to civil unrest, although the immediate threat of violence has now receded.
For general information on Cameroon, read the Department of State Background Notes on Cameroon.

ENTRY/EXIT REQUIREMENTS:
A valid passport, visa, evidence of yellow-fever vaccination, and current immunization records are required, and travelers may be denied entry if they lack the proper documentation.
Travelers should obtain the latest information and details from the Embassy of the Republic of Cameroon, 2349 Massachusetts Avenue, NW, Washington D.C. 20008, tel: (202) 265-8790, fax: (202) 387-3826.
Visit the Embassy of Cameroon's web site at http://www.ambacam-usa.org/ for the most current visa information.

Information about dual nationality or the prevention of international child abduction can be found on our web site.
For further information about customs regulations, please read our Customs Information sheet.

SAFETY AND SECURITY:
During the week of February 25, 2008, Cameroon experienced significant civil unrest in half of its ten provinces, most notably in the port city of Douala.
Demonstrators clashed violently with police and then military personnel, resulting in the reported deaths of forty persons and arrest of over 1,600 individuals.
The unrest was marked by widespread road blockages, attacks on public and private vehicles, looting, burning of government and other buildings, and roaming crowds of malcontents.
This disturbance created shortages of fuel, food and other supplies throughout the country, and was ended through the deployment of military units and the use of significant force.

Following the restoration of order, some efforts have been made to address fuel and food prices that were among the key grievances of the demonstrators.
However, economic conditions, notably the high unemployment rate, remain difficult without the prospect for rapid improvement.
Political tensions also remain, particularly over a possible amendment to the Constitution that would allow President Biya to serve again.
Although a rapid resumption of violence is considered unlikely, Americans living in or visiting Cameroon are encouraged to stay abreast of local political and social developments that could signal additional difficulties for the country.

Embassy employees have been instructed to refrain from travel outside of city limits after dusk, and to monitor their movements in centrally located areas within cities and towns.
Private American citizens are urged to follow the same guidelines and are strongly advised against nighttime travel.
Armed highway bandits (most notably in border areas); poorly lit roads; hazardous, poorly maintained vehicles; and unskilled, aggressive and/or intoxicated drivers pose a threat to motorists.
Attacks and accidents are most common outside major towns, especially in the provinces bordering Chad and the Central African Republic but occur in all areas of the country.

The U.S. Department of State continues to warn U.S. citizens against travel to neighboring Central African Republic (CAR).
On occasion, conflict between insurgents and government security forces in CAR has spilled across the border into Cameroon, affecting outposts in both Adamawa and East Provinces.
Humanitarian and religious workers in eastern Cameroon are strongly encouraged to coordinate their efforts with the Embassy and the Office of the United Nations High Commission for Refugees (UNHCR) in Yaoundé.

In February 2008, an attack by rebel insurgents on Ndjamena, the capital of Chad, forced the evacuation of the Embassy in Chad and sent up to 50,000 refugees across the border into the town of Kousseri in Cameroon.
Although the attack was ultimately repelled, the possibility of further military action by the rebel forces remains.

In late 2006, inter-ethnic clashes were reported in the town of Kye-Ossi near the Cameroonian border with Gabon.
These confrontations were a result of a discord between moto-taxi drivers and the security forces, which resulted in demonstrations and roadblocks.
According to security authorities, tensions in the area are still high, despite the deployment of a large security force to the region.

Following a ruling from the International Court of Justice defining a section of the Cameroon-Nigeria border, Cameroon assumed administrative control of most of the Bakassi Peninsula, in August 2006, with Nigerian military forces withdrawing across the border.
Although the transition has generally gone smoothly, there was an attack on Cameroonian military forces in November 2007, reportedly by criminal elements from the Niger Delta not connected to the Nigerian government.
It is very difficult to reach Bakassi, but travelers thinking of going near there should exercise extreme caution as there is the potential for violence if tensions rise.

For the latest security information, Americans traveling abroad should regularly monitor the Department of State, Bureau of Consular Affairs' web site at http://travel.state.gov, where the current Worldwide Caution, Travel Warnings, and Travel Alerts can be found.

Up-to-date information on safety and security can also be obtained by calling 1-888-407-4747 toll free in the U.S. and Canada, or for callers outside the U.S. and Canada, a regular toll-line at 1-202-501-4444.
These numbers are available from 8:00 a.m. to 8:00 p.m. Eastern Time, Monday through Friday (except U.S. federal holidays).

The Department of State urges American citizens to take responsibility for their own personal security while traveling overseas.
For general information about appropriate measures travelers can take to protect themselves in an overseas environment, see the Department of State's pamphlet A Safe Trip Abroad.

CRIME:
Crime is a serious and growing problem throughout Cameroon and U.S. citizens should exercise caution when traveling in Cameroon.
Internet-based crime is escalating rapidly, and Americans should be extremely skeptical of financial
transactions --
e.g. adoptions, hiring a service worker, such as a nanny, to come to the U.S., or purchasing a pet -- that involve sending money for goods or services not yet delivered (see below).
In February 2008, two European nationals were kidnapped by criminals posing as businessmen seeking to establish a palm oil export business. Although several perpetrators were arrested and the individuals were not harmed, the incident highlights a dangerous new confluence of internet-based and violent crime.
If you have concerns about the legitimacy of a transaction, such as adoption, in Cameroon contact the U.S. Embassy in Cameroon – see Registration/Embassy Location section below.
All foreigners are potential targets for theft with possible attendant violence.
Petty crimes, crimes against persons, thefts from vehicles, and of vehicles are the most common criminal activities.
Armed banditry is a growing problem throughout all ten provinces in Cameroon.
Specifically, incidents of armed highway-robbery have been reported in the North West, West, South West and East provinces.
Armed bandits have erected road barricades on major routes that link rural towns to provincial headquarters, and have taken as many as 100 cars in a single attack.
To curb banditry, security personnel may request persons to show their passport, residence card, driver's license, and/or vehicle registration at random checkpoints.
Certified copies of these important documents should be kept in a secure location separate from the originals.
Security personnel have been known to ask for bribes and may hurt citizens who refuse to pay.
The U.S. Government does not condone bribery or corruption of any kind.

Due to the frequency of criminal incidents involving public transportation, American citizens are advised that use of public taxis can be dangerous.
In April 2007, two American women were assaulted and robbed in a taxi.
Public taxis in Cameroon function more like the U.S. bus system with drivers stopping to pick up additional passengers as long as there is space left in the vehicle.
There have been numerous reports of assaults and robberies committed by "passengers" in shared taxis since crimes – rape and robbery being among the most common – are often a collaborative effort between the driver and "passengers."
If a traveler must use a taxi, the use of a private taxi – or a taxi hired for exclusive use by the individual for that particular trip – where the driver is known to the passenger is a better alternative to the use of shared taxis.
Taxi passengers should be particularly vigilant at night.

The risk of street and residential crime is high, and incidents of violent crime are on the rise throughout the country.
During the last year, the number of carjacking and armed burglary incidents in residences and restaurants, particularly in Yaoundé and Douala, continued to increase.
Carjacking and robbery has also been reported on rural highways, especially in the Northern provinces and regions near Cameroon's border with the Central African Republic.

On March 27, 2006, 11 armed men attacked a group of four U.S. citizens in a private residence (adjacent to a hotel frequented by expatriates) in Kribi, located in the Southern province.
A group of five armed bandits held up and robbed staff and guests of a hotel in Ngaoundere (Adamawa Province) on December 20, 2006.
Similar incidents occurred in the middle of the night at hotels in Bertoua (East Province) on April 22, 2007, and in Yaoundé (Central Province) on May 15, 2007 when assailants broke into hotel rooms and robbed the residents.
Americans were among the victims.
Crimes against property, such as carjacking and burglaries, have often been accompanied by violent acts and have resulted in fatalities.
There were four incidents of armed robberies in the month of April 2007, involving American citizens in or near restaurants in Yaoundé and Bertoua.

In January 2007, a French expatriate was fatally shot in the upscale Bastos neighborhood of Yaoundé.
The woman was dropping off a friend to her residence and interrupted an attempted home invasion.
Upon realizing what was happening, the friend returned to the vehicle and both women attempted to flee the scene.
As they were leaving, an armed bandit shot and fatally wounded the driver of the vehicle.

In September 2007, several expatriates suffered armed attacks.
In one incident, an Israeli citizen giving a ride to a friend was attacked in Bastos by two men with knives.
In the ensuing scuffle, the Israeli was critically wounded.
A Moroccan diplomat was fatally injured while walking near his residence.
Found unconscious by security guards, he was taken to a local hospital where he died the following day.
A Chinese business woman was also robbed and killed outside her home in a neighborhood near Bastos.
All incidents occurred late at night.

In December 2007, a police officer was arrested and jailed in Yaoundé after he and his accomplices surprised a couple returning from Europe and stole a briefcase and jewelry.

In January 2008, three bandits posing as passengers on a bus to Douala – and carrying locally made guns - were intercepted at Bafoussam and apprehended.
In Douala, armed bandits robbed a soap company at gun point, surprising the employees.
They attempted to loot the company's computers, but were intercepted by a SWAT team and ran off.
Also in January, an Embassy employee using public transportation in the Northwest Province was the victim of highway robbers, who robbed the passengers (including a local mayor) and roughed-up those who did not have enough money.
In February 2008, Cameroon experienced a brief period of civil unrest during a taxi strike that involved road blockages, attacks on public and private vehicles, looting, burning of government and other buildings, and roaming crowds of malcontents.
This period was attended by a sharp increase in reported crimes, including the stabbing death of a night watchman at a residence in Yaoundé, an attack at the Brussels Airline travel agency in the Bonapriso district of Douala, an attack by a group of armed bandits on a motorbike rider who suffered a gunshot wound to the head, and numerous reports of rape and armed attacks with firearms and machetes in Douala.

Recently, many American citizens have become victims of Cameroonian advance-fee fraud and other scams offering antiques, exotic and domesticated animals, and even adoption services through the Internet.
Americans should be very cautious about sending money or traveling to Cameroon to meet someone contacted via the Internet.
Commercial scams targeting foreigners, including many U.S. citizens, continue to be a problem.
The scams generally involve phony offers of lucrative sales and repeated requests for additional funds to pay for unforeseen airport and/or customs fees.
No one should provide personal financial or account information to unknown parties.
The ability of U.S. Embassy officers to extricate U.S. citizens from unlawful business deals and the consequences is limited.
For more information on international financial scams, including those involving Internet dating, a promise of an inheritance windfall, a promise of a work contract overseas, overpayment for goods purchased on-line, or money-laundering, see the Department of State's publication International Financial Scams.

INFORMATION FOR VICTIMS OF CRIME:
The loss or theft abroad of a U.S. passport should be reported immediately to the local police and the nearest U.S. Embassy or Consulate.
If you are the victim of a crime while overseas, in addition to reporting to local police, please contact the nearest U.S. Embassy or Consulate for assistance.
The Embassy/Consulate staff can, for example, assist you to find appropriate medical care, contact family members or friends and explain how funds could be transferred.
Although the investigation and prosecution of the crime is solely the responsibility of local authorities, consular officers can help you to understand the local criminal justice process and to find an attorney if needed.

See our information on Victims of Crime .

MEDICAL FACILITIES AND HEALTH INFORMATION:
Medical facilities in Cameroon are extremely limited.
Even in large cities, emergency care and hospitalization for major illnesses and surgery are hampered by the lack of trained specialists, outdated diagnostic equipment, and poor sanitation.
Medical services in outlying areas may be completely nonexistent.
Doctors and hospitals often require immediate payment for health services in cash.
Pharmacies in larger towns are well stocked, but in other areas many medicines are unavailable.
Travelers are advised to carry their own supply of needed prescription and anticipated over-the-counter medicines.

Malaria is a serious and sometimes fatal disease.
Plasmodium falciparum malaria, the type that predominates in Cameroon, is resistant to the antimalarial drug chloroquine.
Because travelers to Cameroon are at high risk for contracting malaria, the Centers for Disease Control and Prevention (CDC) advises that travelers should take one of the following antimalarial drugs: mefloquine (Lariam™), doxycycline, or atovaquone/proguanil (Malarone™) as prophylaxis to reduce this risk.
Travelers who become ill with a fever or flu-like illness while traveling in a malaria-risk area, and up to one year after returning home, should seek prompt medical attention and tell the physician their travel history and what antimalarials they have been taking.
For additional information on malaria, including protective measures, see the CDC Travelers' Health web site at http://www.cdc.gov/malaria/.
There are periodic outbreaks of cholera in Cameroon.
Yellow fever can cause serious medical problems, but the vaccine, required for entry, is very effective in preventing the disease.

In March 2006, avian influenza (H5N1) was confirmed in wild ducks in northern Cameroon.
There have been no reports of avian influenza among humans in Cameroon.
Avian influenza has been reported in both birds and humans in neighboring Nigeria.
For additional information on avian influenza as it affects American citizens residing abroad, please visit the U.S. Department of State's Avian Influenza Fact Sheet.

Information on vaccinations and other health precautions, such as safe food and water precautions and insect bite protection, may be obtained from the Centers for Disease Control and Prevention's hotline for international travelers at 1-877-FYI-TRIP (1-877-394-8747) or via the CDC's website at http://wwwn.cdc.gov/travel/default.aspx.
For information about outbreaks of infectious diseases abroad consult the World Health Organization's (WHO) website at http://www.who.int/en.
Further health information for travelers is available at http://www.who.int/ith/en.

MEDICAL INSURANCE:
The Department of State strongly urges Americans to consult with their medical insurance company prior to traveling abroad to confirm whether their policy applies overseas and whether it will cover emergency expenses such as a medical evacuation.
Please see our information on medical insurance overseas .

TRAFFIC SAFETY AND ROAD CONDITIONS:
While in a foreign country, U.S. citizens may encounter road conditions that differ significantly from those in the United States.
The information below concerning Cameroon is provided for general reference only, and may not be totally accurate in a particular location or circumstance.

Cameroon's road networks, both paved and unpaved, are poorly maintained and unsafe at all times of the year.
Vehicles are poorly maintained and there is no mechanism or requirement to inspect for roadworthiness.
During the rainy season, many roads are barely passable with four-wheel-drive vehicles.
Livestock and pedestrians create constant road hazards (especially at night) and road safety rules are frequently ignored.
There are few road and traffic signs; speed limits are neither posted nor enforced.
Buses and logging trucks travel at excessive speed and are a constant threat to other road traffic.

Travelers on roads near the borders with CAR and Chad should ensure that their vehicles are fully fueled, and that they have adequate cooking fuel, food, and water for several days as well as a reliable means of communication, such as a satellite or cell phone, or radio.

Visitors who are not in possession of a valid passport and a visa may experience difficulties at police roadblocks or other security checkpoints.
It is not uncommon for a uniformed member of the security forces to stop motorists on the pretext of a minor or non-existent violation of local motor vehicle regulations in order to extort small bribes.
Visitors are advised not to pay bribes and to request that the officer provide a citation to be paid at the local court.

Local law states that vehicles involved in an accident should not be moved until the police arrive and a police report can be made.
If an accident results in injury, drivers should be aware of the possibility that a "village justice" mentality may develop.
If an angry crowd forms, drive directly to the U.S. Embassy or another location where you can receive assistance.
Contact the local police once you are safely away from danger.
Cameroon has no real equivalent to 911-type service or roadside emergency telephone numbers, but you can dial 112 in major cities to contact ambulance services.
American citizens should contact the U.S. Embassy (237) 2220-1500 if emergency assistance is needed.
Please refer to our Road Safety page for more information.

AVIATION SAFETY OVERSIGHT:
As there is no direct commercial air service to the United States by carriers registered in Cameroon, the U.S. Federal Aviation Administration (FAA) has not assessed Cameroon's Civil Aviation Authority for compliance with International Civil Aviation Organization (ICAO) aviation safety standards.
For more information, travelers may visit the FAA's internet website at http://www.faa.gov/safety/programs_initiatives/oversight/iasa.

SPECIAL CIRCUMSTANCES:
While visiting game parks and reserves, tourists should bear in mind that they are ultimately responsible for maintaining their own safety.
Tourists should use common sense when approaching wildlife, maintain a safe distance from animals, and heed all instructions given by guides or trackers.
Even in the most serene settings, the animals in Cameroon's game parks are wild and can pose a threat to life and safety.

Cameroonian Customs authorities may enforce strict regulations concerning temporary importation into or export from Cameroon of items such as large quantities of medicine or wood products.
Customs regulations also restrict the importation of ivory.
Please see our information on customs regulations.

Cash in local currency, the Central African franc (CFA), is the only form of payment accepted throughout the country.
Larger hotels in Yaoundé and Douala will change U.S. dollars and cash traveler's checks, though at a disadvantageous rate.
Credit card cash advances are not available, and most banks do not cash personal or traveler's checks for non-clients.
While credit cards are accepted at some larger hotels and shops in Yaoundé and Douala, caution is urged, as identity theft is endemic in the region.
Some larger banks in Yaoundé and Douala have ATM facilities, and several banks in Cameroon have wire transfer services through Western Union.
The U.S. Embassy does not provide currency exchange, check cashing or other financial services.
Tourists and business travelers should also note that there is an increasing circulation of counterfeit U.S. and Cameroonian currency in the country.
In recent years, business travelers have experienced difficulty in obtaining adequate services from Cameroon's banking sector.
Business travelers are also advised that using the services of a local agent is strongly recommended in establishing a presence in the Cameroonian market.

While photography is not officially forbidden, security officials are sensitive about photographs taken of government buildings, military installations, and other public facilities, many of which are unmarked.
Photography of these subjects may result in seizure of photographic equipment by Cameroonian authorities.
Due to the threat of harassment and the lack of signs designating sites prohibited for photography, photography should be limited to private homes and among friends.
U.S. citizens are advised to seek proper permission before taking a photograph of a specific subject or location.

The government of Cameroon has recently started enforcing laws against homosexuality.
Charges of homosexuality and/or of corruption are also made and enforced indiscriminately in the course of business or personal disputes.

CRIMINAL PENALTIES:
While in a foreign country, a U.S. citizen is subject to that country's laws and regulations, which sometimes differ significantly from those in the United States and may not afford the protections available to the individual under U.S. law.
Cameroonian law does not afford many of the protections to which Americans are accustomed, and legal proceedings tend to be complex, lengthy, and subject to inappropriate influence.
Penalties for breaking the law can be more severe than in the United States for similar offenses.
Additionally, the condition of detention centers, while improving, is poor.
Persons violating Cameroonian laws, even unknowingly, may be expelled, arrested or imprisoned.
During the February 2008 civil unrest, there were reports that people were arrested arbitrarily by law enforcement officials quelling the civil disorder that ensued.
Although no expatriates were known to have been arrested, the Department of State cautions Americans against venturing out during such periods of unrest.

Penalties for possession, use, or trafficking in illegal drugs in Cameroon are severe, and convicted offenders can expect long jail sentences and heavy fines.
Engaging in sexual conduct with children or using or disseminating child pornography in a foreign country is a crime, prosecutable in the United States.
Please see our information on Criminal Penalties.

CHILDREN'S ISSUES:
For information see our Office of Children's Issues web pages on intercountry adoption and international parental child abduction.

REGISTRATION / EMBASSY LOCATION:
Americans living or traveling in Cameroon are encouraged to register with the U.S. Embassy through the State Department's travel registration website so that they can obtain updated information on travel and security within Cameroon.
Americans without Internet access may register directly with the U.S. Embassy.
By registering, American citizens make it easier for the Embassy to contact them in case of emergency.
The U.S. Embassy in Yaoundé is located on Avenue Rosa Parks in the Mbankolo Quartier, adjacent to the Mount Febe Golf Club; mailing address P.O. Box 817; embassy tel. (237) 2220-1500, fax: (237) 2220-1572.
The Embassy Branch Office in Douala is located on the corner of Rue Ivy and Rue French in the Ecobank Building in Bonanjo, tel: (237) 3342-5331, fax: (237) 3342-7790.
Further information, including the U.S. Embassy's business hours, is available at the U.S. Embassy's web site: http://yaounde.usembassy.gov.
*

*

*
This replaces the Country Specific Information for Cameroon dated 7 June 2007, to update sections on Country Description, Entry and Exit Requirements, Safety and Security, Crime, Aviation Safety Oversight, Criminal Penalties, Children's Issues, and Registration/Embassy Location.
Travel News Headlines WORLD NEWS
Date: Fri, 15 May 2020 17:07:04 +0200 (METDST)

Yaoundé, May 15, 2020 (AFP) - Six opposition activists have been arrested in Cameroon for distributing face masks and disinfectant gel, their lawyers and Human Rights Watch said Friday. The six were arrested on Monday in a busy market in the capital Yaounde. They are all supporters of main opposition leader Maurice Kamto, who lost the 2018 presidential election to veteran leader Paul Biya.

Cameroon's government has banned an initiative by Kamto to collect funds to fight the novel coronavirus, ordering banks to close its accounts and freeze the money. Communication companies have also been told to close mobile accounts opened to support the fund. There have been 3,000 coronavirus infections and 139 deaths in Cameroon, which ranks among the worst affected African countries. Hippolyte Meli, one of the lawyers for the six detainees, told AFP that they were being held for "the illegal distribution of masks and hydroalcoholic gel."

Cameroonian authorities contacted by AFP have not commented so far. HRW said the six were accused of "rebellion" -- an act that could fetch them up to four years in jail, if convicted. "Earlier in May, the health minister rejected a donation by Kamto's initiative of 16,000 protective and surgical masks and 950 COVID-19 screening tests, claiming the initiative had not been legally established," the rights monitor said. "Distributing free masks to those who need them is not rebellion and it certainly should not land people in jail. Cameroonian authorities appear to be more concerned with defeating the opposition than protecting public health." Biya, 87, has ruled Cameroon since 1982 and he has not appeared on television since the pandemic broke out.
Date: Tue, 24 Mar 2020 19:28:57 +0100 (MET)

Douala, March 24, 2020 (AFP) - Cameroon's government on Tuesday announced the country's first death due to coronavirus, saying the victim had returned from Italy and was already infected on his arrival. "Unfortunately we have registered our first death due to COVID-19," Health Minister Malachie Manaouda said on Twitter. The official count of coronavirus cases in the Central African nation has risen to 66. But the figures are restricted by the limited laboratory capacity for testing.

Throughout Africa more than 2,000 coronavirus cases had been declared at 1700 GMT Tuesday, according to an AFP tall. The Cameroon government has already taken measures to stem the spread of the virus, closing schools, restaurants and bars but has not so far sought to confine residents to their homes. Italy is the worst hit country with over 6,000 deaths attributed to coronavirus.
Date: Mon 13 Jan 2020
Source: Cameroon Ministry of Public Health, secretariat general, Eastern Regional Delegation, Regional Center for Prevention and Control; tweet published by @Dataminr [in French, trans., edited]
Original public tweet
Local authority orders strict health monitoring after minor dies from monkeypox virus in Ayos, Cameroon:
#AlerteSante [health alert] of a case of monkeypox in the town of Ayos, Center region. [There is] a deceased infant. This note indicates how the virus is contracted, not how to prevent it or what to do after the symptoms. I think it is urgent to communicate on it.
===================
[This very brief report provides little information about the case, such as the age and sex of the infant and how the monkeypox (MPX) infection might have been acquired, nor is there information to indicate if the MPX diagnosis was laboratory confirmed and if chickenpox (varicella virus) was excluded, since there can be some similarity of symptoms.
[HealthMap/ProMED-mail map:
Date: Tue 1 Oct 2019
Source: Outbreak News Today [edited]
Health officials have reported a confirmed case of monkeypox in the Ekondo-Titi health district in South-west region of Cameroon last week. Supportive measures for case management have been put in place, and community-based surveillance has been stepped up in the region.
Monkeypox is a rare disease that occurs throughout remote parts of Central and West Africa, often near tropical rain forests. Fever, headache, muscle aches, swollen lymph nodes, and exhaustion are followed by a rash. Patients are usually ill for 2-4 weeks. Monkeypox is fatal in as many as 10% of people who get it.
===================
[Monkeypox (MPX) cases in Cameroon are not new. MPX cases there were reported last year (2018) (see Monkeypox - Africa (10): Cameroon
http://promedmail.org/post/20180605.5838919)
. The previous ProMED-mail posts on monkeypox cases in Cameroon did not provide numbers of cases (see ProMED-mail. Monkeypox - Africa (09): Cameroon
http://promedmail.org/post/20180519.5805270)
. Monkeypox virus is widespread in central and west Africa, and sporadic human cases occur there.
Monkeypox is a rare viral disease predominantly found in central and west Africa. People get the disease through contact with an infected animal, which can occur in a number of ways. People may be bitten or come into contact with the animal's blood or body fluids. Infection can also occur if a person touches the rash on an infected animal's skin, which sometimes happens during food preparation. Infected people can pass the disease on to other people. Symptoms are similar to smallpox, but milder. They start out flu-like: fever, headache, muscle aches, backache, swollen lymph nodes and a general feeling of discomfort and exhaustion. Within a few days, patients show a rash of raised bumps. The illness lasts 2-4 weeks. There is no specific treatment available for the disease. It is fatal in about 10 percent of all cases [for the central African clade, but seldom fatal for the West Africa clade.
There is no indication of how the above case contracted MPX, but it seems likely to have been from an animal source. The main reservoirs of monkeypox virus are suspected to be rodents, including rope squirrels (_Funisciurus_ spp; an arboreal rodent) and terrestrial rodents in the genera _Cricetomys_ and _Graphiurus_. Halting the bushmeat trade and consumption of wild animals in order to halt MPX virus exposure will be culturally and economically difficult, so continued occasional occurrence of cases can be expected. - ProMED Mod.TY]
[HealthMap/ProMED map available at:
Date: Tue, 29 Oct 2019 20:29:08 +0100 (MET)
By Reinnier Kaze

Yaoundé, Oct 29, 2019 (AFP) - More than 30 people were killed after their houses were swept away Tuesday in a landslide caused by torrential rain in the western Cameroon city of Bafoussam, state media reported, showing images of rescuers desperately sifting the rubble for survivors. "Searches are ongoing. We fear there are further deaths," a senior local official told AFP, on condition of anonymity, as nightfall neared. the state-run Cameroon Tribune newspaper, on its Facebook page, said "at least 33 bodies" had been found. Cameroon Radio Television (CRTV) earlier gave a death toll of around 30 after a score of houses collapsed.

A government statement broadcast on CRTV spoke of a "serious" incident causing "much loss of life" without mentioning a toll. "The houses that collapsed were built on the side of a hill in a risk zone," said the official of the West Region, of which Bafoussam is the capital, some 300 kilometres (185 miles) northwest of the capital Yaoundé. He said the landslide was caused by the torrential rain that has fallen in the country over the past few days as well as the wider region, with neighbouring Central African Republic and Nigeria also seriously hit.

Pictures of the tragedy at Bafouassam posted to social media showed ramshackle houses having crumbled into the ochre-coloured terrain and men clad in hard hats digging away at piles of mud in the search for survivors. Landslides are quite exceptional in the area although further south they are less rare in the rainy season, notably in the English-speaking southwest. It was in the southwestern coastal resort town of Limbe that five people died in a landslide following flooding in July last year.

Beyond Cameroon, the Central African Republic, already mired in a brutal civil war, is reeling from ten days of torrential rain which have plunged swathes of the country underwater, creating a new emergency in one of the world's poorest nations. Tens of thousands of people have been left homeless after the CAR's largest river, the Oubangui, burst its banks at the height of the country's worst floods in decades which have left parts of the capital Bangui submerged, prompting authorities to warn of the risk of cholera. Several agrarian states in another Cameroon neighbour, Nigeria, have also been hit by flooding. A torrential downpour Monday allowed dozens of inmates to escape from prison in the central state of Kogi.
More ...
Uruguay
Uruguay - US Consular Information Sheet
May 01, 2008
COUNTRY DESCRIPTION:
Uruguay is a constitutional democracy with a large, educated middle class and a robust developing economy.
The capital city is Montevideo .
Tourist facilit
es are generally good with many 5-star accommodations at resort destinations such as Punta del Este and Colonia de Sacramento.
The quality of tourist facilities varies according to price and location.
Travelers are encouraged to seek travel agency assistance in making plans to visit Uruguay .
Read the Department of State Background Notes on Uruguay for additional information.

ENTRY/EXIT REQUIREMENTS:
All United States citizens entering Uruguay for business or pleasure must have a valid passport.
U.S. citizens traveling on a regular passport do not need a visa for a visit of less than three months.
U.S. citizens traveling on diplomatic or official passports require a visa.
Air travelers are required to pay an airport tax upon departure.
This fee may be paid in U.S. dollars or in Uruguayan pesos.
For further information on entry requirements, contact the Embassy of Uruguay at 1913 "Eye" Street NW, Washington, DC 20006, tel. (202) 331-4219; e-mail: conuruwashi@uruwashi.org.
Travelers may also contact the Consulate of Uruguay in New York, Miami, Chicago, Los Angeles, and Puerto Rico.
Visit the Embassy of Uruguay web site at http://www.uruwashi.org/ for the most current visa information.

Information about dual nationality or the prevention of international child abduction can be found on our web site.
For further information about customs regulations, please read our Customs Information sheet.

SAFETY AND SECURITY:
Regular protests, some with an anti-American flavor, take place outside Congress, City Hall and the "University of the Republic."
U.S. citizens visiting or residing in Uruguay are advised to take common-sense precautions and avoid any large gatherings or any other event where crowds have congregated to demonstrate or protest.
If travelers encounter a protest they should walk the other way or enter a commercial establishment until the protest passes.
Taking pictures of protesters is not a good idea.

Although there have been no past instances of violence directed at U.S. citizens from cross-border extremist groups, U.S. citizens traveling or residing in the more remote areas of Uruguay near the border with Argentina and Brazil are urged to exercise caution.

For the latest security information, Americans traveling abroad should regularly monitor the Department of State, Bureau of Consular Affairs' web site at http://travel.state.gov, where the current Travel Warnings and Travel Alerts, as well as the Worldwide Caution, can be found.

Up to date information on safety and security can also be obtained by calling 1-888-407-4747 toll free in the U.S. and Canada, or for callers outside the U.S. and Canada , a regular toll line at 1-202-501-4444. These numbers are available from 8:00 a.m. to 8:00 p.m. Eastern Time, Monday through Friday (except U.S. federal holidays.)

The Department of State urges American citizens to take responsibility for their own personal security while traveling overseas.
For general information about appropriate measures travelers can take to protect themselves in an overseas environment, see the Department of State's pamphlet A Safe Trip Abroad.

CRIME:
Petty street crime is prevalent in Montevideo .
The criminals tend to be non-violent.
However, criminals often resort to violence if the victims resist.
Travelers should exercise reasonable caution to minimize their exposure to crime.
Criminals prey on the unaware, particularly those carrying cameras, pocketbooks, laptops, or backpacks.
Travelers are advised to lock most valuables in secure hotel safes and to download their wallets of excess credit cards and cash.
If dining at an outdoor restaurant take extra care with pocketbooks or bags.
There are no "off limits" areas of the city and parts of "Ciudad Vieja" are popular tourist attractions.
However the only sections of Ciudad Vieja with continual police patrols are Plaza Independencia, the pedestrian street Sarandi, and the Mercado del Puerto.
Mugging is common in other parts of Ciudad Vieja - particularly for travelers walking alone, or couples walking at night.
A smart alternative is to call for a taxi for evening travel between restaurants, bars, and hotels.

Victims are usually foreign tourists, individuals openly carrying valuable items, and motorists in unlocked vehicles stopped at busy intersections, particularly on Montevideo 's riverfront road known as the Rambla. Drivers should keep all car doors locked, the driver's window open only one inch, and purses, bags, briefcases and other valuables out of sight on the floor or in the trunk. Parked cars, particularly in the Carrasco neighborhood, are also increasingly targeted for break-ins. During the summer months (December-March), beach resort areas such as Punta del Este attract tourists, and petty street crimes and residential burglaries--similar to those that occur in Montevideo --rise significantly. Visitors are advised to exercise common sense in the conduct of their activities around Montevideo and in Uruguayan resort areas. They should be very attentive to personal security and their surroundings in the aforementioned areas.

Those planning to live in Montevideo should note that burglaries and attempted burglaries seem to be on the rise in upscale neighborhoods.
The perpetrators are mostly non-confrontational but determined teenagers.
A combination of preventive measures including rigorous use of locks and alarms, strong grillwork on all windows, guard dogs, keeping a residence occupied as much as possible, and using a security service is highly recommended.

Montevideo continues to experience armed robberies of patrons at crowded restaurants in the Pocitos neighborhood.
Most of these crimes have occurred very late at night.
Restaurant patrons should exercise extreme caution for late night dining.

Uruguayan law enforcement authorities have increased the number of uniformed policemen on foot in areas where criminal activity is concentrated and the number of patrol cars in residential areas. The clearly marked patrol cars are equipped with cellular phones and the phone numbers are conspicuously painted on the vehicles.

INFORMATION FOR VICTIMS OF CRIME:
The loss or theft abroad of a U.S. passport should be reported immediately to the local police and the nearest U.S. Embassy or Consulate.
If you are the victim of a crime while overseas, in addition to reporting to local police, please contact the U.S. Embassy or Consulate for assistance.
The Embassy/Consulate staff can, for example, assist you to find appropriate medical care, contact family members or friends and explain how funds could be transferred.
Although the investigation and prosecution of the crime is solely the responsibility of local authorities, consular officers can help you to understand the local criminal justice process and to find an attorney if needed.

See our information on Victims of Crime.

MEDICAL FACILITIES AND HEALTH INFORMATION:
Facilities for medical care are considered adequate. Serious medical problems requiring hospitalization and/or medical evacuation to the United States can cost tens of thousands of dollars.


Information on vaccinations and other health precautions, such as safe food and water precautions and insect bite protection, may be obtained from the Centers for Disease Control and Prevention's hotline for international travelers at 1-877-FYI-TRIP (1-877-394-8747) or via the CDC's web site at http://wwwn.cdc.gov/travel/default.aspx.
For information about outbreaks of infectious diseases abroad consult the World Health Organization's (WHO) web site at http://www.who.int/en. Further health information for travelers is available at http://www.who.int/ith/en.

MEDICAL INSURANCE:
The Department of State strongly urges Americans to consult with their medical insurance company prior to traveling abroad to confirm whether their policy applies overseas and whether it will cover emergency expenses such as a medical evacuation.
Please see our information on medical insurance overseas.

TRAFFIC SAFETY AND ROAD CONDITIONS:
While in a foreign country, U.S. citizens may encounter road conditions that differ significantly from those in the United States .
The information below concerning Uruguay is provided for general reference only, and may not be totally accurate in particular location or circumstance.

The Uruguayan Ministry of Transportation is responsible for maintaining safe road conditions countrywide. The Uruguayan Ministry of Interior highway police (tel. 1954) are responsible for traffic safety on highways and other roads beyond city limits. In urban and suburban areas, transit police and municipal employees share road safety responsibilities.

Driving is on the right-hand side of the road. Wearing seat belts and using headlights on highways and other inter-city roads 24 hours a day are mandatory. Children under 12 must ride in the back seat. Motorcyclists must wear helmets. The use of cellular phones while driving is prohibited. Right turns on red lights and left turns at most intersections marked with a stoplight are not permitted. Drivers approaching an intersection from the right or already in traffic circles have the right of way.
Flashing high beams indicate intent to pass or continue through unmarked intersections.
Many drivers ignore speed limits and traffic signs.
If you plan to drive, use extreme caution and drive defensively.

For driving under the influence, violators are fined and confiscated licenses may be retained for up to six months. In accidents causing injury or death, drivers are brought before a judge who decides if incarceration is warranted.

Inter-city travel is via bus, taxi, car service (remise), car, and motorcycle. Speed limits are posted on highways and some main roads. Most taxis have no seat belts in the back seat. Cycling outside the capital or small towns is hazardous due to a scarcity of bike paths, narrow road shoulders and unsafe driving practices.

Illumination, pavement markings, and road surfaces are sometimes poor. Route 1, which runs between Montevideo and Colonia or Punta del Este, and Route 2, between Rosario and Fray Bentos, are particularly accident-ridden because of heavy tourist traffic. Road accidents rise during the austral summer beach season (December to March), Carnaval (mid-to-late February), and Easter Week.

Within Montevideo , the emergency number to contact the police, fire department, rescue squad, or ambulance service is 911. In the rest of the country, dial 02-911 to connect with the Montevideo central emergency authority, which will then contact the local emergency service. The Automobile Club of Uruguay responds to emergency calls for roadside assistance at 1707, "Car Up" at 0800-1501 and the Automobile Center of Uruguay at 2-408-6131/2091. SEMM (tel. 159) and UCM (tel. 147), Montevideo-based ambulance services manned by doctors, have agreements with emergency medical units in other cities.

Please refer to our Road Safety page for more information.
You may also telephone Uruguay 's national tourist office and national authority responsible for road safety in Miami at (305) 443-7431.

AVIATION SAFETY OVERSIGHT:
The U.S. Federal Aviation Administration (FAA) has assessed Uruguay 's Civil Aviation Authority as not being in compliance with International Civil Aviation Organization (ICAO) aviation safety standards for oversight of Uruguay 's air carrier operations.
For more information, travelers may visit the FAA's web site at http://www.faa.gov/safety/programs_initiatives/oversight/iasa.

SPECIAL CIRCUMSTANCES:
Uruguay 's customs authorities may enforce strict regulations concerning temporary importation into or export from Uruguay of items such as precious jewels, gold, firearms, pornography, subversive literature, inflammable articles, acids, prohibited drugs (medications), plants, seeds, and foodstuffs as well as some antiquities and business equipment. It is advisable to contact the Embassy of Uruguay in Washington, D.C., or one of Uruguay 's consulates in the U.S. for specific information regarding customs requirements. Note: Travelers entering Uruguay with precious jewels or gold worth more than $500.00 ( U.S. ) must declare them to customs officers at the port of entry or face possible detention or seizure of the goods and charges of contraband or evasion of customs controls. Visitors are expected to comply with local law and regulations by approaching a customs officer before routine inspection of all incoming baggage, conducted on standard security equipment.
Please see our Customs Information.

CRIMINAL PENALTIES:
While in a foreign country, a U.S. citizen is subject to that country's laws and regulations, which sometimes differ significantly from those in the United States and may not afford the protections available to the individual under U.S. law.
Penalties for breaking the law can be more severe than in the United States for similar offenses.
Persons violating Uruguay 's laws, even unknowingly, may be expelled, arrested, or imprisoned.
Penalties for possession, use, or trafficking in illegal drugs in Uruguay are severe, and convicted offenders can expect long jail sentences and heavy fines.
Engaging in sexual conduct with children or using or disseminating child pornography in a foreign country is a crime, prosecutable in the United States .
Please see our information on Criminal Penalties.

The Uruguayan Ministry of Agriculture and Fishing strictly enforces all regulations regarding hunting permits, as well as seasonal and numerical limits on game. Visitors who contravene local law have been detained by the authorities and had valuable personal property (weapons) seized. Under Uruguayan law, seized weapons can only be returned after payment of a sum equivalent to the value of the property seized. Hunters are also subject to stiff fines for practicing the sport without all appropriate permits.

CHILDREN'S ISSUES:
For information see our Office of Children's Issues web pages onintercountry adoption and international parental child abduction.

REGISTRATION / EMBASSY LOCATION:
Americans living or traveling in Uruguay are encouraged to register with the U.S. Embassy through the State Department's travel registration web site so that they can obtain updated information on travel and security within Uruguay .
Americans without Internet access may register directly with the U.S. Embassy.
By registering, American citizens make it easier for the Embassy to contact them in case of emergency. The U.S. Embassy is located at Lauro Muller 1776; telephone (598) (2) 418-7777; fax (598) (2) 418-4110 or -8611. Internet: http://uruguay.usembassy.gov/, email: MontevideoACS@state.gov. Consular Section hours for American Citizen Services are Monday to Thursday, 9:00 a.m. to 11:00 p.m. and 2:00 p.m. to 4:00 p.m., except U.S. and Uruguayan holidays.
* * *
This replaces the Consular Information Sheet dated August 28, 2007 to update Sections on Entry/Exit Requirements, Safety and Security, Crime, Aviation Safety Oversight, Children's issues, and Registration/Embassy Location.
Travel News Headlines WORLD NEWS
Date: Sun, 29 Mar 2020 11:48:20 +0200 (METDST)

Montevideo, March 29, 2020 (AFP) - Uruguay reported its first death linked to the novel coronavirus on Saturday, a former minister and ally of the ruling party, the government said. "With deep sadness we announce the first death due to coronavirus in Uruguay," Secretary of the Presidency Alvaro Delgado told a press conference, naming the victim as Rodolfo Gonzalez Rissotto.

Gonzalez Rissotto was one of nine patients with the coronavirus who were in intensive care, Delgado said, adding his death was "all the more reason to reinforce the request to everyone to take care of themselves and stay home." President Luis Lacalle Pou paid tribute in a tweet. "A big hug for the family and friends of Rodolfo Gonzalez Risotto. Friend and counselor. RIP." Uruguay has reported 304 confirmed cases of the virus.
20th June 2019
https://en.mercopress.com/2019/06/20/torrential-rains-in-uruguay-forces-7.400-to-abandon-their-homes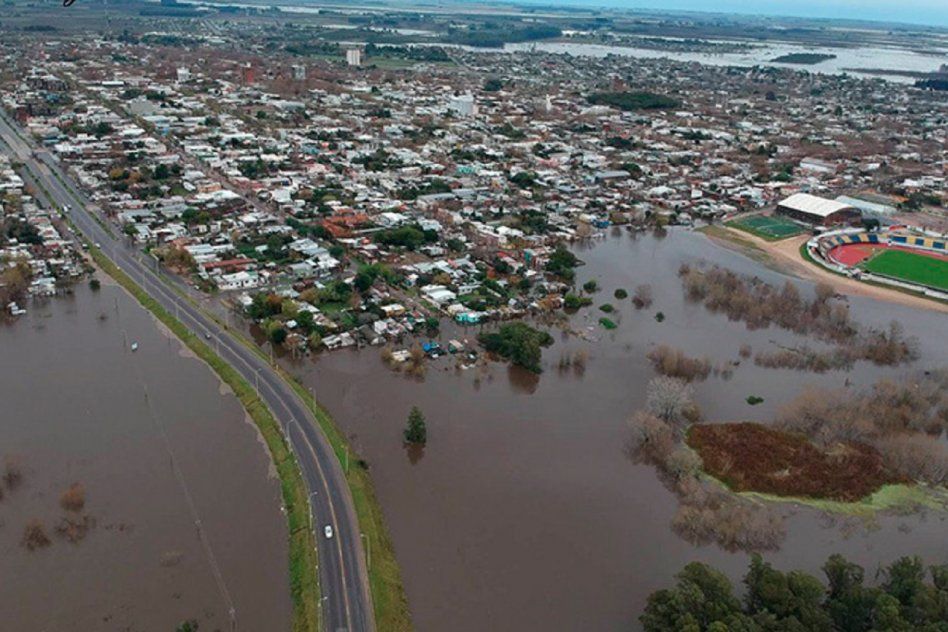 Torrential rains in central and southern Uruguay in the past several days have caused massive floods and forced some 7,400 people to leave their homes, according to the latest update by the country's National Emergency System. The central city of Durazno is the most affected, with 5,299 evacuees, according to official reports.
Defense Minister Jose Bayardi visited one of the camp sites managed by the military to help the displaced. "We have established a high level of experience (in the face of these catastrophes) which we have succeeded in institutionalizing," he told the media. Troops will continue monitoring the situation because "there are many people who do not want to leave their homes due to fear of being robbed and looted" Bayardi said.
The National Highway Police also said that 12 national highways remain cut-off in different directions. Uruguay's National Meteorological Institute said that between June 11 and 16, some southern regions of the country received around 270 mm of rain. On Wednesday morning, the Yi River, which had been 11.8 meters higher than its normal water level in the Durazno area, was falling at a rate of 11 cm per hour, according to local media reports.
Date: Tue 12 Mar 2019
Source: Carmelo Portal [in Spanish, trans. Mod. TY, edited]
The departmental health director, Dr Jorge Mota, confirmed for Carmelo Portal the death in our city of a young 17 year old girl from [a] hantavirus [infection]. "In Colonia department, there are on average 3 cases per year. The evolution of the disease is in thirds. One-third of the [infected] people do not have notable symptoms; another third have serious symptoms, especially respiratory symptoms and ones in all the systems, but with adequate treatment, [the infected people] survive, sometimes with sequelae. There is another third that die. It is those few with the virus that die with an evolution so drastic, such as is the case of this girl, sadly," Dr Mota stated.
The department health director said that hantaviruses are not contagious person-to-person. "It is transmitted from an intermediate animal, the field mouse. Only 3% of these mice have [a] hantavirus. To become infected, one must be in contact with an [infected] mouse's secretions that have dried, are mixed with dust, and are in a closed space, away from sunlight and ventilation. A spa, a shed, or a wood pile [are examples of such a space]. The person had to have been moving around there and inhaled the dust," he explained.
Dr Mota spoke about the epidemiological surveillance that is carried out. "We tracked places where the person was, even those that could be identified 2 months before contracting the virus; sometimes we found the place, but sometimes not." As a preventive measure, Mota stated that in these cases, ventilate these closed spaces for at least half an hour. Wet down floors and shelves with water [with 10% bleach]. Use masks [and gloves].
==========================
[The report above does not mention the circumstances under which the infection might have been acquired nor which hantavirus was responsible for this or earlier cases in Uruguay. Hantaviruses that cause hantavirus pulmonary syndrome (with rodent hosts found in Uruguay) include Laguna Negra virus (_Calomys laucha_), Maciel virus (_Necromys benefactus_), Central Plata virus, Lechiguanas virus (_Oligoryzomys flavescens_, complex of rodents), and Anajatuba virus and Juquitiba virus (_Ologoryzomys fornesi_).
The rodent reservoir hosts shed the virus in its saliva, urine, and faeces, contaminating the environment in which they live and breed.
Date: Thu, 19 Jul 2018 03:23:55 +0200
By Lucia LACURCIA

Montevideo, July 19, 2018 (AFP) - Enrique Curbelo is delighted. Selling cannabis has allowed the affable 76-year-old to keep his privately owned pharmacy in Montevideo open in a market dominated by big chains. "I had to sell what they didn't sell," he told AFP. "For me it's like selling aspirin." It's been this way for a year now. Every Wednesday, Ismael Fernandez receives a WhatsApp message from his local pharmacist telling him a new stock of cannabis has arrived. After leaving work, he heads there and buys the 10 grams that Uruguayan law permits, costing 400 pesos, around $13.

Fernandez then heads home and rolls a joint "to relax" with his partner Stefania Fabricio. No longer do they need to surreptitiously contact a dealer and pay more for Paraguayan or Brazilian marijuana that's been "pressed, mixed (and is) sometimes very bad and full of chemicals." "Now it's much easier than when it started," Fernandez, a 31-year-old who works for a cleaning company, told AFP. It has been four and a half years since marijuana use became legal in Uruguay and a year since it has been sold in pharmacies -- up to 40 grams a month per person.

Initially, there was insufficient supply, leaving people standing in long queues as stocks sometimes ran out. Pharmacies are better prepared now. "They send you a message with a number which you use later to go and collect it, and in my pharmacy you can order it online," added Fernandez, the father of a three-year-old. Hairdresser Fabricio, also 31, says "it's good quality," but not too strong. "It doesn't send your head spinning, but it's not meant to. You get a hit but you can still do things perfectly." - 'Privileged' - She says she feels "privileged" to live in a country that enacted a law to "get tons of people out of the black market." As a result, she said, the stigma attached to those who smoke pot is changing, "albeit slowly."

The system is simple: to buy cannabis in a pharmacy you must be at least 18, live in Uruguay and sign up as a "buyer" at the post office. An initial stumbling block arose when banks refused to work with establishments selling cannabis due to international rules against drug-trafficking. But the country plowed on, and last year it became the first in the world to fully legalize its sale. But Enrique Curbelo had to get over his own prejudices before deciding to join the select band of pharmacies selling the plant. There are 14, half of them in the capital, serving the 24,812 registered buyers.

- 'Normal people' -
Users can choose between two brands and two types of cannabis -- sativa and indica -- both provided by an official distributor. Customers are generally not the stereotypical grubby-looking student or idle waster. On this day in Curbelo's store they include two young women, a man in his 50s and an older lady -- "normal people," says the pharmacist. Official statistics say 70 percent of buyers are male and 49 percent are between the ages of 18 and 29.

To keep anyone from exceeding their monthly allowance, a fingerprint machine is used to register every sale. Along with the ability to purchase cannabis in a pharmacy, Uruguayans have the right to grow their own -- up to a six-plant maximum -- or to join a cannabis club, which can have up to 45 members and 99 plants. Federico Corbo, a 41-year-old gardener, grows cannabis in his garden on the outskirts of Montevideo. He experiments by crossing species in an attempt to improve quality and optimize the flowering period. Corbo is not impressed with the quality on offer in pharmacies. "It's not the worst, but it's low," he said, insisting quality control needs to be improved. "Marijuana that doesn't reach the minimum standards -- with crushed flowers, no aroma, low quality -- shouldn't be sold in the pharmacy. "Maybe, as I'm a grower, I'm very demanding, but there is a cost associated to the product and it must be offered to the public in the best way possible."

According to the Institute of Cannabis Regulation and Control (Ircca), an average cultivator or club member supplies cannabis to two other people, while those who buy it in a pharmacy share it with one other. "Approximately half of marijuana users have access to regulated cannabis," says Ircca. The rest prefer to continue buying the drug on the black market, put off by the need to register as a user. "It's wrong -- if they legalize it they have to do so in a way in which the state doesn't keep a paternalistic role in overseeing how much you smoke or stop smoking," one clandestine user, who wished to remain anonymous, told AFP. This 48-year-old lawyer simply doesn't trust the authorities. He pointed to the danger a change of government could bring, or even the return of dictatorship. "Right now that seems impossible," he said, "but you can never discount it."
Date: Thu 1 Feb 2018 23:02hs UYT
Source: LaRed 21 [in Spanish, machine trans. edited]
The Ministry of Public Health (MSP) issued a statement through which it reports that it has detected cases of infection by the bacterium _Vibrio vulnificus_ in Montevideo, Canelones, and Maldonado [departments]. The State Secretariat assured that every year there are cases of this bacterium, but so far in 2018, 4 serious cases have been reported, of which 3 died. All of them had underlying illnesses.
"90 percent of these cases, in the world, are associated with the consumption of undercooked or raw seafood. Infrequently, the infection can be acquired when entering the sea with open wounds, especially in elderly people or people with diseases that affect the immune system," explained the MSP. It is an event "extremely rare in our country," said the State Secretariat. It also indicated that fewer than 10 cases per year are registered per year for this bacterium.
It is an infection that "can be serious and in some cases fatal, so it is recommended to avoid the consumption of undercooked or raw sea products (as well as their handling without protection measures) and in the same way, avoid entering the sea with wounds or cuts on the skin." The bacteria can be found in coastal marine waters and estuaries in areas of tropical and subtropical climates that have a moderate degree of salinity and temperatures that usually exceed 18 C [64.4 F].
====================
"_Vibrio vulnificus_, a lactose-fermenting, halophilic, Gram-negative, opportunistic pathogen, is found in estuarine environments and associated with various marine species such as plankton, shellfish (oysters, clams, and crabs), and finfish. Environmental factors responsible for controlling numbers of _V. vulnificus_ in seafood and in the environment include temperature, pH, salinity, and amounts of dissolved organics. It may be normal flora in salt water, and acquiring this organism from shellfish or water exposure does not imply that the water is contaminated by sewage.
"Wound infections result either from contaminating an open wound with sea water harbouring the organism, or by lacerating part of the body on coral, fish, etc., followed by contamination with the organism. The ingestion of _V. vulnificus_ by healthy individuals can result in gastroenteritis."
There are 2 points to be emphasized: that vibrios are normal flora in warm saltwater (not indicative of any sewage contamination) and that most of the life-threatening illnesses occur in individuals with underlying medical illnesses, including immunocompromised states, chronic liver disease, and diabetes. So-called normal individuals often just develop gastroenteritis. The range of disease due to _V. vulnificus_ can involve more northern geographical areas as overall global warming takes effect. - ProMED Mod.LL]
More ...
World Travel News Headlines
Date: Tue, 26 May 2020 09:15:57 +0200 (METDST)

Riyadh, May 26, 2020 (AFP) - Saudi Arabia will end its nationwide coronavirus curfew from June 21, except in the holy city of Mecca, the interior ministry said Tuesday, after more than two months of stringent curbs. Prayers will also be allowed to resume in all mosques outside Mecca from May 31, the ministry said in a series of measures announced on the official Saudi Press Agency. The kingdom, which has reported the highest number of virus cases in the Gulf, imposed a full nationwide curfew during Eid al-Fitr, the Muslim holiday that marks the end of the fasting month of Ramadan.

The ministry said it will begin easing restrictions in a phased manner this week, with the curfew relaxed between 6 am and 3 pm between Thursday and Saturday. From Sunday until June 20, the curfew will be further eased until 8 pm, the ministry added. The kingdom will lift the lockdown entirely from June 21. "Starting from Thursday, the kingdom will enter a new phase (in dealing with the pandemic) and will gradually return to normal based on the rules of social distancing," Health Minister Tawfiq Al-Rabiah said on Monday. Saudi Arabia has reported around 75,000 coronavirus infections and some 400 deaths from COVID-19.

In March, Saudi Arabia suspended the year-round "umrah" pilgrimage over fears of the disease spreading in Islam's holiest cities. That suspension will remain in place, the interior ministry said. Authorities are yet to announce whether they will proceed with this year's hajj -- scheduled for late July -- but they have urged Muslims to temporarily defer preparations for the annual pilgrimage. Last year, some 2.5 million faithful travelled to Saudi Arabia from around the world to participate in the hajj, which Muslims are obliged to perform at least once during their lifetime.
Date: Tue, 26 May 2020 05:52:24 +0200 (METDST)

Santiago, May 26, 2020 (AFP) - Chile registered a new high for coronavirus cases on Monday, with nearly 5,000 infections in 24 hours, including two ministers in President Sebastian Pinera's government. Health authorities announced 4,895 new infections in the South American country and 43 deaths.

Public Works Minister Alfredo Moreno and Energy Minister Juan Carlos Jobet said they were among those with the disease. "I have been informed that the COVID-19 test I had a few days ago was positive," Moreno said on Twitter, adding that he had no symptoms so far. The 63-year-old minister had placed himself in quarantine after one of his staff tested positive. Jobet also tested positive after starting to quarantine preventatively on Saturday, "when he experienced mild symptoms, which could be associated with the disease," a statement from the Energy Ministry said.

The 44-year-old minister "has had no direct contact with President Sebastian Pinera or other cabinet members in recent days," the statement said, without specifying how he became infected. Three other ministers, who had self-quarantined after being in contact with infected people, all tested negative and resumed work.

Chile suffered a surge in infections last week, prompting the government to order the lockdown of Santiago. The capital is the main focus of the pandemic in Chile, with 90 percent of the country's 74,000 cases. Last week, the Senate was closed after three senators tested positive for the coronavirus. Sessions were held by video conference.
Date: Tue, 26 May 2020 01:15:01 +0200 (METDST)

Quito, May 25, 2020 (AFP) - Demonstrators defied coronavirus restrictions to march in cities across Ecuador on Monday in protest against President Lenin Moreno's drastic economic measures to tackle the crisis. Moreno last week announced public spending cuts including the closure of state companies and embassies around the world, but trade unions Monday said workers were paying a disproportionate price compared to Ecuador's elite. "This protest is because the government is firing workers to avoid making the rich pay," Mecias Tatamuez, head of the county's largest union, the Unitary Front of Workers (FUT), told reporters at a march in Quito.

Around 2,000 people marched in the capital, waving flags and banners and shouting anti-government slogans. The protesters wore masks and respected distancing measures recommended against the spread of the coronavirus that has caused at least 3,200 deaths in the country, making it South America's worst hit nation per capita. Authorities say more than 2,000 further deaths are likely linked to the virus.

Demonstrations took place in several other cities, including Guayaquil, the epicentre of Ecuador's health crisis, where union leaders said hundreds marched through the city. Moreno ordered the closure of Ecuadoran embassies, a reduction in diplomatic staff and scrapped seven state companies as part of measures designed to save some $4 billion. He also announced the liquidation of the TAME airline, which has lost more than $400 million over the last five years.

The government says the pandemic has so far cost the economy at least $8 billion. Public sector working hours have been cut by 25 percent, with an accompanying 16 percent pay cut. Moreno said on Sunday that 150,000 people had lost their jobs because of the coronavirus. Ecuador was struggling economically before the pandemic hit, due to high debt and its dependence on oil. The IMF predicts that the economy will shrink by 6.3 percent this year, the sharpest drop of any country in South America.
Date: Mon, 25 May 2020 22:20:46 +0200 (METDST)

Dublin, May 25, 2020 (AFP) - Ireland recorded no new deaths from the coronavirus on Monday for the first time since March 21. Prime Minister Leo Varadkar called it a "significant milestone", adding on Twitter: "This is a day of hope. We will prevail."

The announcement came one week after Ireland, which has suffered 1,606 deaths from 24,698 infections, began to ease lockdown measures that had been in place for nearly two months. Ireland entered lockdown in late March, recording a peak of 77 deaths on a single day on April 20. "In the last 24 hours we didn't have any deaths notified to us," chief medical officer Tony Holohan said at a daily press briefing. He warned that the zero figure could be a result of a lag in reporting of deaths over the weekend, but he added: "It's part of the continued trend that we've seen in (the) reduction in the total number of deaths."

Ireland has announced a five-step plan to reopen the nation by August and took the first steps last Monday -- allowing outdoor employees to return to work, some shops to reopen and the resumption of activities such as golf and tennis. While the news of no fresh deaths was greeted as progress, officials remain concerned there will be a "second wave" as the lockdown is loosened. "The number of new cases and reported deaths over the past week indicates that we have suppressed COVID-19 as a country," Holohan added in a statement. "It will take another week to see any effect on disease incidence that might arise from the easing of measures."
Date: Mon, 25 May 2020 21:59:40 +0200 (METDST)

Luxembourg, May 25, 2020 (AFP) - Luxembourg will ease its coronavirus restrictions on Wednesday, reopening cafes and restaurants and allowing civil and religious ceremonies under strict conditions, the government announced. The tiny country has so far registered only 3,993 COVID-19 cases, of which 110 have been fatal. Four people are in intensive care and shops were closed on March 18 to slow the spread of the new coronavirus.

Prime Minister Xavier Bettel told a news conference on Monday that eateries could reopen terraces with a maximum of four people at a single table. Indoor dining in cafes and restaurants will resume on Friday, he said, with social distancing of 1.5 metres (five feet) between groups. Marriages and funerals will also be allowed if the attendees wore face masks and kept two metres distance from each other. Bettel however said cafes and restaurants would have to close at midnight.

Francois Koepp, the general secretary of the Horeca federation grouping hotels, restaurants and cafes, welcomed the announcement, saying the sector had "greatly suffered from the confinement". He said it provided employment to some 21,000 people in this nation of 620,000 inhabitants. Cinema theatres and gyms will open at the end of the week but children's parks will remain closed. The government has pledged to give every citizen over 16 a voucher worth 50 euros ( $54) to spend in hotels to provide a boost to the sector. The vouchers will also be given to some 200,000 cross border workers from Belgium, France and Germany.
Date: Mon, 25 May 2020 20:36:16 +0200 (METDST)

Prague, May 25, 2020 (AFP) - The Czech Republic and Slovakia will reopen their border this week for those travelling to the other country for up to 48 hours, Czech Prime Minister Andrej Babis said Monday. "This will be possible without tests or quarantine" starting Wednesday, he added in a message posted on Twitter. The Czech Republic and Slovakia formed a single country until 1993. Babis himself was born in the Slovak capital of Bratislava.

Both countries have fared well in the current pandemic, with Slovakia posting the lowest death toll per capita in the EU and the Czech Republic keeping its COVID-19 figures down as well. The Czech government will also open border crossings with Austria and Germany on Tuesday but will still require negative COVID-19 tests from those entering the country. "We have negotiated similar conditions on the other side of the border with our German and Austrian colleagues," Interior Minister Jan Hamacek said. The interior ministry said blanket border checks would be replaced by random ones and added it would still not allow tourists into the country.

Czech Health Minister Adam Vojtech said the government was working on other measures to ease the travel restrictions adopted in mid-March. "We would like to introduce them next week," he added. Vojtech said EU citizens could now come to the Czech Republic "on business or to visit their family for a maximum of 72 hours if they submit a negative coronavirus test."

The country is also accessible to non-EU citizens who do seasonal jobs there, on condition they have tested negative. Czech restaurants, bars, hotels, castles, zoos and swimming pools have been open since Monday, when the government lifted many anti-virus measures. Czechs also no longer have to wear face masks outside their homes, except in shops and on public transport.
Date: Mon, 25 May 2020 17:45:38 +0200 (METDST)
By Shafiqul ALAM

Dhaka, May 25, 2020 (AFP) - Some 15,000 Rohingya refugees are now under coronavirus quarantine in Bangladesh's vast camps, officials said Monday, as the number of confirmed infections rose to 29. Health experts have long warned that the virus could race through the cramped settlements, housing almost a million Muslims who fled violence in Myanmar, and officials had restricted movement to the area in April.

Despite this, the first cases in the camps were detected in mid-May. "None of the infections are critical. Most hardly show any symptoms. Still we have brought them in isolation centres and quarantined their families," Toha Bhuiyan, a senior health official in the surrounding Cox's Bazar area told AFP. He said narrow roads to three districts of the camps -- where the majority of the infections were detected -- have been blocked off by authorities.

The 15,000 Rohingya inside these so-called blocks faced further restrictions on their movement, he said. It comes as charity workers expressed fears over being infected in the camps as they worked without adequate protection. Two of the areas under isolation are in Kutupalong camp, home to roughly 600,000 Rohingya. "We are trying to scale up testing as fast as possible to make sure that we can trace out all the infected people and their contacts," Bhuiyan said.

Seven isolation centres with the capacity to treat more than 700 COVID-19 patients have been prepared, he said. Officials hope to have just under 2,000 ready by the end of May, he added. Mahbubur Rahman, the chief health official of Cox's Bazar, said authorities hoped this week they would double the number of tests being performed daily from 188. He said further entry restrictions have been imposed on the camp, with a 14 day quarantine in place for anyone visiting from Dhaka. "We are very worried because the Rohingya camps are very densely populated. We suspect community transmission (of the virus) has already begun," Rahman told AFP.

- 'Very little awareness' -
Bangladesh on Monday notched up a record single-day spike in coronavirus cases, with 1,975 new infections, taking the toll to 35,585 cases and 501 deaths. In early April authorities imposed a complete lockdown on Cox's Bazar district -- home to 3.4 million people including the refugees -- after a number of infections.

But a charity worker with one of the many aid organisations active in the camps said Monday he and many others were "very worried". "Fear and panic has gripped aid workers because many of us were forced to work without much protection," he told AFP without wishing to be named. "Social distancing is almost impossible in the camps. There is very little awareness about COVID-19 disease among the refugees, despite efforts by aid agencies."

The lack of information is exacerbated by local authorities having cut off access to the internet in September to combat, they said, drug traffickers and other criminals. More than 740,000 Rohingya fled a brutal 2017 military crackdown in Myanmar to Cox's Bazar, where around 200,000 refugees were already living.
Date: Mon, 25 May 2020 15:25:38 +0200 (METDST)

Antananarivo, May 25, 2020 (AFP) - Madagascar's government has announced it will dispatch troops and doctors to an eastern town after several bodies were found in the streets and where two people died from the novel coronavirus. Madagascar's cabinet held a special meeting on Sunday to discuss the situation in Toamasina, the country's second largest city. The Indian Ocean island nation has registered 527 infections and two deaths, both in Toamasina.

Since Thursday, more than 120 new cases were confirmed, and several bodies were found in the city's streets though the cause of death was not clear. "Doctors must carry out thorough examinations to see if these deaths are caused by another illness (...) or if they are really due to severe acute respiratory problems which is the critical form of COVID-19," Professor Hanta Marie Danielle Vololontiana, spokesperson for the government's virus taskforce, said in a national broadcast on Sunday. The government will send 150 soldiers to reinforce Toamasina, maintain order and enforce measures against the coronavirus such as mask wearing and social distancing.

The cabinet also fired Toamasina's prefect without providing any explanation. A team was also ordered to distribute a drink based on artemisia, a plant recognised as a treatment against malaria, which the Malagasy authorities claim cures COVID-19. The potential benefits of this herbal tea, called Covid-Organics, have not been validated by any scientific study. The cabinet has also announced an investigation into the death of a doctor in Toamasina. According to local press, the victim was hospitalised after contracting COVID-19 and was found dead hanged in his room on Sunday morning.
Date: Mon, 25 May 2020 09:20:17 +0200 (METDST)
By Bhuvan Bagga with Indranil Mukherjee in Mumbai

New Delhi, May 25, 2020 (AFP) - Domestic flights resumed in India on Monday even as coronavirus cases surge, while confusion about quarantine rules prompted jitters among passengers and the cancellation of dozens of planes. India had halted all flights within the country, and departing and leaving for abroad, in late March as it sought to stop the spread of coronavirus with the world's largest lockdown. But desperate to get Asia's third-largest economy moving again, the government announced last week that around 1,050 daily flights -- a third of the usual capacity -- would resume on Monday.

Aviation Minister Hardeep Singh Puri said strict rules would include mandatory mask-wearing and thermal screenings, although middle seats on the aircraft would not be kept empty. The announcement reportedly caught airlines and state authorities off-guard, with several local governments announcing that passengers would have to go into quarantine for two weeks on arrival. Maharashtra, the Indian state with the highest number of coronavirus cases, capped at 50 the number of departures and arrivals in and out of its capital Mumbai.

Airlines scrapped dozens of flights on Monday while hundreds of passengers cancelled their bookings, reports said. The NDTV news channel said 82 flights to and from New Delhi had been cancelled and nine at Bangalore airport. Other flights from cities including infection hotspots Mumbai and Chennai were struck off, many at short notice, reports said. At Mumbai airport social distancing was forgotten as irate passengers harangued staff after their flights were cancelled at the last minute.

- 'Really scary' -
At New Delhi airport, hundreds of people anxious to get home but apprehensive about the risks queued from before dawn -- all wearing masks and standing at least one metre (three feet) apart. Security personnel behind plastic screens verified check-in documents and that passengers had the government contact tracing app, Aarogya Setu, on their phones.

"While I'm looking forward (to flying home), the idea of flying is really scary," student Gladia Laipubam told AFP as she stood in line. "Anything can happen. It's very risky. I don't really know when I'll be able to come back to Delhi now. There is no clarity from the university too at this time." One female airline employee wearing gloves, a mask and a protective face shield said she and many other colleagues felt "very nervous" about starting work again. "Dealing with so many people at this time is so risky. I must have interacted with at least 200 people since this morning," she told AFP, not wishing to be named.

Cabin crew on the planes had to wear full protective suits with masks, plastic visors and blue rubber gloves, and many were also confused about the rules, the Press Trust of India reported. "There is no clarity on whether I need to go into home quarantine for 14 days after returning to my base or show up for duty on Monday," one pilot told PTI. New coronavirus cases in India crossed 6,000 for the third consecutive day on Sunday, surging to a record single-day spike of 6,767 infections. The country has recorded almost 140,000 cases and over 4,000 deaths. Singh has said that international flights could resume in June, although dozens of special flights have in recent weeks brought back some of the hundreds of thousands of Indians stuck abroad.
Date: Fri, 22 May 2020 11:02:28 +0200 (METDST)

Suva, Fiji, May 22, 2020 (AFP) - A huge fire at one of Suva's largest markets blanketed the Fijian capital in thick smoke before it was brought under control Friday, firefighters said. The blaze engulfed the Suva Flea Market, a major tourist attraction near the waterfront, sending plumes of acrid black smoke into the air. The National Fire Authority said an adjoining shop was also badly damaged but there were no reports of injuries. "It's been stopped now and no one was injured but that's all we can say at the moment," a spokesman told AFP. The said the cause of the fire was being investigated.