WORLD NEWS
Getting countries ...
Select countries and read reports below
or
Uruguay
Uruguay - US Consular Information Sheet
May 01, 2008
COUNTRY DESCRIPTION:
Uruguay is a constitutional democracy with a large, educated middle class and a robust developing economy.
The capital city is Montevideo .
Tourist facilit
es are generally good with many 5-star accommodations at resort destinations such as Punta del Este and Colonia de Sacramento.
The quality of tourist facilities varies according to price and location.
Travelers are encouraged to seek travel agency assistance in making plans to visit Uruguay .
Read the Department of State Background Notes on Uruguay for additional information.

ENTRY/EXIT REQUIREMENTS:
All United States citizens entering Uruguay for business or pleasure must have a valid passport.
U.S. citizens traveling on a regular passport do not need a visa for a visit of less than three months.
U.S. citizens traveling on diplomatic or official passports require a visa.
Air travelers are required to pay an airport tax upon departure.
This fee may be paid in U.S. dollars or in Uruguayan pesos.
For further information on entry requirements, contact the Embassy of Uruguay at 1913 "Eye" Street NW, Washington, DC 20006, tel. (202) 331-4219; e-mail: conuruwashi@uruwashi.org.
Travelers may also contact the Consulate of Uruguay in New York, Miami, Chicago, Los Angeles, and Puerto Rico.
Visit the Embassy of Uruguay web site at http://www.uruwashi.org/ for the most current visa information.

Information about dual nationality or the prevention of international child abduction can be found on our web site.
For further information about customs regulations, please read our Customs Information sheet.

SAFETY AND SECURITY:
Regular protests, some with an anti-American flavor, take place outside Congress, City Hall and the "University of the Republic."
U.S. citizens visiting or residing in Uruguay are advised to take common-sense precautions and avoid any large gatherings or any other event where crowds have congregated to demonstrate or protest.
If travelers encounter a protest they should walk the other way or enter a commercial establishment until the protest passes.
Taking pictures of protesters is not a good idea.

Although there have been no past instances of violence directed at U.S. citizens from cross-border extremist groups, U.S. citizens traveling or residing in the more remote areas of Uruguay near the border with Argentina and Brazil are urged to exercise caution.

For the latest security information, Americans traveling abroad should regularly monitor the Department of State, Bureau of Consular Affairs' web site at http://travel.state.gov, where the current Travel Warnings and Travel Alerts, as well as the Worldwide Caution, can be found.

Up to date information on safety and security can also be obtained by calling 1-888-407-4747 toll free in the U.S. and Canada, or for callers outside the U.S. and Canada , a regular toll line at 1-202-501-4444. These numbers are available from 8:00 a.m. to 8:00 p.m. Eastern Time, Monday through Friday (except U.S. federal holidays.)

The Department of State urges American citizens to take responsibility for their own personal security while traveling overseas.
For general information about appropriate measures travelers can take to protect themselves in an overseas environment, see the Department of State's pamphlet A Safe Trip Abroad.

CRIME:
Petty street crime is prevalent in Montevideo .
The criminals tend to be non-violent.
However, criminals often resort to violence if the victims resist.
Travelers should exercise reasonable caution to minimize their exposure to crime.
Criminals prey on the unaware, particularly those carrying cameras, pocketbooks, laptops, or backpacks.
Travelers are advised to lock most valuables in secure hotel safes and to download their wallets of excess credit cards and cash.
If dining at an outdoor restaurant take extra care with pocketbooks or bags.
There are no "off limits" areas of the city and parts of "Ciudad Vieja" are popular tourist attractions.
However the only sections of Ciudad Vieja with continual police patrols are Plaza Independencia, the pedestrian street Sarandi, and the Mercado del Puerto.
Mugging is common in other parts of Ciudad Vieja - particularly for travelers walking alone, or couples walking at night.
A smart alternative is to call for a taxi for evening travel between restaurants, bars, and hotels.

Victims are usually foreign tourists, individuals openly carrying valuable items, and motorists in unlocked vehicles stopped at busy intersections, particularly on Montevideo 's riverfront road known as the Rambla. Drivers should keep all car doors locked, the driver's window open only one inch, and purses, bags, briefcases and other valuables out of sight on the floor or in the trunk. Parked cars, particularly in the Carrasco neighborhood, are also increasingly targeted for break-ins. During the summer months (December-March), beach resort areas such as Punta del Este attract tourists, and petty street crimes and residential burglaries--similar to those that occur in Montevideo --rise significantly. Visitors are advised to exercise common sense in the conduct of their activities around Montevideo and in Uruguayan resort areas. They should be very attentive to personal security and their surroundings in the aforementioned areas.

Those planning to live in Montevideo should note that burglaries and attempted burglaries seem to be on the rise in upscale neighborhoods.
The perpetrators are mostly non-confrontational but determined teenagers.
A combination of preventive measures including rigorous use of locks and alarms, strong grillwork on all windows, guard dogs, keeping a residence occupied as much as possible, and using a security service is highly recommended.

Montevideo continues to experience armed robberies of patrons at crowded restaurants in the Pocitos neighborhood.
Most of these crimes have occurred very late at night.
Restaurant patrons should exercise extreme caution for late night dining.

Uruguayan law enforcement authorities have increased the number of uniformed policemen on foot in areas where criminal activity is concentrated and the number of patrol cars in residential areas. The clearly marked patrol cars are equipped with cellular phones and the phone numbers are conspicuously painted on the vehicles.

INFORMATION FOR VICTIMS OF CRIME:
The loss or theft abroad of a U.S. passport should be reported immediately to the local police and the nearest U.S. Embassy or Consulate.
If you are the victim of a crime while overseas, in addition to reporting to local police, please contact the U.S. Embassy or Consulate for assistance.
The Embassy/Consulate staff can, for example, assist you to find appropriate medical care, contact family members or friends and explain how funds could be transferred.
Although the investigation and prosecution of the crime is solely the responsibility of local authorities, consular officers can help you to understand the local criminal justice process and to find an attorney if needed.

See our information on Victims of Crime.

MEDICAL FACILITIES AND HEALTH INFORMATION:
Facilities for medical care are considered adequate. Serious medical problems requiring hospitalization and/or medical evacuation to the United States can cost tens of thousands of dollars.


Information on vaccinations and other health precautions, such as safe food and water precautions and insect bite protection, may be obtained from the Centers for Disease Control and Prevention's hotline for international travelers at 1-877-FYI-TRIP (1-877-394-8747) or via the CDC's web site at http://wwwn.cdc.gov/travel/default.aspx.
For information about outbreaks of infectious diseases abroad consult the World Health Organization's (WHO) web site at http://www.who.int/en. Further health information for travelers is available at http://www.who.int/ith/en.

MEDICAL INSURANCE:
The Department of State strongly urges Americans to consult with their medical insurance company prior to traveling abroad to confirm whether their policy applies overseas and whether it will cover emergency expenses such as a medical evacuation.
Please see our information on medical insurance overseas.

TRAFFIC SAFETY AND ROAD CONDITIONS:
While in a foreign country, U.S. citizens may encounter road conditions that differ significantly from those in the United States .
The information below concerning Uruguay is provided for general reference only, and may not be totally accurate in particular location or circumstance.

The Uruguayan Ministry of Transportation is responsible for maintaining safe road conditions countrywide. The Uruguayan Ministry of Interior highway police (tel. 1954) are responsible for traffic safety on highways and other roads beyond city limits. In urban and suburban areas, transit police and municipal employees share road safety responsibilities.

Driving is on the right-hand side of the road. Wearing seat belts and using headlights on highways and other inter-city roads 24 hours a day are mandatory. Children under 12 must ride in the back seat. Motorcyclists must wear helmets. The use of cellular phones while driving is prohibited. Right turns on red lights and left turns at most intersections marked with a stoplight are not permitted. Drivers approaching an intersection from the right or already in traffic circles have the right of way.
Flashing high beams indicate intent to pass or continue through unmarked intersections.
Many drivers ignore speed limits and traffic signs.
If you plan to drive, use extreme caution and drive defensively.

For driving under the influence, violators are fined and confiscated licenses may be retained for up to six months. In accidents causing injury or death, drivers are brought before a judge who decides if incarceration is warranted.

Inter-city travel is via bus, taxi, car service (remise), car, and motorcycle. Speed limits are posted on highways and some main roads. Most taxis have no seat belts in the back seat. Cycling outside the capital or small towns is hazardous due to a scarcity of bike paths, narrow road shoulders and unsafe driving practices.

Illumination, pavement markings, and road surfaces are sometimes poor. Route 1, which runs between Montevideo and Colonia or Punta del Este, and Route 2, between Rosario and Fray Bentos, are particularly accident-ridden because of heavy tourist traffic. Road accidents rise during the austral summer beach season (December to March), Carnaval (mid-to-late February), and Easter Week.

Within Montevideo , the emergency number to contact the police, fire department, rescue squad, or ambulance service is 911. In the rest of the country, dial 02-911 to connect with the Montevideo central emergency authority, which will then contact the local emergency service. The Automobile Club of Uruguay responds to emergency calls for roadside assistance at 1707, "Car Up" at 0800-1501 and the Automobile Center of Uruguay at 2-408-6131/2091. SEMM (tel. 159) and UCM (tel. 147), Montevideo-based ambulance services manned by doctors, have agreements with emergency medical units in other cities.

Please refer to our Road Safety page for more information.
You may also telephone Uruguay 's national tourist office and national authority responsible for road safety in Miami at (305) 443-7431.

AVIATION SAFETY OVERSIGHT:
The U.S. Federal Aviation Administration (FAA) has assessed Uruguay 's Civil Aviation Authority as not being in compliance with International Civil Aviation Organization (ICAO) aviation safety standards for oversight of Uruguay 's air carrier operations.
For more information, travelers may visit the FAA's web site at http://www.faa.gov/safety/programs_initiatives/oversight/iasa.

SPECIAL CIRCUMSTANCES:
Uruguay 's customs authorities may enforce strict regulations concerning temporary importation into or export from Uruguay of items such as precious jewels, gold, firearms, pornography, subversive literature, inflammable articles, acids, prohibited drugs (medications), plants, seeds, and foodstuffs as well as some antiquities and business equipment. It is advisable to contact the Embassy of Uruguay in Washington, D.C., or one of Uruguay 's consulates in the U.S. for specific information regarding customs requirements. Note: Travelers entering Uruguay with precious jewels or gold worth more than $500.00 ( U.S. ) must declare them to customs officers at the port of entry or face possible detention or seizure of the goods and charges of contraband or evasion of customs controls. Visitors are expected to comply with local law and regulations by approaching a customs officer before routine inspection of all incoming baggage, conducted on standard security equipment.
Please see our Customs Information.

CRIMINAL PENALTIES:
While in a foreign country, a U.S. citizen is subject to that country's laws and regulations, which sometimes differ significantly from those in the United States and may not afford the protections available to the individual under U.S. law.
Penalties for breaking the law can be more severe than in the United States for similar offenses.
Persons violating Uruguay 's laws, even unknowingly, may be expelled, arrested, or imprisoned.
Penalties for possession, use, or trafficking in illegal drugs in Uruguay are severe, and convicted offenders can expect long jail sentences and heavy fines.
Engaging in sexual conduct with children or using or disseminating child pornography in a foreign country is a crime, prosecutable in the United States .
Please see our information on Criminal Penalties.

The Uruguayan Ministry of Agriculture and Fishing strictly enforces all regulations regarding hunting permits, as well as seasonal and numerical limits on game. Visitors who contravene local law have been detained by the authorities and had valuable personal property (weapons) seized. Under Uruguayan law, seized weapons can only be returned after payment of a sum equivalent to the value of the property seized. Hunters are also subject to stiff fines for practicing the sport without all appropriate permits.

CHILDREN'S ISSUES:
For information see our Office of Children's Issues web pages onintercountry adoption and international parental child abduction.

REGISTRATION / EMBASSY LOCATION:
Americans living or traveling in Uruguay are encouraged to register with the U.S. Embassy through the State Department's travel registration web site so that they can obtain updated information on travel and security within Uruguay .
Americans without Internet access may register directly with the U.S. Embassy.
By registering, American citizens make it easier for the Embassy to contact them in case of emergency. The U.S. Embassy is located at Lauro Muller 1776; telephone (598) (2) 418-7777; fax (598) (2) 418-4110 or -8611. Internet: http://uruguay.usembassy.gov/, email: MontevideoACS@state.gov. Consular Section hours for American Citizen Services are Monday to Thursday, 9:00 a.m. to 11:00 p.m. and 2:00 p.m. to 4:00 p.m., except U.S. and Uruguayan holidays.
* * *
This replaces the Consular Information Sheet dated August 28, 2007 to update Sections on Entry/Exit Requirements, Safety and Security, Crime, Aviation Safety Oversight, Children's issues, and Registration/Embassy Location.
Travel News Headlines WORLD NEWS
Date: Sun, 29 Mar 2020 11:48:20 +0200 (METDST)

Montevideo, March 29, 2020 (AFP) - Uruguay reported its first death linked to the novel coronavirus on Saturday, a former minister and ally of the ruling party, the government said. "With deep sadness we announce the first death due to coronavirus in Uruguay," Secretary of the Presidency Alvaro Delgado told a press conference, naming the victim as Rodolfo Gonzalez Rissotto.

Gonzalez Rissotto was one of nine patients with the coronavirus who were in intensive care, Delgado said, adding his death was "all the more reason to reinforce the request to everyone to take care of themselves and stay home." President Luis Lacalle Pou paid tribute in a tweet. "A big hug for the family and friends of Rodolfo Gonzalez Risotto. Friend and counselor. RIP." Uruguay has reported 304 confirmed cases of the virus.
20th June 2019
https://en.mercopress.com/2019/06/20/torrential-rains-in-uruguay-forces-7.400-to-abandon-their-homes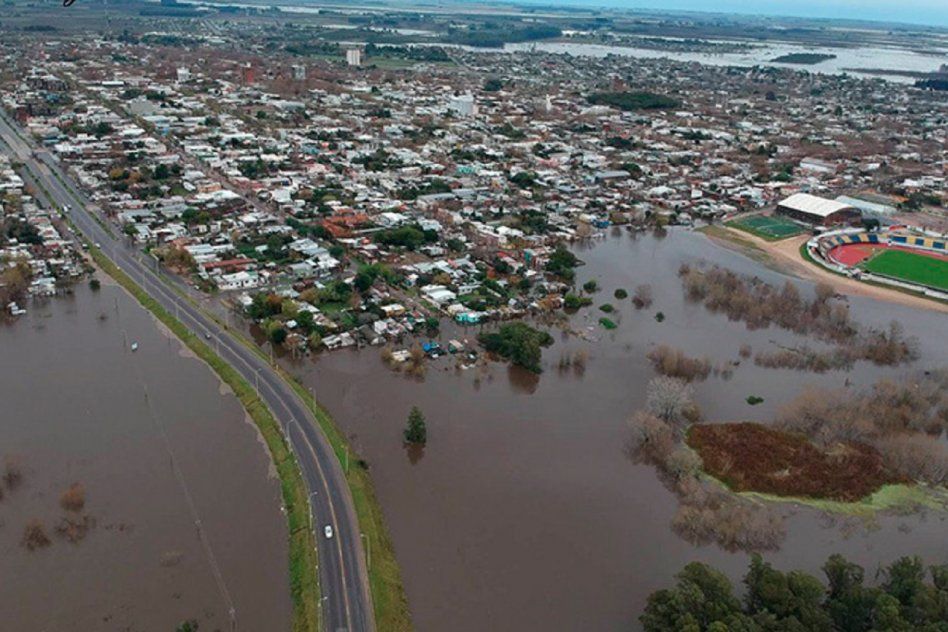 Torrential rains in central and southern Uruguay in the past several days have caused massive floods and forced some 7,400 people to leave their homes, according to the latest update by the country's National Emergency System. The central city of Durazno is the most affected, with 5,299 evacuees, according to official reports.
Defense Minister Jose Bayardi visited one of the camp sites managed by the military to help the displaced. "We have established a high level of experience (in the face of these catastrophes) which we have succeeded in institutionalizing," he told the media. Troops will continue monitoring the situation because "there are many people who do not want to leave their homes due to fear of being robbed and looted" Bayardi said.
The National Highway Police also said that 12 national highways remain cut-off in different directions. Uruguay's National Meteorological Institute said that between June 11 and 16, some southern regions of the country received around 270 mm of rain. On Wednesday morning, the Yi River, which had been 11.8 meters higher than its normal water level in the Durazno area, was falling at a rate of 11 cm per hour, according to local media reports.
Date: Tue 12 Mar 2019
Source: Carmelo Portal [in Spanish, trans. Mod. TY, edited]
The departmental health director, Dr Jorge Mota, confirmed for Carmelo Portal the death in our city of a young 17 year old girl from [a] hantavirus [infection]. "In Colonia department, there are on average 3 cases per year. The evolution of the disease is in thirds. One-third of the [infected] people do not have notable symptoms; another third have serious symptoms, especially respiratory symptoms and ones in all the systems, but with adequate treatment, [the infected people] survive, sometimes with sequelae. There is another third that die. It is those few with the virus that die with an evolution so drastic, such as is the case of this girl, sadly," Dr Mota stated.
The department health director said that hantaviruses are not contagious person-to-person. "It is transmitted from an intermediate animal, the field mouse. Only 3% of these mice have [a] hantavirus. To become infected, one must be in contact with an [infected] mouse's secretions that have dried, are mixed with dust, and are in a closed space, away from sunlight and ventilation. A spa, a shed, or a wood pile [are examples of such a space]. The person had to have been moving around there and inhaled the dust," he explained.
Dr Mota spoke about the epidemiological surveillance that is carried out. "We tracked places where the person was, even those that could be identified 2 months before contracting the virus; sometimes we found the place, but sometimes not." As a preventive measure, Mota stated that in these cases, ventilate these closed spaces for at least half an hour. Wet down floors and shelves with water [with 10% bleach]. Use masks [and gloves].
==========================
[The report above does not mention the circumstances under which the infection might have been acquired nor which hantavirus was responsible for this or earlier cases in Uruguay. Hantaviruses that cause hantavirus pulmonary syndrome (with rodent hosts found in Uruguay) include Laguna Negra virus (_Calomys laucha_), Maciel virus (_Necromys benefactus_), Central Plata virus, Lechiguanas virus (_Oligoryzomys flavescens_, complex of rodents), and Anajatuba virus and Juquitiba virus (_Ologoryzomys fornesi_).
The rodent reservoir hosts shed the virus in its saliva, urine, and faeces, contaminating the environment in which they live and breed.
Date: Thu, 19 Jul 2018 03:23:55 +0200
By Lucia LACURCIA

Montevideo, July 19, 2018 (AFP) - Enrique Curbelo is delighted. Selling cannabis has allowed the affable 76-year-old to keep his privately owned pharmacy in Montevideo open in a market dominated by big chains. "I had to sell what they didn't sell," he told AFP. "For me it's like selling aspirin." It's been this way for a year now. Every Wednesday, Ismael Fernandez receives a WhatsApp message from his local pharmacist telling him a new stock of cannabis has arrived. After leaving work, he heads there and buys the 10 grams that Uruguayan law permits, costing 400 pesos, around $13.

Fernandez then heads home and rolls a joint "to relax" with his partner Stefania Fabricio. No longer do they need to surreptitiously contact a dealer and pay more for Paraguayan or Brazilian marijuana that's been "pressed, mixed (and is) sometimes very bad and full of chemicals." "Now it's much easier than when it started," Fernandez, a 31-year-old who works for a cleaning company, told AFP. It has been four and a half years since marijuana use became legal in Uruguay and a year since it has been sold in pharmacies -- up to 40 grams a month per person.

Initially, there was insufficient supply, leaving people standing in long queues as stocks sometimes ran out. Pharmacies are better prepared now. "They send you a message with a number which you use later to go and collect it, and in my pharmacy you can order it online," added Fernandez, the father of a three-year-old. Hairdresser Fabricio, also 31, says "it's good quality," but not too strong. "It doesn't send your head spinning, but it's not meant to. You get a hit but you can still do things perfectly." - 'Privileged' - She says she feels "privileged" to live in a country that enacted a law to "get tons of people out of the black market." As a result, she said, the stigma attached to those who smoke pot is changing, "albeit slowly."

The system is simple: to buy cannabis in a pharmacy you must be at least 18, live in Uruguay and sign up as a "buyer" at the post office. An initial stumbling block arose when banks refused to work with establishments selling cannabis due to international rules against drug-trafficking. But the country plowed on, and last year it became the first in the world to fully legalize its sale. But Enrique Curbelo had to get over his own prejudices before deciding to join the select band of pharmacies selling the plant. There are 14, half of them in the capital, serving the 24,812 registered buyers.

- 'Normal people' -
Users can choose between two brands and two types of cannabis -- sativa and indica -- both provided by an official distributor. Customers are generally not the stereotypical grubby-looking student or idle waster. On this day in Curbelo's store they include two young women, a man in his 50s and an older lady -- "normal people," says the pharmacist. Official statistics say 70 percent of buyers are male and 49 percent are between the ages of 18 and 29.

To keep anyone from exceeding their monthly allowance, a fingerprint machine is used to register every sale. Along with the ability to purchase cannabis in a pharmacy, Uruguayans have the right to grow their own -- up to a six-plant maximum -- or to join a cannabis club, which can have up to 45 members and 99 plants. Federico Corbo, a 41-year-old gardener, grows cannabis in his garden on the outskirts of Montevideo. He experiments by crossing species in an attempt to improve quality and optimize the flowering period. Corbo is not impressed with the quality on offer in pharmacies. "It's not the worst, but it's low," he said, insisting quality control needs to be improved. "Marijuana that doesn't reach the minimum standards -- with crushed flowers, no aroma, low quality -- shouldn't be sold in the pharmacy. "Maybe, as I'm a grower, I'm very demanding, but there is a cost associated to the product and it must be offered to the public in the best way possible."

According to the Institute of Cannabis Regulation and Control (Ircca), an average cultivator or club member supplies cannabis to two other people, while those who buy it in a pharmacy share it with one other. "Approximately half of marijuana users have access to regulated cannabis," says Ircca. The rest prefer to continue buying the drug on the black market, put off by the need to register as a user. "It's wrong -- if they legalize it they have to do so in a way in which the state doesn't keep a paternalistic role in overseeing how much you smoke or stop smoking," one clandestine user, who wished to remain anonymous, told AFP. This 48-year-old lawyer simply doesn't trust the authorities. He pointed to the danger a change of government could bring, or even the return of dictatorship. "Right now that seems impossible," he said, "but you can never discount it."
Date: Thu 1 Feb 2018 23:02hs UYT
Source: LaRed 21 [in Spanish, machine trans. edited]
The Ministry of Public Health (MSP) issued a statement through which it reports that it has detected cases of infection by the bacterium _Vibrio vulnificus_ in Montevideo, Canelones, and Maldonado [departments]. The State Secretariat assured that every year there are cases of this bacterium, but so far in 2018, 4 serious cases have been reported, of which 3 died. All of them had underlying illnesses.
"90 percent of these cases, in the world, are associated with the consumption of undercooked or raw seafood. Infrequently, the infection can be acquired when entering the sea with open wounds, especially in elderly people or people with diseases that affect the immune system," explained the MSP. It is an event "extremely rare in our country," said the State Secretariat. It also indicated that fewer than 10 cases per year are registered per year for this bacterium.
It is an infection that "can be serious and in some cases fatal, so it is recommended to avoid the consumption of undercooked or raw sea products (as well as their handling without protection measures) and in the same way, avoid entering the sea with wounds or cuts on the skin." The bacteria can be found in coastal marine waters and estuaries in areas of tropical and subtropical climates that have a moderate degree of salinity and temperatures that usually exceed 18 C [64.4 F].
====================
"_Vibrio vulnificus_, a lactose-fermenting, halophilic, Gram-negative, opportunistic pathogen, is found in estuarine environments and associated with various marine species such as plankton, shellfish (oysters, clams, and crabs), and finfish. Environmental factors responsible for controlling numbers of _V. vulnificus_ in seafood and in the environment include temperature, pH, salinity, and amounts of dissolved organics. It may be normal flora in salt water, and acquiring this organism from shellfish or water exposure does not imply that the water is contaminated by sewage.
"Wound infections result either from contaminating an open wound with sea water harbouring the organism, or by lacerating part of the body on coral, fish, etc., followed by contamination with the organism. The ingestion of _V. vulnificus_ by healthy individuals can result in gastroenteritis."
There are 2 points to be emphasized: that vibrios are normal flora in warm saltwater (not indicative of any sewage contamination) and that most of the life-threatening illnesses occur in individuals with underlying medical illnesses, including immunocompromised states, chronic liver disease, and diabetes. So-called normal individuals often just develop gastroenteritis. The range of disease due to _V. vulnificus_ can involve more northern geographical areas as overall global warming takes effect. - ProMED Mod.LL]
More ...
World Travel News Headlines
Date: Thu, 9 Apr 2020 07:30:18 +0200 (METDST)
By Mary Lyn Fonua

Nuku'alofa, Tonga, April 9, 2020 (AFP) - A resurgent Tropical Cyclone Harold flattened tourist resorts in Tonga Thursday, extending a week-long trail of destruction across four South Pacific island nations that has claimed more than two dozen lives. The cyclone gathered pace as it bore down on the tiny island kingdom, which declared a state of emergency, warning residents to seek shelter from destructive winds and massive sea surges.

By early Thursday it had again become a scale-topping Category Five superstorm -- surprising meteorologists after signs earlier in the week that its intensity was dropping. Packing winds of up to 260 kilometres per hour (160 miles per hour), it cut power in parts of the country and police said at least three tourist resorts north of the capital Nuku'alofa had been reduced to rubble.

The cyclone killed 27 people in the Solomons late last week before barrelling southeast to directly hit Vanuatu as a Category Five, obliterating entire towns in the northern provinces. There have been no reports of deaths in Vanuatu, Fiji or Tonga, with emergency workers saying residents in the hardest hit areas took shelter early. "It appears that many buildings and crops have been destroyed and some people in the most affected areas have lost everything," Red Cross Vanuatu secretary general Jacqueline de Gaillande said.

Harold weakened slightly to a still-formidable Category Four as it lashed Fiji on Wednesday but hopes the storm was dissipating were dashed as it regathered momentum heading towards Tonga. "It's been a tricky one to predict," meteorologist Bill Singh from New Zealand's Metservice told AFP. "We knew the track it was going to take but initially everyone thought it was just going to be Cat 3 or 4, but as it progressed over open warm waters it deepened."

- Closed borders -
The storm is expected to head away from Tonga onto the open ocean late Thursday but WeatherWatch.co.nz head forecaster Philip Duncan said there were no certainties. "It's almost unheard of to see a cyclone tracking south away from the equator, weakening, then suddenly returning back to Cat 5 so far south," he said.

The COVID-19 pandemic has complicated disaster relief efforts, with Vanuatu reluctant to open its international borders as it seeks to remain one of the few countries without any confirmed virus cases. "No foreign personnel are being brought to Vanuatu for response efforts at the present time, this will be an internally run operation," Vanuatu's National Disaster Management Office said.

Fiji has 15 virus cases and Prime Minister Frank Bainimarama said the virus and cyclone meant "our economy and our people have been dealt two body blows to start the year". "This storm must not compromise our coronavirus containment efforts, lest we risk damage far more painful than the aftermath of any cyclone," he said.

Australian Foreign Minister Marise Payne said an air force plane carrying essential supplies such as tents and water containers was on its way to Vanuatu, while assistance had also been offered to other impacted nations. "We are acutely conscious that this comes on top of the impact and difficulties created by COVID-19 for those countries," she said. Vanuatu said any supplies that came into the country would be handled with protective equipment and the air crews delivering them would be isolated in transit areas.
Date: Wed, 8 Apr 2020 18:07:06 +0200 (METDST)

London, April 8, 2020 (AFP) - Britain on Wednesday reported a record 938 new COVID-19 deaths in its daily update, 152 more than its previous highest toll, as the total number of deaths passed 7,000. "As of 5pm on 7 April, of those hospitalised in the UK who tested positive for coronavirus, 7,097 have sadly died," the health ministry tweeted, up from 6,159 on Tuesday.
Date: Wed, 8 Apr 2020 16:50:53 +0200 (METDST)
By Sofia CHRISTENSEN

Johannesburg, April 8, 2020 (AFP) - A pride of lions flops lazily across a track at a South African game reserve, enjoying newfound tranquility since last month's closure of all national parks to support an anti-coronavirus lockdown. Rather than the usual Land Rover, a lone elephant rumbles down the road, causing the felines to scatter into the surrounding bush. A vehicle stands in the background, live streaming the scene for thousands of people watching the animals from the comfort of their homes. "Since the lockdown occurred we have seen an amazing explosion in our audience," said Graham Wallington, head of a live safari broadcaster called WildEarth.

As the number of viewers tripled over the last days of March, Wallington noted that the audience -- typically American -- was increasingly from South Africa. "It just happened overnight because all these kids at home with their families are watching these live safaris," he told AFP. South Africa is almost two weeks into a 21-day lockdown meant to halt the spread of COVID-19. The country is the worst-affected in Africa, with more than 1,700 infections recorded so far, including 13 deaths.

WildEarth operates from two vehicles in two private game reserves bordering the internationally famous Kruger National Park. Guides take viewers along for a virtual game drive, finding wildlife and sharing facts about animals encountered along the way. The cameras are positioned at the back of the vehicles, where passengers would usually be seated, in order to create a real-life experience. "There it is," guide James Hendry whispered excitedly to the camera after stumbling across a mother hyena and her newborn cubs. "Tell me, have you ever seen anything that cute in your life before?" Participants can also send questions to the guides as they go along.

- Rare species emerge -
"You want to know how much water an elephant drinks in a day?" asked ranger Trishala Naidoo, as she drove along a bumpy bush track. "Around 100 litres if not more," she answered, before pulling over to show viewers a leopard tortoise crossing the road. Aside from providing entertainment, Wallington believes virtual safaris are an opportunity to observe how wildlife behave in the absence of tourists. "It's kind of an interesting time where the animals are being left alone," Wallington said, adding that rare species such as the endangered African wild dogs had started venturing into his areas. "Wild dogs coming in and hunting almost every day... is unheard of," he exclaimed. "It's because there is no one else there and they've got the run of the place for themselves."
Date: Wed, 8 Apr 2020 16:44:56 +0200 (METDST)

Monrovia, April 8, 2020 (AFP) - Liberian President George Weah declared a state of emergency in the West African country on Wednesday, with the capital Monrovia set to go into lockdown in a bid to curb coronavirus. In a televised statement, the president said that all movement between Liberia's 15 counties would be banned from 11:59 pm on Friday, and that all non-essential businesses and government offices would close.

Residents of four counties -- including Monrovia's, which is home to about 1 million people -- must also stay at home for two weeks, he said. Authorities in those counties will allow people to leave their homes only to buy food or for health reasons. "We have to ask ourselves why we should abide by these measures. The answer is simple: to save lives," Weah said.

Wednesday's announcement escalates earlier health measures which banned large gatherings as well as flights to and from virus-stricken countries. As with other poor countries in the region, there are fears that Liberia is ill prepared to handle a large outbreak.

The nation of some 4.8 million has recorded 13 coronavirus cases to date, with three deaths. But Liberia was badly hit during the West Africa's 2014-16 Ebola crisis, which killed more than 4,800 people in the country. Weah warned that the coronavirus was the greatest threat facing Liberia since Ebola. "The horrific scenarios that are beginning to emerge should serve as sufficient warning for every one of us to spring into action," he said. Coronavirus "has already arrived in Liberia, and confirmed cases are now on the rise," Weah added. Decimated after back-to-back civil wars from 1989 to 2003, Liberia also suffers economic woes including rampant inflation and fuel shortages.
Date: Wed, 8 Apr 2020 16:42:52 +0200 (METDST)

Cairo, April 8, 2020 (AFP) - Egypt will extend a nationwide night-time curfew by a further two weeks in a bid to slow the spread of the coronavirus, Prime Minister Mostafa Madbouli said on Wednesday. He told a news conference the measure would be enforced from 8:00 pm (1800 GMT) to 6:00 am and run until April 23. The curfew would start an hour later, he said, to avoid overcrowding in public transport. Schools and universities, as well as restaurants and cafes would also remain closed until then, while food outlets would be allowed to offer delivery services only. To stem the spread of the coronavirus, authorities have also halted air traffic until the end of the month and closed tourist and religious sites.

Penalties against violators including fines of up to 4,000 Egyptian pounds (just over $250) and even prison, the prime minister said. Madbouli also announced that cabinet members will take a 20 percent salary cut for three months, and allocate that sum to underprivileged Egyptians. Egypt's health ministry has so far declared 94 fatalities out of 1,450 confirmed cases of COVID-19. Authorities have in recent weeks carried out sweeping disinfection operations at archaeological sites, museums and other sites across the country. In tandem, strict social distancing measures were imposed to reduce the risk of contagion among the country's 100 million inhabitants.
Date: Wed, 8 Apr 2020 15:46:57 +0200 (METDST)

Beirut, April 8, 2020 (AFP) - Millions in Lebanon risk food insecurity due to a coronavirus lockdown unless the government provides urgent assistance, Human Rights Watch warned Wednesday. Lebanon in mid-March ordered residents to stay at home and all non-essential businesses to close to halt the spread of COVID-19, which has officially infected 575 people and killed 19 nationwide. Before the pandemic erupted, Lebanon was struggling with its worst economic crisis in decades, with 45 percent of the population facing poverty according to official estimates. Lockdown measures to slow the spread of the virus have made matters worse with "millions of Lebanon's residents... at risk of going hungry", HRW said in a statement.

Lebanon is home to 4.5 million people, and also hosts around 1.5 million Syrians who have fled the nine-year war next door, most of whom rely on aid to survive. "The lockdown... has compounded the poverty and economic hardship rampant in Lebanon before the virus arrived," said HRW senior researcher Lena Simet. "Many people who had an income have lost it, and if the government does not step in, more than half the population may not be able to afford food and basic necessities."

The economic crisis since last year had already caused many people to lose their jobs or take salary cuts, and stay-at-home measures to counter the virus have now prevented even more from earning a wage. Media has carried reports of a taxi driver who set his car on fire after security forces fined him for breaking the lockdown rules. And an unemployed Lebanese construction worker unable to afford rent offered to sell his kidney, in an image widely shared online. HRW Lebanon researcher Aya Majzoub said many families are struggling due to a lack of savings.

The government has said it will pay out 400,000 Lebanese pounds (less than $150 at the market rate) to the most vulnerable. HRW said the government should also consider suspending rent and mortgage payments throughout the lockdown. Majzoub said Syrian refugees were also affected. "Many of them were seasonal workers -- they worked in agriculture, they worked in the service industry -- and they're not able to do that anymore," she said. But their ability to cope will depend largely on international aid, as before the pandemic.

The World Bank last week said it had re-allocated $40 million from its support to Lebanon's health sector to fight the virus, including for tests and ventilators. And it has also been discussing "assistance to help mitigate the impact of the economic and financial crisis on the poor through emergency social safety nets", World Bank spokeswoman Zeina El-Khalil told AFP in March. On Monday, Lebanon's President Michel Aoun urged the international community to provide financial assistance to back economic reforms.
Date: Wed, 8 Apr 2020 15:13:03 +0200 (METDST)

Dublin, April 8, 2020 (AFP) - Irish police set up nationwide traffic checkpoints on Wednesday, armed with new powers to enforce a lockdown designed to stem the spread of the coronavirus. Emergency legislation passed in the Irish parliament two weeks ago allows the government to curb non-essential travel during the crisis.

People violating the ban risk a fine of up to 2,500 euros ($2,700) and/or six months in prison. "The regulations now are in effect," Garda -- Irish police -- commissioner Drew Harris said at a press conference. "People only should be moving if they have an essential reason to move throughout country. What we'll be doing is making sure that movement is essential."

Over 2,500 officers will be involved in the operation at any one time as it runs from noon Wednesday until midnight on Sunday, with an extension possible. "It will involve thousands of checkpoints every day," police said in a statement. The roadblocks have been put in place ahead of Easter holidays, traditionally used as an occasion for travel in Ireland.

Harris said nationwide compliance with the ban on movement -- which allows for exercise within two kilometres of home -- had been strong. But there is a "small minority and perhaps... an increasing number" in breach of the government order. There have been 210 COVID-19 related deaths and 5,709 confirmed cases of the virus in Ireland according to health department figures released Tuesday.
Date: Wed, 8 Apr 2020 13:24:23 +0200 (METDST)

Tehran, April 8, 2020 (AFP) - Iran on Wednesday reported 121 new deaths from the novel coronavirus, bringing its overall number of fatalities to 3,993. In the past 24 hours, 1,997 new cases of COVID-19 infection were detected in Iran, state news agency IRNA quoted health ministry spokesman Kianoush Jahanpour as saying. That put the number of confirmed cases at 64,586, he added.

Iran, which announced its first COVID-19 cases on February 19, is by far the worst hit by the pandemic in the Middle East, according to official tolls. But there has been speculation abroad that the real number of deaths and infections in the country could be higher. Jahanpour said that while 3,956 patients were in critical condition, those who recovered had reached 29,812. The spokesman added that Iran had carried out 220,975 COVID-19 tests to date, according to IRNA. In a bid to halt COVID-19, Iran has ordered the closure of non-essential businesses and imposed inter-city travel bans, while refraining from a lockdown.

Iran's President Hassan Rouhani said a "second wave" of the fight against the coronavirus would start from Saturday, and that it would be more difficult. "Low-risk" businesses would be allowed to reopen from Saturday, he said, because "we want to continue economic activities as much as possible while fighting coronavirus at the same time". The decision to reopen businesses has drawn criticism from health experts and even some government officials. But Rouhani said "there is no other way".
Date: Wed, 8 Apr 2020 13:14:26 +0200 (METDST)
By Robbie COREY-BOULET

Addis Ababa, April 8, 2020 (AFP) - Ethiopia on Wednesday declared a state of emergency to fight the coronavirus pandemic, which has so far infected 55 people and resulted in two deaths there. It is the first state of emergency announced under Prime Minister Abiy Ahmed, who came to power in 2018 and won last year's Nobel Peace Prize in part for expanding political freedoms in the authoritarian nation. "Because the coronavirus pandemic is getting worse, the Ethiopian government has decided to declare a state of emergency under Article 93 of the constitution," Abiy said in a statement. "I call upon everybody to stand in line with government bodies and others that are trying to overcome this problem," he added, warning of "grave legal measures" against anyone who undermines the fight against the pandemic.

It was not immediately clear how the state of emergency would affect day-to-day life in Ethiopia. The government has so far refrained from imposing a lockdown similar to those in effect elsewhere in the region, including in Rwanda, Uganda and Mauritius.

According to the country's constitution, under a state of emergency the Council of Ministers has "all necessary power to protect the country's peace and sovereignty" and can suspend some "political and democratic rights". The constitution also says lawmakers need to approve a state of emergency, which can last for six months and be extended every four months after that.

Wednesday's decree is likely to "beef up security operations with a greater role for the ederal government, including the military," said William Davison, Ethiopia analyst for the International Crisis Group, a conflict-prevention organisation. "While this approach is understandable given the situation, it is critical that there is transparency over the government's extra powers and that there is adequate monitoring of implementation," Davison said.

-Opposition challenges move-
Since reporting its first COVID-19 case on March 13, Ethiopia has closed land borders and schools, freed thousands of prisoners to ease overcrowding, sprayed main streets in the capital with disinfectant, and discouraged large gatherings. But Abiy said over the weekend that a harsher lockdown would be unrealistic given that there are "many citizens who don't have homes" and "even those who have homes have to make ends meet daily." Jawar Mohammed, a leading opposition politician, said Wednesday this called into question why a state of emergency was necessary. "Officials have been saying the country is too poor to stop population movement. So why do you need a state of emergency if you are not planning to impose stricter rules?" Jawar told AFP.

During consultations with Abiy earlier this week, the opposition Oromo Liberation Front (OLF) voiced worries that a state of emergency would lead to human rights abuses -- a well-documented problem under previous states of emergency imposed during several years of anti-government protests that swept Abiy to power. "We explained our concern that the state of emergency has been initiated several times and it has been abused to violate the rights of citizens and other political activists," OLF chairman Dawud Ibsa told AFP. It's also unclear how the state of emergency might affect planning for hotly-anticipated general elections in Ethiopia.

The country's electoral board announced last week that voting planned for August would need to be postponed because of the pandemic. It did not provide a timeline for when the elections would ultimately be held, and lawmakers' constitutional mandates expire in October. Davison, with the International Crisis Group, said the state of emergency could be used "to formally postpone elections" past that deadline, though such a move risks sparking opposition backlash. "It is therefore essential that the government works with opposition parties on managing this constitutionally sensitive period and making new electoral arrangements," Davison said.
Date: Wed, 8 Apr 2020 13:08:25 +0200 (METDST)

Madrid, April 8, 2020 (AFP) - Spain recorded Wednesday a second successive daily rise in coronavirus-related deaths with 757 fatalities, lifting the total toll in Europe's second-hardest-hit country after Italy by 5.5 percent to 14,555. The number of new infections rose by 4.4 percent to 146,690, the health ministry said, as Spain has ramped up its testing for the disease. The number of daily deaths, which peaked on Thursday at 950, rose for the first time on Tuesday after falling for four straight days.

But the rate of increase in both deaths and new infections on Wednesday was largely in line with that recorded the previous day, and half of what was recorded just a week ago. "We have consolidated the slowdown in the spread of the virus," Health Minister Salvador Illa tweeted after the latest figures were published. The Spanish government on March 14 imposed one of the toughest lockdowns in Europe to curb the spread of the virus, with people allowed out of their homes only to work, buy food and seek medical care.

The pandemic has stretched the country's public healthcare system close to breaking point, with a shortage of intensive care beds and equipments, but in recent days hospitals have said the situation has improved. "We have observed a de-escalation at this hospital in particular, and I believe at all hospitals," the spokesman for the Hospital Severo Ochoa in Leganes near Madrid, Jorge Rivera, told AFP. "We can't let down our guard, emergency services are now working below their full capacity and are working well, they are not saturated and overcrowded but it does not mean that we can relax and go to the emergency ward because you have an ailment."