WORLD NEWS
Getting countries ...
Select countries and read reports below
or
Uruguay
Uruguay - US Consular Information Sheet
May 01, 2008
COUNTRY DESCRIPTION:
Uruguay is a constitutional democracy with a large, educated middle class and a robust developing economy.
The capital city is Montevideo .
Tourist facilit
es are generally good with many 5-star accommodations at resort destinations such as Punta del Este and Colonia de Sacramento.
The quality of tourist facilities varies according to price and location.
Travelers are encouraged to seek travel agency assistance in making plans to visit Uruguay .
Read the Department of State Background Notes on Uruguay for additional information.

ENTRY/EXIT REQUIREMENTS:
All United States citizens entering Uruguay for business or pleasure must have a valid passport.
U.S. citizens traveling on a regular passport do not need a visa for a visit of less than three months.
U.S. citizens traveling on diplomatic or official passports require a visa.
Air travelers are required to pay an airport tax upon departure.
This fee may be paid in U.S. dollars or in Uruguayan pesos.
For further information on entry requirements, contact the Embassy of Uruguay at 1913 "Eye" Street NW, Washington, DC 20006, tel. (202) 331-4219; e-mail: conuruwashi@uruwashi.org.
Travelers may also contact the Consulate of Uruguay in New York, Miami, Chicago, Los Angeles, and Puerto Rico.
Visit the Embassy of Uruguay web site at http://www.uruwashi.org/ for the most current visa information.

Information about dual nationality or the prevention of international child abduction can be found on our web site.
For further information about customs regulations, please read our Customs Information sheet.

SAFETY AND SECURITY:
Regular protests, some with an anti-American flavor, take place outside Congress, City Hall and the "University of the Republic."
U.S. citizens visiting or residing in Uruguay are advised to take common-sense precautions and avoid any large gatherings or any other event where crowds have congregated to demonstrate or protest.
If travelers encounter a protest they should walk the other way or enter a commercial establishment until the protest passes.
Taking pictures of protesters is not a good idea.

Although there have been no past instances of violence directed at U.S. citizens from cross-border extremist groups, U.S. citizens traveling or residing in the more remote areas of Uruguay near the border with Argentina and Brazil are urged to exercise caution.

For the latest security information, Americans traveling abroad should regularly monitor the Department of State, Bureau of Consular Affairs' web site at http://travel.state.gov, where the current Travel Warnings and Travel Alerts, as well as the Worldwide Caution, can be found.

Up to date information on safety and security can also be obtained by calling 1-888-407-4747 toll free in the U.S. and Canada, or for callers outside the U.S. and Canada , a regular toll line at 1-202-501-4444. These numbers are available from 8:00 a.m. to 8:00 p.m. Eastern Time, Monday through Friday (except U.S. federal holidays.)

The Department of State urges American citizens to take responsibility for their own personal security while traveling overseas.
For general information about appropriate measures travelers can take to protect themselves in an overseas environment, see the Department of State's pamphlet A Safe Trip Abroad.

CRIME:
Petty street crime is prevalent in Montevideo .
The criminals tend to be non-violent.
However, criminals often resort to violence if the victims resist.
Travelers should exercise reasonable caution to minimize their exposure to crime.
Criminals prey on the unaware, particularly those carrying cameras, pocketbooks, laptops, or backpacks.
Travelers are advised to lock most valuables in secure hotel safes and to download their wallets of excess credit cards and cash.
If dining at an outdoor restaurant take extra care with pocketbooks or bags.
There are no "off limits" areas of the city and parts of "Ciudad Vieja" are popular tourist attractions.
However the only sections of Ciudad Vieja with continual police patrols are Plaza Independencia, the pedestrian street Sarandi, and the Mercado del Puerto.
Mugging is common in other parts of Ciudad Vieja - particularly for travelers walking alone, or couples walking at night.
A smart alternative is to call for a taxi for evening travel between restaurants, bars, and hotels.

Victims are usually foreign tourists, individuals openly carrying valuable items, and motorists in unlocked vehicles stopped at busy intersections, particularly on Montevideo 's riverfront road known as the Rambla. Drivers should keep all car doors locked, the driver's window open only one inch, and purses, bags, briefcases and other valuables out of sight on the floor or in the trunk. Parked cars, particularly in the Carrasco neighborhood, are also increasingly targeted for break-ins. During the summer months (December-March), beach resort areas such as Punta del Este attract tourists, and petty street crimes and residential burglaries--similar to those that occur in Montevideo --rise significantly. Visitors are advised to exercise common sense in the conduct of their activities around Montevideo and in Uruguayan resort areas. They should be very attentive to personal security and their surroundings in the aforementioned areas.

Those planning to live in Montevideo should note that burglaries and attempted burglaries seem to be on the rise in upscale neighborhoods.
The perpetrators are mostly non-confrontational but determined teenagers.
A combination of preventive measures including rigorous use of locks and alarms, strong grillwork on all windows, guard dogs, keeping a residence occupied as much as possible, and using a security service is highly recommended.

Montevideo continues to experience armed robberies of patrons at crowded restaurants in the Pocitos neighborhood.
Most of these crimes have occurred very late at night.
Restaurant patrons should exercise extreme caution for late night dining.

Uruguayan law enforcement authorities have increased the number of uniformed policemen on foot in areas where criminal activity is concentrated and the number of patrol cars in residential areas. The clearly marked patrol cars are equipped with cellular phones and the phone numbers are conspicuously painted on the vehicles.

INFORMATION FOR VICTIMS OF CRIME:
The loss or theft abroad of a U.S. passport should be reported immediately to the local police and the nearest U.S. Embassy or Consulate.
If you are the victim of a crime while overseas, in addition to reporting to local police, please contact the U.S. Embassy or Consulate for assistance.
The Embassy/Consulate staff can, for example, assist you to find appropriate medical care, contact family members or friends and explain how funds could be transferred.
Although the investigation and prosecution of the crime is solely the responsibility of local authorities, consular officers can help you to understand the local criminal justice process and to find an attorney if needed.

See our information on Victims of Crime.

MEDICAL FACILITIES AND HEALTH INFORMATION:
Facilities for medical care are considered adequate. Serious medical problems requiring hospitalization and/or medical evacuation to the United States can cost tens of thousands of dollars.


Information on vaccinations and other health precautions, such as safe food and water precautions and insect bite protection, may be obtained from the Centers for Disease Control and Prevention's hotline for international travelers at 1-877-FYI-TRIP (1-877-394-8747) or via the CDC's web site at http://wwwn.cdc.gov/travel/default.aspx.
For information about outbreaks of infectious diseases abroad consult the World Health Organization's (WHO) web site at http://www.who.int/en. Further health information for travelers is available at http://www.who.int/ith/en.

MEDICAL INSURANCE:
The Department of State strongly urges Americans to consult with their medical insurance company prior to traveling abroad to confirm whether their policy applies overseas and whether it will cover emergency expenses such as a medical evacuation.
Please see our information on medical insurance overseas.

TRAFFIC SAFETY AND ROAD CONDITIONS:
While in a foreign country, U.S. citizens may encounter road conditions that differ significantly from those in the United States .
The information below concerning Uruguay is provided for general reference only, and may not be totally accurate in particular location or circumstance.

The Uruguayan Ministry of Transportation is responsible for maintaining safe road conditions countrywide. The Uruguayan Ministry of Interior highway police (tel. 1954) are responsible for traffic safety on highways and other roads beyond city limits. In urban and suburban areas, transit police and municipal employees share road safety responsibilities.

Driving is on the right-hand side of the road. Wearing seat belts and using headlights on highways and other inter-city roads 24 hours a day are mandatory. Children under 12 must ride in the back seat. Motorcyclists must wear helmets. The use of cellular phones while driving is prohibited. Right turns on red lights and left turns at most intersections marked with a stoplight are not permitted. Drivers approaching an intersection from the right or already in traffic circles have the right of way.
Flashing high beams indicate intent to pass or continue through unmarked intersections.
Many drivers ignore speed limits and traffic signs.
If you plan to drive, use extreme caution and drive defensively.

For driving under the influence, violators are fined and confiscated licenses may be retained for up to six months. In accidents causing injury or death, drivers are brought before a judge who decides if incarceration is warranted.

Inter-city travel is via bus, taxi, car service (remise), car, and motorcycle. Speed limits are posted on highways and some main roads. Most taxis have no seat belts in the back seat. Cycling outside the capital or small towns is hazardous due to a scarcity of bike paths, narrow road shoulders and unsafe driving practices.

Illumination, pavement markings, and road surfaces are sometimes poor. Route 1, which runs between Montevideo and Colonia or Punta del Este, and Route 2, between Rosario and Fray Bentos, are particularly accident-ridden because of heavy tourist traffic. Road accidents rise during the austral summer beach season (December to March), Carnaval (mid-to-late February), and Easter Week.

Within Montevideo , the emergency number to contact the police, fire department, rescue squad, or ambulance service is 911. In the rest of the country, dial 02-911 to connect with the Montevideo central emergency authority, which will then contact the local emergency service. The Automobile Club of Uruguay responds to emergency calls for roadside assistance at 1707, "Car Up" at 0800-1501 and the Automobile Center of Uruguay at 2-408-6131/2091. SEMM (tel. 159) and UCM (tel. 147), Montevideo-based ambulance services manned by doctors, have agreements with emergency medical units in other cities.

Please refer to our Road Safety page for more information.
You may also telephone Uruguay 's national tourist office and national authority responsible for road safety in Miami at (305) 443-7431.

AVIATION SAFETY OVERSIGHT:
The U.S. Federal Aviation Administration (FAA) has assessed Uruguay 's Civil Aviation Authority as not being in compliance with International Civil Aviation Organization (ICAO) aviation safety standards for oversight of Uruguay 's air carrier operations.
For more information, travelers may visit the FAA's web site at http://www.faa.gov/safety/programs_initiatives/oversight/iasa.

SPECIAL CIRCUMSTANCES:
Uruguay 's customs authorities may enforce strict regulations concerning temporary importation into or export from Uruguay of items such as precious jewels, gold, firearms, pornography, subversive literature, inflammable articles, acids, prohibited drugs (medications), plants, seeds, and foodstuffs as well as some antiquities and business equipment. It is advisable to contact the Embassy of Uruguay in Washington, D.C., or one of Uruguay 's consulates in the U.S. for specific information regarding customs requirements. Note: Travelers entering Uruguay with precious jewels or gold worth more than $500.00 ( U.S. ) must declare them to customs officers at the port of entry or face possible detention or seizure of the goods and charges of contraband or evasion of customs controls. Visitors are expected to comply with local law and regulations by approaching a customs officer before routine inspection of all incoming baggage, conducted on standard security equipment.
Please see our Customs Information.

CRIMINAL PENALTIES:
While in a foreign country, a U.S. citizen is subject to that country's laws and regulations, which sometimes differ significantly from those in the United States and may not afford the protections available to the individual under U.S. law.
Penalties for breaking the law can be more severe than in the United States for similar offenses.
Persons violating Uruguay 's laws, even unknowingly, may be expelled, arrested, or imprisoned.
Penalties for possession, use, or trafficking in illegal drugs in Uruguay are severe, and convicted offenders can expect long jail sentences and heavy fines.
Engaging in sexual conduct with children or using or disseminating child pornography in a foreign country is a crime, prosecutable in the United States .
Please see our information on Criminal Penalties.

The Uruguayan Ministry of Agriculture and Fishing strictly enforces all regulations regarding hunting permits, as well as seasonal and numerical limits on game. Visitors who contravene local law have been detained by the authorities and had valuable personal property (weapons) seized. Under Uruguayan law, seized weapons can only be returned after payment of a sum equivalent to the value of the property seized. Hunters are also subject to stiff fines for practicing the sport without all appropriate permits.

CHILDREN'S ISSUES:
For information see our Office of Children's Issues web pages onintercountry adoption and international parental child abduction.

REGISTRATION / EMBASSY LOCATION:
Americans living or traveling in Uruguay are encouraged to register with the U.S. Embassy through the State Department's travel registration web site so that they can obtain updated information on travel and security within Uruguay .
Americans without Internet access may register directly with the U.S. Embassy.
By registering, American citizens make it easier for the Embassy to contact them in case of emergency. The U.S. Embassy is located at Lauro Muller 1776; telephone (598) (2) 418-7777; fax (598) (2) 418-4110 or -8611. Internet: http://uruguay.usembassy.gov/, email: MontevideoACS@state.gov. Consular Section hours for American Citizen Services are Monday to Thursday, 9:00 a.m. to 11:00 p.m. and 2:00 p.m. to 4:00 p.m., except U.S. and Uruguayan holidays.
* * *
This replaces the Consular Information Sheet dated August 28, 2007 to update Sections on Entry/Exit Requirements, Safety and Security, Crime, Aviation Safety Oversight, Children's issues, and Registration/Embassy Location.
Travel News Headlines WORLD NEWS
20th June 2019
https://en.mercopress.com/2019/06/20/torrential-rains-in-uruguay-forces-7.400-to-abandon-their-homes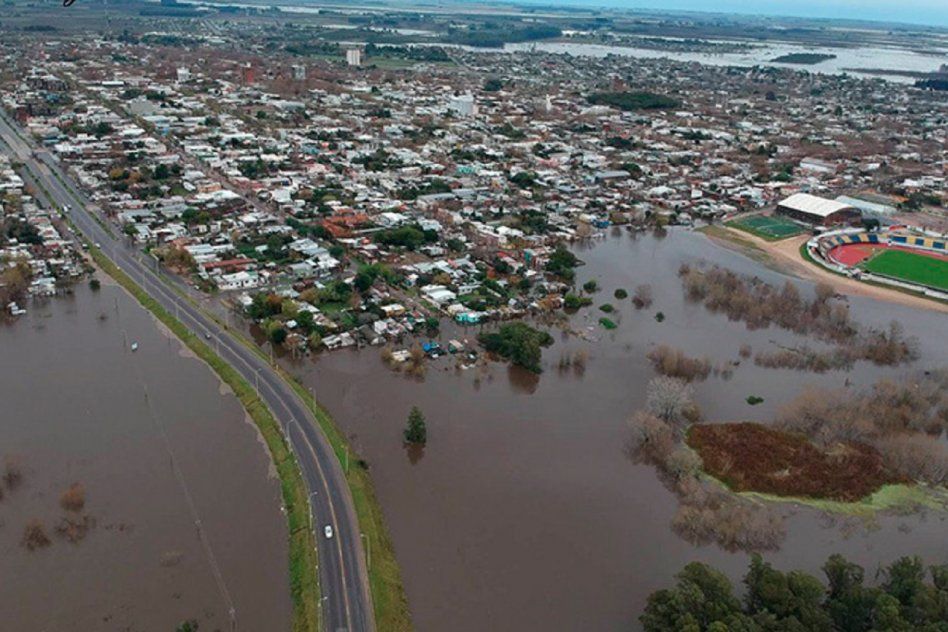 Torrential rains in central and southern Uruguay in the past several days have caused massive floods and forced some 7,400 people to leave their homes, according to the latest update by the country's National Emergency System. The central city of Durazno is the most affected, with 5,299 evacuees, according to official reports.
Defense Minister Jose Bayardi visited one of the camp sites managed by the military to help the displaced. "We have established a high level of experience (in the face of these catastrophes) which we have succeeded in institutionalizing," he told the media. Troops will continue monitoring the situation because "there are many people who do not want to leave their homes due to fear of being robbed and looted" Bayardi said.
The National Highway Police also said that 12 national highways remain cut-off in different directions. Uruguay's National Meteorological Institute said that between June 11 and 16, some southern regions of the country received around 270 mm of rain. On Wednesday morning, the Yi River, which had been 11.8 meters higher than its normal water level in the Durazno area, was falling at a rate of 11 cm per hour, according to local media reports.
Date: Tue 12 Mar 2019
Source: Carmelo Portal [in Spanish, trans. Mod. TY, edited]
The departmental health director, Dr Jorge Mota, confirmed for Carmelo Portal the death in our city of a young 17 year old girl from [a] hantavirus [infection]. "In Colonia department, there are on average 3 cases per year. The evolution of the disease is in thirds. One-third of the [infected] people do not have notable symptoms; another third have serious symptoms, especially respiratory symptoms and ones in all the systems, but with adequate treatment, [the infected people] survive, sometimes with sequelae. There is another third that die. It is those few with the virus that die with an evolution so drastic, such as is the case of this girl, sadly," Dr Mota stated.
The department health director said that hantaviruses are not contagious person-to-person. "It is transmitted from an intermediate animal, the field mouse. Only 3% of these mice have [a] hantavirus. To become infected, one must be in contact with an [infected] mouse's secretions that have dried, are mixed with dust, and are in a closed space, away from sunlight and ventilation. A spa, a shed, or a wood pile [are examples of such a space]. The person had to have been moving around there and inhaled the dust," he explained.
Dr Mota spoke about the epidemiological surveillance that is carried out. "We tracked places where the person was, even those that could be identified 2 months before contracting the virus; sometimes we found the place, but sometimes not." As a preventive measure, Mota stated that in these cases, ventilate these closed spaces for at least half an hour. Wet down floors and shelves with water [with 10% bleach]. Use masks [and gloves].
==========================
[The report above does not mention the circumstances under which the infection might have been acquired nor which hantavirus was responsible for this or earlier cases in Uruguay. Hantaviruses that cause hantavirus pulmonary syndrome (with rodent hosts found in Uruguay) include Laguna Negra virus (_Calomys laucha_), Maciel virus (_Necromys benefactus_), Central Plata virus, Lechiguanas virus (_Oligoryzomys flavescens_, complex of rodents), and Anajatuba virus and Juquitiba virus (_Ologoryzomys fornesi_).
The rodent reservoir hosts shed the virus in its saliva, urine, and faeces, contaminating the environment in which they live and breed.
Date: Thu, 19 Jul 2018 03:23:55 +0200
By Lucia LACURCIA

Montevideo, July 19, 2018 (AFP) - Enrique Curbelo is delighted. Selling cannabis has allowed the affable 76-year-old to keep his privately owned pharmacy in Montevideo open in a market dominated by big chains. "I had to sell what they didn't sell," he told AFP. "For me it's like selling aspirin." It's been this way for a year now. Every Wednesday, Ismael Fernandez receives a WhatsApp message from his local pharmacist telling him a new stock of cannabis has arrived. After leaving work, he heads there and buys the 10 grams that Uruguayan law permits, costing 400 pesos, around $13.

Fernandez then heads home and rolls a joint "to relax" with his partner Stefania Fabricio. No longer do they need to surreptitiously contact a dealer and pay more for Paraguayan or Brazilian marijuana that's been "pressed, mixed (and is) sometimes very bad and full of chemicals." "Now it's much easier than when it started," Fernandez, a 31-year-old who works for a cleaning company, told AFP. It has been four and a half years since marijuana use became legal in Uruguay and a year since it has been sold in pharmacies -- up to 40 grams a month per person.

Initially, there was insufficient supply, leaving people standing in long queues as stocks sometimes ran out. Pharmacies are better prepared now. "They send you a message with a number which you use later to go and collect it, and in my pharmacy you can order it online," added Fernandez, the father of a three-year-old. Hairdresser Fabricio, also 31, says "it's good quality," but not too strong. "It doesn't send your head spinning, but it's not meant to. You get a hit but you can still do things perfectly." - 'Privileged' - She says she feels "privileged" to live in a country that enacted a law to "get tons of people out of the black market." As a result, she said, the stigma attached to those who smoke pot is changing, "albeit slowly."

The system is simple: to buy cannabis in a pharmacy you must be at least 18, live in Uruguay and sign up as a "buyer" at the post office. An initial stumbling block arose when banks refused to work with establishments selling cannabis due to international rules against drug-trafficking. But the country plowed on, and last year it became the first in the world to fully legalize its sale. But Enrique Curbelo had to get over his own prejudices before deciding to join the select band of pharmacies selling the plant. There are 14, half of them in the capital, serving the 24,812 registered buyers.

- 'Normal people' -
Users can choose between two brands and two types of cannabis -- sativa and indica -- both provided by an official distributor. Customers are generally not the stereotypical grubby-looking student or idle waster. On this day in Curbelo's store they include two young women, a man in his 50s and an older lady -- "normal people," says the pharmacist. Official statistics say 70 percent of buyers are male and 49 percent are between the ages of 18 and 29.

To keep anyone from exceeding their monthly allowance, a fingerprint machine is used to register every sale. Along with the ability to purchase cannabis in a pharmacy, Uruguayans have the right to grow their own -- up to a six-plant maximum -- or to join a cannabis club, which can have up to 45 members and 99 plants. Federico Corbo, a 41-year-old gardener, grows cannabis in his garden on the outskirts of Montevideo. He experiments by crossing species in an attempt to improve quality and optimize the flowering period. Corbo is not impressed with the quality on offer in pharmacies. "It's not the worst, but it's low," he said, insisting quality control needs to be improved. "Marijuana that doesn't reach the minimum standards -- with crushed flowers, no aroma, low quality -- shouldn't be sold in the pharmacy. "Maybe, as I'm a grower, I'm very demanding, but there is a cost associated to the product and it must be offered to the public in the best way possible."

According to the Institute of Cannabis Regulation and Control (Ircca), an average cultivator or club member supplies cannabis to two other people, while those who buy it in a pharmacy share it with one other. "Approximately half of marijuana users have access to regulated cannabis," says Ircca. The rest prefer to continue buying the drug on the black market, put off by the need to register as a user. "It's wrong -- if they legalize it they have to do so in a way in which the state doesn't keep a paternalistic role in overseeing how much you smoke or stop smoking," one clandestine user, who wished to remain anonymous, told AFP. This 48-year-old lawyer simply doesn't trust the authorities. He pointed to the danger a change of government could bring, or even the return of dictatorship. "Right now that seems impossible," he said, "but you can never discount it."
Date: Thu 1 Feb 2018 23:02hs UYT
Source: LaRed 21 [in Spanish, machine trans. edited]
The Ministry of Public Health (MSP) issued a statement through which it reports that it has detected cases of infection by the bacterium _Vibrio vulnificus_ in Montevideo, Canelones, and Maldonado [departments]. The State Secretariat assured that every year there are cases of this bacterium, but so far in 2018, 4 serious cases have been reported, of which 3 died. All of them had underlying illnesses.
"90 percent of these cases, in the world, are associated with the consumption of undercooked or raw seafood. Infrequently, the infection can be acquired when entering the sea with open wounds, especially in elderly people or people with diseases that affect the immune system," explained the MSP. It is an event "extremely rare in our country," said the State Secretariat. It also indicated that fewer than 10 cases per year are registered per year for this bacterium.
It is an infection that "can be serious and in some cases fatal, so it is recommended to avoid the consumption of undercooked or raw sea products (as well as their handling without protection measures) and in the same way, avoid entering the sea with wounds or cuts on the skin." The bacteria can be found in coastal marine waters and estuaries in areas of tropical and subtropical climates that have a moderate degree of salinity and temperatures that usually exceed 18 C [64.4 F].
====================
"_Vibrio vulnificus_, a lactose-fermenting, halophilic, Gram-negative, opportunistic pathogen, is found in estuarine environments and associated with various marine species such as plankton, shellfish (oysters, clams, and crabs), and finfish. Environmental factors responsible for controlling numbers of _V. vulnificus_ in seafood and in the environment include temperature, pH, salinity, and amounts of dissolved organics. It may be normal flora in salt water, and acquiring this organism from shellfish or water exposure does not imply that the water is contaminated by sewage.
"Wound infections result either from contaminating an open wound with sea water harbouring the organism, or by lacerating part of the body on coral, fish, etc., followed by contamination with the organism. The ingestion of _V. vulnificus_ by healthy individuals can result in gastroenteritis."
There are 2 points to be emphasized: that vibrios are normal flora in warm saltwater (not indicative of any sewage contamination) and that most of the life-threatening illnesses occur in individuals with underlying medical illnesses, including immunocompromised states, chronic liver disease, and diabetes. So-called normal individuals often just develop gastroenteritis. The range of disease due to _V. vulnificus_ can involve more northern geographical areas as overall global warming takes effect. - ProMED Mod.LL]
Date: Mon 29 Jan 2018
Source: Monte Carlo [in Spanish, trans. ProMED Mod.TY, edited]
Personnel of the Ministry of Public Health are investigating the death of a young --28-years old -- agronomist caused by [a] hantavirus [infection]. After completion of the specific studies, which could take 48 hours, they will be able to determine if the young woman died as a consequence of the virus [infection].
The disease is contracted by the inhalation of excretions or secretions of rodents infected by the hantavirus.
As a preventive measure, personnel of the Department of Epidemiology of the Ministry of Health will go to the rural area in Canelones, where the young woman resided. [Byline: Enrique Puig]
====================
[No information is given about the symptoms that the young woman experienced prior to her death, nor the date of her illness and death. Presumably, the diagnosis of a suspected hantavirus infection leading to death was hantavirus cardiopulmonary syndrome (HPS).
The report above does not mention which hantavirus was responsible for this or earlier cases in Uruguay. Central Plata hantavirus could be the etiological agent responsible (for this and previous HPS cases). Its rodent host is the yellow pygmy rice rat, _Oligoryzomys flavescens_, complex of rodents. This rodent reservoir host sheds the virus in its saliva, urine and faeces, contaminating the environment in which it lives and breeds.
An image of this rodent can be accessed at
A HealthMap/ProMED-mail map showing the location of Uruguay in South
Canelones department in southern Uruguay at
More ...
World Travel News Headlines
Date: Fri 17 Jan 2019
Source: Front Page Africa [edited]
The Surveillance Officer of Grand Bassa County Health team has confirmed to FrontPage Africa that there is a Lassa fever outbreak in District 4, Grand Bassa County leading to 3 deaths and 20 others confirmed infected with the virus.
Gabriel B. Kassay said over 60 specimens were taken to Monrovia for testing as a result of the outbreak. "Out of the 60 plus, over 20 specimens were confirmed affected with Lassa fever," he said, adding that 3 persons have died from the disease at the Liberia Agricultural Company (LAC) concession area in Wee Statutory District.
Kassay said there were several incidents of Lassa fever in the LAC plantation area in 2019. "According to the Liberia health law, one confirmed case of Lassa fever is considered an outbreak, and so since August 2019, there have been lots of people affected in the LAC area," he said while expressing concern that "the lack of awareness is a major factor" for the frequent cases of the virus in the county. "The Grand Bassa Health Team has been very instrumental in helping to curtail the spread of the disease in the affected area, but there is a need for awareness in the entire county."
Kassay said the spread of Lassa fever might increase if the citizens are not trained to know the cause and effects of Lassa fever.
=====================
As mentioned in previous posts, Lassa fever virus transmission to humans occurs when people are in contact with the reservoir rodent host, the multimammate mouse (_Mastomys natalensis_ and _M. erythroleucus_) and the African wood mouse (_Hylomycus pamfi_) or their excreta, as was likely the situation in many of these cases. Rodent control has to be undertaken at the village level with individual households employing the preventive measures listed above. This requires an extensive and continuous public education effort.
Images of the _Mastomys natalensis_ mouse, the rodent reservoir of Lassa fever virus, can be seen at
_M. erythroleucus_ and _Hylomycus pamfi_ at
Date: Sun 19 Jan 2019
Source: Outbreak News Today [edited]
With the arrival of summer when the occurrence of diseases transmitted by mosquitoes, such as yellow fever, increases, the Brazilian Ministry of Health is alerting the population to get vaccinated against the disease. The alert is mainly focused on the population that lives in the South and Southeast regions of the country due to the confirmation of 38 monkey deaths in the states of Parana (34), Sao Paulo (3), and Santa Catarina (1). In total, 1087 reports of suspected monkey deaths were recorded in the country.
The alert is given because the regions have a large population and a low number of people vaccinated, which directly contributes to the cases of the disease.
The target public for vaccination is people from 9 months of age and 59 years of age who do not have proof of vaccination.
Regarding human cases, 327 suspected yellow fever cases were reported in the same period, of which 50 remain under investigation and one has been confirmed.
The yellow fever vaccine is offered in the National Vaccination Calendar and distributed monthly to the states. In 2019, more than 16 million doses of the yellow fever vaccine were distributed throughout the country. Despite this availability, there is a low demand from the population for vaccination. For 2020, the portfolio acquired 71 million doses of the vaccine, enough to serve the country for more than 3 years.
In 2020, the Ministry of Health will gradually expand yellow fever vaccination to 1101 municipalities in the Northeast states that were not yet part of the vaccination recommendation area. Thus, the whole country now has a vaccine against yellow fever in the routine of services.
Another change in the calendar was that the children started to have a booster vaccine at the age of 4. The decision came because recent scientific studies have shown a decrease in the child's immune response, which is vaccinated very early, at 9 months, as predicted in the child's National Vaccination Calendar. Since 2017, the Ministry of Health has followed the guidelines of the World Health Organization (WHO) to offer only one dose of the yellow fever vaccine in a lifetime.
=========================
[The current expansion of yellow fever in South America raises concern for public health and also about potential conservation problems for susceptible non-human primate species in the continent. Yellow fever virus was introduced into the Americas approximately 400 years ago, yet the complex interactions that were established after its introduction are far from being elucidated. There is a need for more research on the eco-epidemiology of the disease in the continent, especially in the presence of the persistent anthropogenic global environmental change. - ProMED Mod.PMB]
[HealthMap/ProMED-mail map of Brazil:
Date: Sat 18 Jan 2020 03:15 WAT
Source: Actualita [in French, machine trans., edited]
<
https://actualite.cd/2020/01/18/rdc-une-maladie-inconnue-fauche-des-vies-kiri-5-morts
>
An unknown disease has already killed 5 people at Kiri General Hospital, in the province of Mai-Ndombe, in the west of the Democratic Republic of the Congo (DRC), according to the authorities. The provincial minister of public health has said that all measures are underway to detect [diagnose?] the mysterious disease. "Admittedly, this was an abnormal situation; however, the situation is manageable because we have just gone into this health facility and we have tried to carry out investigations. My collaborators and I took some samples which have quickly been sent to the National Institute for Biomedical Research (INRB) in Kinshasa for the appropriate medical tests which can give us accurate [diagnosis] on this abnormal situation," declared the minister Jean Claude Bola. First, added the same official, "it is not an Ebola epidemic, contrary to the rumour circulating in the Kiri territory and in the social networks."
In an exclusive interview with actualita.cd, the provincial authority also confirmed the deaths. "However, I warn all those who broadcast through the various media and social networks that there is Ebola in Mai-Ndombe that they have neither qualification nor competence to do so, because the only authority having jurisdiction in the provinces to declare an epidemic is the provincial governor," declared Paul Mputu Boleilanga. "Severe and disciplinary sanctions will be reserved against usurpers of power," he threatened. According to provincial authorities, a team from the National Institute of Biomedical Research (INRB), a team is expected in the Kiri territory for "rapid" management of all patients and to determine the disease underlying deaths in this region.
=============================
[Other than the number of deaths and the geographical location of the cases there is no additional information to permit reasonable speculation as to the aetiology or dates of illnesses. ProMED Mod.MPP noted that Ebola denial leads one to suspect this is a viral haemorrhagic fever.
Laboratory tests should confirm or rule out diseases such as yellow fever or Lassa fever. However, there is no indication that these cases are due to a virus or other infectious agent. Toxicants should also be ruled out. Additional information about these or new cases would be appreciated. - ProMED Mod.TY]
[Maps of DR Congo: <
http://goo.gl/DM2AT8
> and
<
http://healthmap.org/promed/p/194
> and
<
http://healthmap.org/promed/p/65284
>]
Date: Fri, 17 Jan 2020 17:48:09 +0100 (MET)

Barcelona, Jan 17, 2020 (AFP) - Spain's Balearic Islands passed a bill Friday aimed at clamping down on alcohol-fuelled holidays in the Mediterranean archipelago which bans happy hours when drinks are offered a discount and open bars. "This is the first law adopted in Europe which restricts the sale and promotion of alcohol in certain touristic areas," the regional government of the Balearic Islands which have long been a magnet for young German and British tourists, who often drink heavily and enjoy rowdy late-night clubbing.

The restrictions will apply to three areas with a reputation for excess: San Antoni on the island of Ibiza and El Arenal and Magaluf -- which has been nicknamed "Shagaluf" because of its reputation for drunken casual sex -- on Mallorca, the largest of the Balearic's four islands. The law, which was drawn up in consultation with the tourism industry also bans pub crawls and two-for-one drink offers, prohibits the sale of alcohol in shops between 9:30 pm and 8 am and forbids advertising party boats in the designated areas. Establishments that break the new rules risk fines of up to 600,000 euros ($669,000) and the threat of being closed down for three years.

The new law also takes aim at the so-called "balconing" craze, the term given to holidaymakers who decide to jump into a swimming pool from a hotel or apartment balcony, a stunt which claims several lives every year. It bans "balconing" across the entire archipelago and requires hotels to evict anyone who does it. Those caught jumping from balconies face fines of up to 60,000 euros ($67,000). Up until now only some resorts on the Balearics imposed fines for "balconing".

The regional government of the Balearics said the law, which stiffens measures already introduced in 2015, will "fight excesses in certain tourist zones" and "force a real change in the tourism model of those destinations". Magaluf made global headlines in 2014 after a video showing a young woman performing oral sex on several men on the dance floor of a nightclub went viral. Local shops sell souvenir T-shirts with the catchphrase "On it 'till we vomit".

The four islands which make up the Balearics -- Palma de Mallorca, Ibiza, Menorca and Formentera, received nearly fourteen million tourists in 2018, drawn by their crystal clear waters, and in many cases by all-inconclusive package holidays. The archipelago is Spain's second most visited region. Spain is the world's second most visited country after France.
Date: Fri, 17 Jan 2020 12:55:16 +0100 (MET)

Rennes, France, Jan 17, 2020 (AFP) - Several oyster farmers along France's Atlantic and Mediterranean coasts have been forced to halt sales since December after their sites were contaminated by the highly contagious norovirus, which they blame on overflowing sewage treatment plants. Authorities ordered the suspensions at 23 of the country's 375 designated fields, and recalls of affected oysters as well as mussels and clams, after tests revealed the virus, which can cause severe vomiting and diarrhoea.

The move came just before the year-end holidays, when oysters are a traditional delicacy on millions of French tables. "The oysters are not sick. They're carrying the virus because it's in the water they are constantly filtering," Philippe Le Gal, president of France's national shellfish council (CNC), told AFP this week. "They were in the wrong place at the wrong time," he said, adding the ban had prompted many people to stop eating oysters altogether. Local officials say oyster farmers are paying the price of insufficient spending on wastewater treatment, with facilities strained to the limit even as development of coastal areas has surged in recent years.

Heavy rains before Christmas prompted treatment basins to overflow, they say, spilling tainted water into rivers. "This was predictable -- they've kept issuing building permits even though treatment sites are already at full capacity," said Joel Labbe, a senator for the Morbihan region in Brittany. Oyster farmers are demanding compensation, and a delegation met with agriculture ministry officials in Paris last week warning that more than 400 businesses had been impacted by the sales ban.

This week, angry growers dumped trash bins full of oysters and mussels in front of the offices of the regional ARS health authority in Montpellier over the decision to halt sales from a nearby basin on the Mediterranean coast. "We're the victims, and we shouldn't have to suffer any financial damages," Le Gal said.
Date: Fri, 17 Jan 2020 04:44:41 +0100 (MET)

Suva, Fiji, Jan 17, 2020 (AFP) - Fiji opened evacuation centres and warned of "destructive force winds" Friday as a cyclone bore down on the Pacific island nation for the second time in three weeks. Two people were missing after attempting to swim across a swollen river late Thursday when heavy rain fell ahead of the advancing Cyclone Tino, police said. On the outer islands, locals prepared to go to emergency shelters while many tourists fled beach resorts and made their way to the capital Suva before regional flights and inter-island ferry services were suspended.

The Fiji Meteorological Service said Tino was strengthening as it headed for Fiji's second-largest island, Vanua Levu, warning of wind gusts of up to 130 kilometres per hour (80 mph), heavy rain, coastal flooding and flash flooding in low lying areas. "I'm preparing to go to an evacuation centre soon with my family and wait for the cyclone to pass," Nischal Prasad, who lost his home in northern Vanua Legu when Cyclone Sarai struck just after Christmas, told AFP. "Sarai destroyed my house and almost left my family homeless. My daughters had to hide under their bed from the strong winds. It was a scary experience," he said.

Russian tourist Inna Kostromina, 35, said she sought safety in Suva after being told her island resort was in the path of the cyclone. "We didn't want to get stuck in there and with the authorities warning of coastal flooding, anything can happen. So we decided to move to Suva for now. I think we will be much safer here." Police said a man and his daughter, believed to be aged nine or 10, were attempting to swim across a flooded river when they were caught in the strong currents. The incident happened on Thursday before the storm developed into a tropical cyclone, but a police spokesman linked the tragedy to "heavy rain brought about by the current weather system (which) raised the river level". Although the Pacific islands are popular tourist destinations in summer it is also the cyclone season, and Fiji is being targeted for the second time in three weeks.

In late December, Tropical Cyclone Sarai left two people dead and more than 2,500 needing emergency shelter as it damaged houses, crops and trees and cut electricity supplies. On its present track, Tino would hit Tongatapu, the main island of neighbouring Tonga, on the weekend. Two years ago, Tongatapu was hit by Cyclone Gina, with two people killed and nearly 200 houses destroyed.
Date: Thu, 16 Jan 2020 16:38:39 +0100 (MET)
By Hiroshi HIYAMA

Tokyo, Jan 16, 2020 (AFP) - Japan has confirmed a case of a mystery virus that first emerged in China and is from the same family as the deadly SARS pathogen, authorities said Thursday. It appears to be only the second time the novel coronavirus has been detected outside China, after the World Health Organization (WHO) confirmed a case in Thailand. Japan's health ministry said a man who had visited the central Chinese city of Wuhan, the apparent epicentre of the outbreak, was hospitalised on January 10, four days after his return to Japan. He reported a persistent fever.

Tests on the patient, who was released from hospital on Wednesday, confirmed he was infected with the new virus. "This is the first domestic discovery of a pneumonia case related to the new coronavirus," the ministry said in a statement. "We will continue active epidemiological research while also coordinating efforts with the World Health Organization and related agencies to conduct a risk assessment." The outbreak has killed one person so far, with 41 patients reported in Wuhan.

The outbreak has caused alarm because the new virus is from the same family as the pathogen that causes SARS (Severe Acute Respiratory Syndrome), which killed 349 people in mainland China and 299 in Hong Kong in 2002 and 2003. Authorities in Wuhan said a seafood market was the centre of the outbreak. It was closed on January 1. Japanese authorities said the man had not visited the market and that it was possible he had been in contact with a person infected with the virus while in Wuhan.

- Outbreak in Japan 'unlikely' -
Health ministry official Eiji Hinoshita told reporters that the risk of the disease spreading from the patient was considered low, with careful checks done on those who had been in close contact with him. "At this point, we feel it is unlikely this will lead to a dramatic outbreak," he said, adding that the patient was no longer suffering a fever and was recuperating at home.

Officials declined to give further information on the man, including his nationality, citing privacy concerns. Local media said the patient was a Chinese national in his 30s living in Kanagawa, just southwest of Tokyo. Public broadcaster NHK said he had already recovered and was resting at home, as quarantine officials at Tokyo's Narita airport boosted health checks on all travellers.

The health ministry urged people who develop a cough or fever after visiting Wuhan to wear a surgical mask and "swiftly visit a medical institution". Hinoshita said Japan would need to be on guard ahead of the Lunar New Year, a popular travel period in China. "It is expected that Japan will see many visitors from China," he said. It is not yet clear whether the mystery virus can be transmitted between humans, but on Wednesday authorities said it was possible it had spread inside a family.

The woman diagnosed in Thailand, who is in a stable condition, also said she had not visited the Wuhan seafood market. And WHO doctor Maria Van Kerkhove on Tuesday said she "wouldn't be surprised if there was some limited human-to-human transmission, especially among families who have close contact with one another". Hong Kong authorities on Tuesday said several dozen people had been hospitalised with fever or respiratory symptoms after travelling to Wuhan, but no cases of the new virus have so far been confirmed.
Date: 20 Jan 2020
Source: News Joins [In Korean, machine trans. edited]
----------------------------
An unexplained pneumonia in China caused the Korean quarantine authorities to strengthen the quarantine, and a fever-sensing camera is installed to monitor the body temperature of Chinese tourists who entered Korea at Incheon Port 1 International Passenger Terminal.
Pneumonia confirmed by the new coronavirus, which is prevalent in Wuhan, China, was confirmed for the first time on [20 Jan 2020]. According to health officials, a Chinese woman, A, who arrived at Incheon International Airport on a plane from Wuhan last weekend, was confirmed with pneumonia. The patient showed signs of pneumonia, including high fever and cough. The health authorities entered the airport at the same time, confirmed the symptoms of high fever, suspected pneumonia, and went into quarantine and testing. The Centers for Disease Control immediately quarantined A and entered treatment with a nationally designated quarantine bed. The Centers for Disease Control will hold an emergency press conference at 1:30 pm on [20 Jan 2020] and release the reporter A.
Meanwhile, Beijing's Daxing District Health and Welfare Committee said 2 fever patients who had been to Wuhan were confirmed as a new pneumonia patient on [19 Jan 2020]. They are currently being treated at a designated hospital and said they are stable. Daxing District is where Beijing New Airport opened last year [2019]. The Guangdong Provincial Health and Welfare Committee said on [19 Jan 2020] that a 66-year-old man who had visited a relative's home in Wuhan showed fever and lethargy and was diagnosed with Wuhan pneumonia. Confirmation patients have also emerged in Shenzhen, a neighbouring Hong Kong province in southern China, raising concerns that the new pneumonia has already spread throughout China.
The Chinese government has said that "there is no basis for human-to-human propagation," but domestic experts pointed out that "the nature of coronavirus is less likely to prevent human-to-human propagation." [Byline: Esther Toile]
========================
A map of South Korea can be found at:
Date: 15 Jan 2020
Source: Fox News [edited]
CDC is facing criticism over its response to a polio-like illness. The Centers for Disease Control and Prevention has confirmed 10 additional cases of acute flaccid myelitis. An Ohio teen is determined to walk again despite doctors' warnings that she may not after she contracted a rare polio-like illness that's left her paralyzed from the waist down. IK, a catcher on her middle school's softball team, said it started with what felt like a cramp in her leg on Christmas. "I just thought, 'Oh gosh, it's just growing pains or a Charley horse,'" NK, the 13-year-old's mother, told News 5 Cleveland. But the next day, IK couldn't stand on her own, and her worried parents rushed her to Akron Children's Hospital, where she was diagnosed with acute flaccid myelitis (AFM). It's a rare but serious condition that affects the nervous system, specifically the grey matter of the spinal cord, which weakens the body's muscles and reflexes.
Health officials have noticed an increase of cases in children occurring every 2 years since 2014, according to the Centers for Disease Control and Prevention (CDC). And while it often is referred to as a "polio-like" illness, tests so far have tested negative for poliovirus. Symptoms typically begin with sudden onset of arm or leg weakness and loss of muscle tone and reflexes, but can also include facial droop or weakness, difficulty moving eyes, drooping eyelids, difficulty swallowing, slurred speech, and pain in the arms and legs. Severe symptoms may include respiratory failure, or serious neurological complications, according to the CDC. Parents are encouraged to seek medical care right away if a child is suspected of developing any symptoms
Since her diagnosis, IK has been working in physical therapy and has received steroid treatments as well as multiple plasma exchange, according to the news outlet. Her mother said it's been like "a bad dream" for the family as they watch her struggle to gain strength. "It's a lot, but I just try to go with the flow, just to push through," IK, who has received support from her teammates, classmates and members of the community, told News 5 Cleveland. [Byline: Alexandria Hein]
======================
[Acute flaccid myelitis (AFM) is a rare but serious condition. It affects the nervous system, specifically the area of the spinal cord called gray matter, which causes the muscles and reflexes in the body to become weak.
In 2019, there were 33 total confirmed cases in 16 US states
Clinical Criteria: An illness with onset of acute flaccid limb weakness.
Laboratory Criteria:
Confirmatory Laboratory Evidence: a magnetic resonance image (MRI) showing spinal cord lesion largely restricted to grey matter and spanning one or more vertebral segments. Supportive Laboratory Evidence: cerebrospinal fluid (CSF) with pleocytosis (white blood cell count over 5 cells/mm3) Case Classification:
- Confirmed: Clinically compatible case AND Confirmatory laboratory evidence: MRI showing spinal cord lesion largely restricted to grey matter and spanning one or more spinal segments.
- Probable: Clinically compatible case AND Supportive laboratory evidence: CSF showing pleocytosis (white blood cell count over 5 cells/mm3)
With the high number of cases reported in 2018 and 2019, CDC enhanced AFM surveillance through collection of data at the national level by encouraging healthcare providers to recognize and report to their health departments all patients whom they suspect may have AFM; health departments are being asked to send this information to CDC to help us understand AFM activity nationwide. - ProMED Mod.UBA]
[HealthMap/ProMED map available at:
Date: Sat 18 Jan 2020
From: Guido Calleri <guidocalleri@aslcittaditorino.it> [edited]
90 persons presented to the Infectious Diseases Hospital Amedeo di Savoia, Torino, North-West Italy between 24 Dec 2019 and 10 Jan 2020 after consuming raw sausages from a wild boar hunted in the area of Susa Valley, 50 km [31.1 mi] away from Torino, in late November 2019.
All of them either were symptomatic (fever, muscle and/or abdominal pain, nausea) or had peripheral blood eosinophilia over 500/cmm, or both. IgG serology for trichinella was performed by immunoblot (Trichinella E/S IgG kit, EFFEGIEMME, Milan, Italy) and resulted positive in 48/90 (53.3%), allowing a diagnosis of confirmed trichinella infection.
Otherwise, a diagnosis of suspected trichinella infection was made with a negative serology, probably due to performing the test too early, before the development of antibodies or possibly a false negative result. In a few cases (under 10 cases) an alternative diagnosis was considered.
All patients were treated with oral albendazole 400 mg twice daily for 10 days and prednisone 50 mg/day.
Most likely, all patients were infected after eating meat from a single animal, given the low prevalence of the infection in this area: no human case has ever been detected in Torino province, and only one wild boar has been found positive for trichinella at microscopy in Susa valley in the last 10 years.
---------------------------------------
Guido Calleri, Filippo Lipani, Giovanna Paltrinieri, Silvia Faraoni,
Valeria Ghisetti
ASL Citta di Torino, Infectious Diseases Unit and Microbiology Lab,
and ASL TO3,
Department of Prevention
Torino, Piedmonte, Italy
[ProMED thanks Guido Calleri, Filippo Lipani, Giovanna Paltrinieri, Silvia Faraoni, and Valeria Ghisetti for sending us this information. The report underlines that _Trichinella_ are found in wild boars in Europe and should be assessed by a certified laboratory for _Trichinella_ before used for human consumption. Sausages made of smoked meat are especially dangerous, because the temperatures seldom reach what is needed to kill the trichinella larvae. - ProMED Mod.EP]
[HealthMap/ProMED map available at: